15 Years of Partnership for Peace, Friendship, and the Environment
The Peace Corps Mexico Environment Program celebrates its XV Anniversary and kicks off a week of commemorative content today. Versión en español abajo.
Climate change knows no borders. The viability and sustainability of our natural resources, including the air we breathe and the water we drink, depend on collective and cooperative action that transcends social, cultural, or political differences. Peace Corps Mexico's Environment Program builds bridges of peace and friendship between Mexico and the United States of America through technical cooperation and intercultural exchange. It has been an honor and a privilege to work so closely for these last 15 years with our host and strategic partner SEMARNAT. I am also eternally grateful to every member of our staff, past and present, who have worked so hard on the front lines or behind the curtains. And let us not forget the individuals who are at work every day: the community leaders and host-families without whom none of our work would be possible. And to our Returned Peace Corps Volunteers: you answered a call to service that first went out 60 years ago and that still resonates today as we celebrate 15 years of our Environment Program. Thank you for your positive impact on our environment and for your contributions that build bridges between our two nations.
- Joshua Spetter, Peace Corps Mexico Acting Country Director and Director of Programming and Training
Happy 15th birthday to the Peace Corps México Environment program! We launched this commemorative campaign to share our 15-year story of "Partnership for Peace, Friendship, and the Environment" through short stories, testimonials, photos, and art from returned Volunteers, partners, and staff, on our official media platforms. Today we are sharing a history of our program, and throughout the course of this XV Anniversary Week we will be sharing archival content about a variety of past Volunteer projects, and ending with a sneak preview of Volunteer contributions to our commemorative campaign.
Fifteen years ago, on June 13th, 2006, Peace Corps México signed a Memorandum of Understanding with the Secretary of the Environment and Natural Resources (SEMARNAT), which founded the Environment Program. Since then, 256 Environment Volunteers in several areas have served in conjunction with dozens of agency counterparts, in 16 states, 115 communities/sites and with dozens of thousands of local partners. Since its inception, the Environment program continues to collaborate with three major SEMARNAT partner agencies:
National Natural Protected Areas Commission (CONANP, Comisión Nacional de Areas Naturales Protegidas)
SEMARNAT State offices (Representaciones Estatales de la SEMARNAT)
National Forestry Commission (CONAFOR, Comisión Nacional Forestal)
The Peace Corps Mexico Environment program began under the leadership of Country Director Byron Battle, Director of Programming and Training Ron Savage, and Program Manager Angel Pineda Villa. Mr. Pineda continues to oversee the program, together with Programming and Training Specialists Benita Luna and Nicole Salgado.
Over the course of its 15 year history, it has sworn in 11 generations of Volunteers. Areas of technical collaboration have evolved since establishment. The first five cohorts of Environment Volunteers, from groups 3, 5, 6, 7, and 8, were assigned as specialists in response to direct requests from agency partners to work at partner agency main offices, as well as at a regional and sometimes local office level, on diverse projects ranging from Geographic Information Systems, institutional strengthening, botany/plant conservation, toxicology, to coral restoration.
Years later, Volunteers from Group 9 focused on specific technical areas, Environmental Education and Small Livelihoods, working with communities to promote and strengthen environmental awareness as well as sustainable business initiatives. Group 11 saw a return to specialized Volunteer services. Groups 13 and 15 through 18 featured two Volunteer profiles: Natural Resource Management, which featured Volunteers with parks management or forestry backgrounds who supported communities with conservation project planning and implementation; and Environmental Education, which recruited Volunteers with environmental science, youth, or community engagement backgrounds to collaborate on community outreach and action projects. The Environment Project Framework from 2013 to 2016 was titled "Environmental Awareness and Resources Management to Address Climate Change."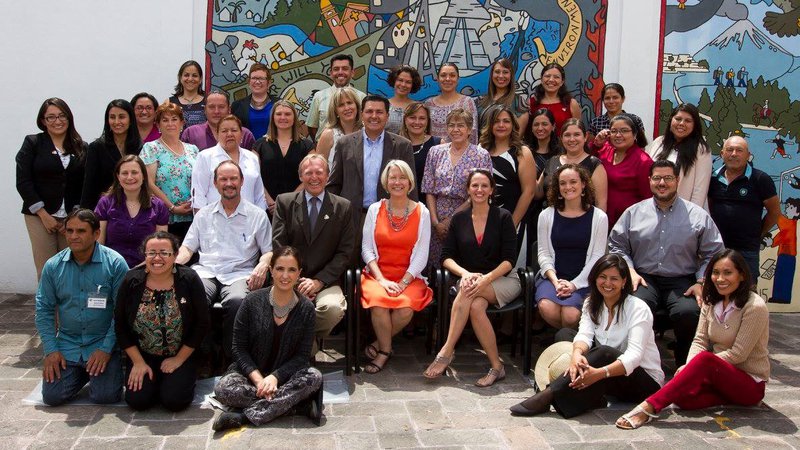 In 2017, a new Peace Corps Mexico Environment project framework was endorsed to center on community climate resilience, via mitigation and adaption activities in two areas of collaboration – Youth Environmental Awareness and Action (EE), and Natural Resource Conservation (NRC). EE Volunteers continued to center their community education and action efforts, this time with a focus on youth empowerment. NRC Volunteers focused on climate science outreach, biodiversity monitoring, and soil and water conservation projects. Groups 19 through 21 were working under this framework and a 22nd cohort was soon slated to arrive when a global evacuation of Volunteers was undertaken in response to COVID19 pandemic in March 2020. Since then the Environment program has undertaken an in-depth review of program outcomes with feedback from global offices, in-country partners, Returned Volunteers, and staff, with the goal of endorsing a new project framework and training program with enhanced alignment between community needs and incoming invitee capacities, once Volunteers return to the field. Stay tuned!
Since its inception, Environment program Volunteers have served for 24 months upon swearing-in after successfully, implementing needs assessments, planning, implementation, and monitoring/evaluation of a variety of community level projects under the previously mentioned project frameworks, in close conjunction with agency and local partners. During both training and service, in addition to working with Peace Corps global and post staff, host country agency and local partners, Volunteers from the Peace Corps Mexico Environment program have collaborated with several key organizations and funders that have enhanced and maximized Volunteer project impact in communities where needed most.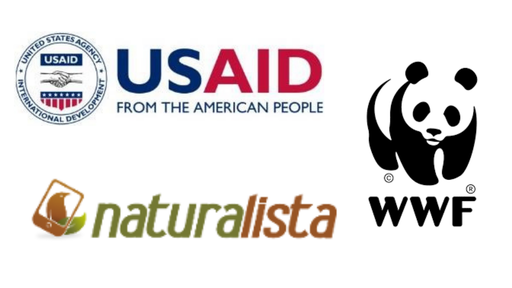 The United States Agency for International Development (USAID): From 2014 to 2019 alone, a total of $434,404 USD was invested in community climate change mitigation and adaptation projects across Mexico.
Naturalista-CONABIO (Comisión Nacional para el uso y conocimiento de la Biodiversidad/National Commission for the Knowledge and Use of Biodiversity): Peace Corps Mexico Volunteers and community members they work with have contributed extensively to this innovative crowd-sourced, scientist-driven biodiversity platform and app since 2017.
WWF Climate Crowd: Peace Corps Mexico Volunteers have both contributed valuable climate data and leveraged funds for climate adaptation projects that benefit local communities and wildlife since 2017.
Below is a sampling of highlighted results from the work of Peace Corps Mexico Volunteers during the first fifteen years.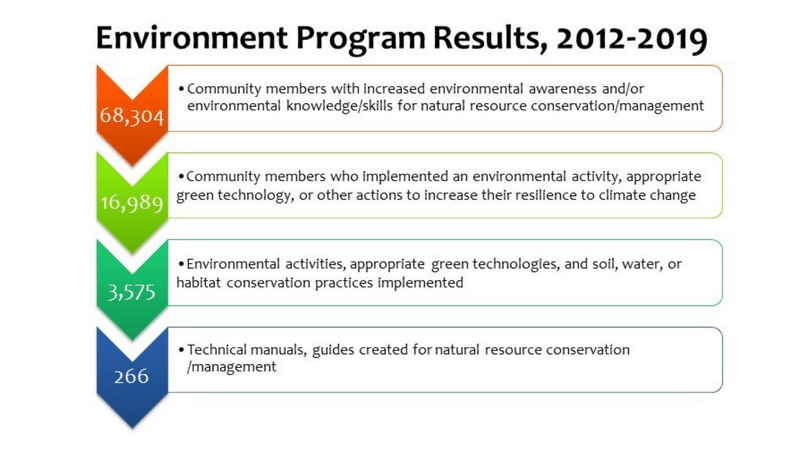 We invite you to learn more about different individual projects, which we are posting here on our website this celebratory week, and to check out service testimonials and memories from the Volunteer perspective during the rest of Anniversary month. Thank you to all current and former PC staff, RPCVs, host country and local partners, and XV Anniversary participants!
-XV Anniversary Team
Joshua Spetter, Acting Country Director/Director of Programming and Training
Angel Pineda, Environment Program Manager
Benita Luna, Environment Programming and Training Specialist
Nicole Salgado, Environment Programming and Training Specialist
María José Martínez, Small Grants Coordinator
Jazmín Montes de Oca, General Services Manager
Ana Gómez, Language and Culture Coordinator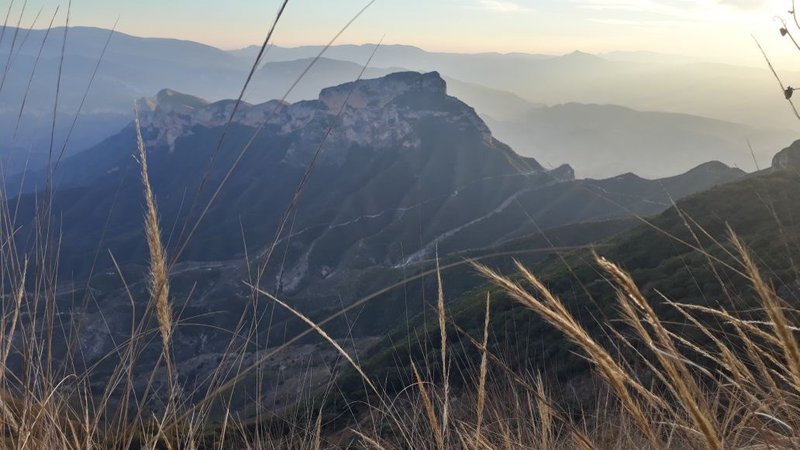 ¡El programa de Medio Ambiente de Cuerpos de Paz México está celebrando 15 años de "Cooperación para la paz, la amistad y el medio ambiente" hoy y toda esta semana!
El cambio climático no conoce fronteras. La viabilidad y sostenibilidad de nuestros recursos naturales, incluyendo el aire que respiramos y el agua que bebemos, dependen de la acción colectiva y cooperativa que trasciende las diferencias sociales, culturales y/o políticas. El Programa de Medio Ambiente de Cuerpo de Paz México construye puentes de paz y amistad entre México y los Estados Unidos de América a través de la cooperación técnica y el intercambio intercultural. Ha sido un honor y un privilegio trabajar tan estrechamente durante estos últimos 15 años con nuestro anfitrión y socio estratégico SEMARNAT. También estoy eternamente agradecido con todos los miembros de nuestro personal, pasados ​​y presentes, que han trabajado tan duro al frente o detrás de las cortinas. Y no olvidemos a las personas que están en primera línea todos los días: los líderes comunitarios y las familias anfitrionas sin los cuales nada de nuestro trabajo sería posible. Y a nuestros Voluntarios del Cuerpo de Paz que regresaron: respondieron a un llamado al servicio que salió por primera vez hace 60 años y que todavía resuena hoy en día, mientras celebramos estos 15 años de nuestro Programa de Medio Ambiente. Gracias por su impacto positivo en nuestro medio ambiente y por sus contribuciones que construyen puentes entre nuestras dos naciones.
- Joshua Spetter, director interino de país de Cuerpo de Paz México y director de Programación y Capacitación
¡Feliz cumpleaños número 15 al programa de Medio Ambiente de Cuerpo de Paz México! Lanzamos esta campaña conmemorativa para compartir nuestra historia de 15 años de "Cooperación para la paz, la amistad y el medio ambiente" a través de historias cortas, testimonios, fotos y arte de los Voluntarios retornados, socios y personal mostradas en nuestras plataformas de medios oficiales. Hoy platicaremos de la historia de nuestro programa y, a lo largo de esta Semana del XV Aniversario, compartiremos contenido desde el archivo sobre una variedad de proyectos de nuestros pasados Voluntarios ​​y terminaremos con un adelanto de las contribuciones de los Voluntarios a nuestra campaña conmemorativa. Si quiere participar, ¡todavía hay tiempo! Consulte nuestra convocatoria para contribuciones. Fecha límite 30 de junio.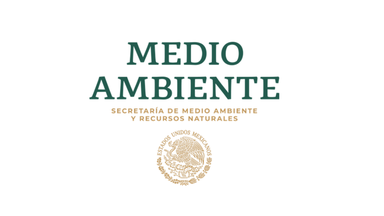 Hace quince años, el 13 de junio de 2006, Cuerpo de Paz México firmó un Memorándum de Entendimiento con la Secretaría de Medio Ambiente y Recursos Naturales (SEMARNAT), que fundó el Programa de Medio Ambiente. Desde entonces, 256 voluntarios ambientalistas han servido en varias áreas en conjunto con docenas de agencias contrapartes, en 16 estados, 115 comunidades / sitios y con docenas de miles de socios locales. Desde sus inicios, el programa de Medio Ambiente continúa colaborando con tres importantes agencias socias de la SEMARNAT:
Comisión Nacional de Áreas Naturales Protegidas (CONANP)
Representaciones Estatales de la SEMARNAT
Comisión Nacional Forestal (CONAFOR)
El programa de Medio Ambiente de Cuerpo de Paz México comenzó bajo el liderazgo del Director del País Byron Battle, el Director de Programación y Capacitación Ron Savage y el Gerente de Programa Angel Pineda Villa. El Mtro. Pineda continúa supervisando el programa, junto con las Especialistas en Programación y Capacitación Benita Luna y Nicole Salgado.
A lo largo de sus 15 años de historia, han jurado protesta 11 generaciones de Voluntarios. Las áreas de colaboración técnica han evolucionado desde su establecimiento. Las primeras cinco generaciones de voluntarios ambientales, de los grupos 3, 5, 6, 7 y 8, fueron asignados como especialistas en respuesta a solicitudes directas de agencias asociadas para trabajar en las oficinas principales de las agencias asociadas, tanto a nivel regional como local a nivel de oficina, en diversos proyectos que van desde sistemas de información geográfica, fortalecimiento institucional, botánica / conservación de plantas, toxicología y hasta restauración de corales.
Años más tarde, los Voluntarios del Grupo 9 se enfocaron en áreas técnicas específicas, Educación Ambiental y Pequeños Negocios Sustentables, trabajando con las comunidades para promover y fortalecer la conciencia ambiental, así como iniciativas empresariales sostenibles. El grupo 11 vio un regreso a los servicios de voluntariado especializados. Los Grupos 13 y 15 al 18 presentaron dos perfiles de Voluntarios: Manejo de Recursos Naturales, que contó con Voluntarios con experiencia en manejo de parques o temas forestales, que apoyaron a las comunidades con la planificación e implementación de proyectos de conservación; y Educación Ambiental, se reclutó Voluntarios con antecedentes en ciencias ambientales, en jóvenes o participación comunitaria para colaborar en proyectos de acción y alcance comunitario. El Marco de Proyectos Ambientales de 2013 a 2016 se tituló "Conciencia ambiental y gestión de recursos para abordar el cambio climático".
En 2017, se aprobó un nuevo marco de proyecto de Cuerpo de Paz México de Medio Ambiente para centrarse en la resiliencia climática comunitaria, a través de actividades de mitigación y adaptación en dos áreas de colaboración: Conciencia y Acción Ambiental Juvenil (EE) y Conservación de Recursos Naturales (NRC). Los voluntarios de EE continuaron centrando sus esfuerzos de acción y educación comunitaria, esta vez con un enfoque en el empoderamiento de los jóvenes. Por su parte, los voluntarios de NRC se centraron en la divulgación de la ciencia climática, el monitoreo de la biodiversidad y los proyectos de conservación del suelo y el agua. Los grupos 19 a 21 estaban trabajando bajo este marco y estaba previsto que pronto llegara una 22a generación cuando se llevó a cabo la evacuación global de voluntarios en respuesta a la pandemia de COVID19 en marzo de 2020. Desde entonces, el programa de Medio Ambiente ha llevado a cabo una revisión profunda de los resultados del programa con retroalimentación de las oficinas globales, los socios en el país, Voluntarios retornados, y personal, con el objetivo de respaldar un nuevo marco de proyecto y un programa de capacitación con mayor alineación entre las necesidades de la comunidad y las capacidades de los invitados entrantes, una vez que los Voluntarios regresen al campo. ¡Manténganse al tanto!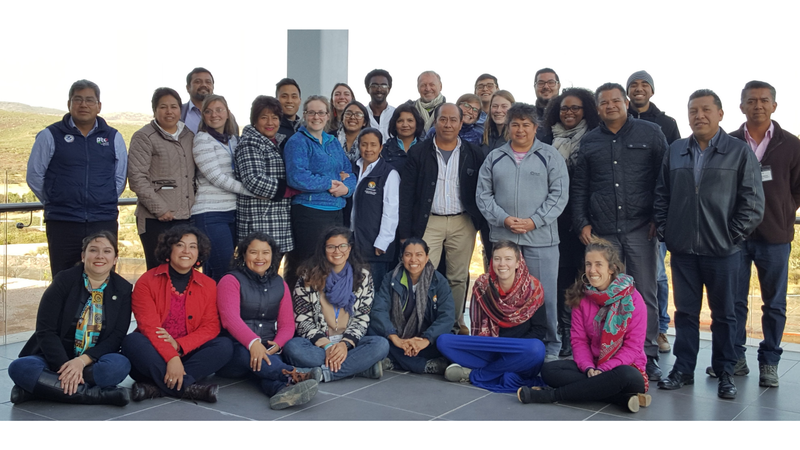 Desde su inicio, los Voluntarios del programa de Medio Ambiente han prestado servicios durante 24 meses después de tomar protesta de su cargo, logrando implementar con éxito evaluaciones de necesidades, planificación, implementación y monitoreo / evaluación de una variedad de proyectos a nivel comunitario bajo los marcos de proyectos mencionados anteriormente, en estrecha colaboración con las agencias y socios locales. Durante la capacitación y el servicio, además de trabajar con el personal global y local de Cuerpo de Paz, las agencias del país anfitrión y los socios locales, los Voluntarios del programa de Medio Ambiente de Cuerpo de Paz México han colaborado con varias organizaciones clave y financiadores que han mejorado y maximizado el impacto de los proyectos de voluntarios en las comunidades donde más se necesita. Por nombrar unos pocos:
La Agencia de los Estados Unidos para el Desarrollo Internacional (USAID): Solo de 2014 a 2019, se invirtió un total de $ 434,404 USD en proyectos comunitarios de mitigación y adaptación al cambio climático en todo México.
Naturalista-CONABIO (Comisión Nacional para el uso y conocimiento de la Biodiversidad / Comisión Nacional para el Conocimiento y Uso de la Biodiversidad): Los voluntarios del Cuerpo de Paz de México y los miembros de la comunidad con los que trabajan han contribuido ampliamente a esta innovadora colaboración de financiamiento colectivo con la plataforma en línea y la aplicación para dispositivos móviles sobre la biodiversidad impulsada por científicos desde 2017.
WWF Climate Crowd: Los voluntarios del Cuerpo de Paz de México han contribuido con valiosos datos climáticos y han movilizado fondos para proyectos de adaptación climática que benefician a las comunidades locales y la vida silvestre desde 2017.
A continuación se muestra una parte de los resultados destacados del trabajo de los Voluntarios de Cuerpo de Paz México durante los primeros quince años.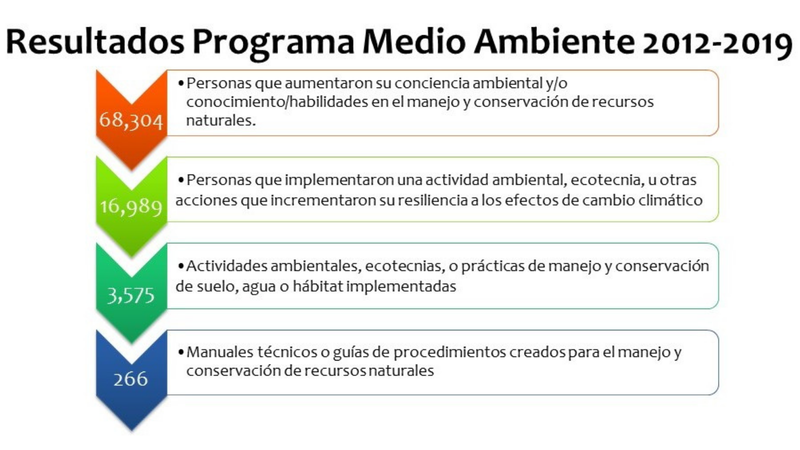 Lo invitamos a conocer más sobre los diferentes proyectos individuales que publicaremos aquí en nuestro sitio web esta semana de celebración, y a ver testimonios de servicio y recuerdos desde la perspectiva de los voluntarios durante el resto del mes del aniversario. ¡Gracias a todo el personal actual y anterior de PC, RPCV, países anfitriones, socios locales y participantes del XV Aniversario!
-Equipo de la Conmemoración del XV Aniversario
Joshua Spetter, Director Interino del País/ Director de Programación y Capacitación
Angel Pineda, Gerente de Programa de Medio Ambiente
Benita Luna, Especialista en Programación y Capacitación de Medio Ambiente
Nicole Salgado, Especialista en Programación y Capacitación de Medio Ambiente
María José Martínez, Coordinadora de Fondos para Proyectos
Jazmín Montes de Oca, Gerente de Servicios Generales
Ana Gómez, Coordinadora de Lengua y Cultura