Mexico
Director's Welcome | Bienvenida del Director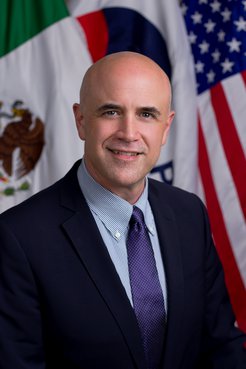 Carta en español abajo
Mexico and the United States are much more than neighbors. Our two nations share cultures, ecosystems, and history that spans hundreds of years. Given Mexico and the United States' unique relationship in an increasingly interconnected world, it is more important than ever to continue building on the mutual understanding, collaboration, and bonds that join us.
Peace Corps has dedicated the last six decades to building bridges between countries, supporting community development worldwide and fostering world peace and friendship. Volunteers make significant contributions by integrating in host communities and supporting local initiatives that improve education, promote climate change resilience, and enhance community development. They are supported in their endeavors through teamwork with their peers, counterparts, host country partners, community members and an enthusiastic and dedicated staff.
Peace Corps Mexico Volunteers work within the Environment, Education and Response sectors. We are grateful for strong relationships with host country agencies such as the Agencia Mexicana de Cooperación Internacional para el Desarrollo (AMEXCID), the Secretaría de Medio Ambiente y Recursos Naturales (SEMARNAT), and the Secretaría de Educación Pública (SEP). Our hosts and partners guide our efforts to support Peace Corps volunteers as they address local needs within the framework of Mexico's national priorities. Please read more about our Projects in Mexico and check out a few of our Stories from Mexico.
With great hopes for our shared future as nations, our gratitude goes out to our partner agencies who continually entrust us with our important Volunteer mission for positive and sustainable impacts, as well as to those who aspire to serve in the spirit of our founder John F. Kennedy, who said "every accomplishment starts with a decision to try." We remain in eager anticipation of welcoming you to our joint mission.
Matthew Colburn, Country Director
---
México y Estados Unidos son mucho más que vecinos. Nuestras dos naciones comparten culturas, ecosistemas y una historia que se extiende por cientos de años. Dado que México y Estados Unidos mantienen una relación única en un mundo cada vez más interconectado, es ahora más importante que nunca seguir construyendo una mutua comprensión, colaboración y lazos que nos sigan uniendo.
Cuerpo de Paz se ha dedicado a construir puentes entre países en las últimas seis décadas, apoyando el desarrollo de las comunidades a nivel global, fomentando la paz mundial y la amistad. Los Voluntarios hacen contribuciones significativas al integrarse a las comunidades anfitrionas y apoyando iniciativas locales que mejoren la educación, promuevan la resiliencia al cambio climático y mejoren el desarrollo comunitario. Sus esfuerzos son apoyados a través del trabajo en equipo con sus compañeros, contrapartes locales, contrapartes oficiales, miembros de la comunidad así como con un staff entusiasta y dedicado.
Los Voluntarios de Cuerpo de Paz México trabajan dentro de los sectores de Medio Ambiente, Educación y en el programa Response. Estamos muy agradecidos por las sólidas relaciones con nuestros socios de las agencias anfitrionas como la Agencia Mexicana de Cooperación Internacional para el Desarrollo (AMEXCID), la Secretaría de Medio Ambiente y Recursos Naturales (SEMARNAT), y la Secretaría de Educación Pública (SEP). Nuestros anfitriones y socios guían nuestros esfuerzos para apoyar a Voluntarios de Cuerpo de Paz al colaborar en las necesidades locales dentro de nuestro marco lógico de prioridades en México.
Con grandes esperanzas para nuestro futuro como naciones, nuestra gratitud va dirigida a nuestras agencias asociadas quienes continuamente confían en nosotros y en nuestra misión de voluntariado con un impacto positivo y sustentable, también a quienes nos inspiran a servir con el espíritu de John F. Kennedy, quien dijo "cada logro empieza con la decisión de intentarlo". Seguimos esperando ansiosamente darles de nuevo la bienvenida a nuestra misión en conjunto.
Matthew Colburn, Director