The seasons in our community don't change with the weather but with the youth arriving for school or leaving for break.
Our Health Center catchment area covers nearly 30km and 9 health posts. When I arrived, there were two marginally active clubs and a "Youth Friendly Services" sign posted at the health center, but no place for these services and nearly no club projects. On top of this, the relationship between NGOs and youth in the area was not positive. Too often, the clubs would fabricate projects and successes to receive trainings and then send friends and family members to reap allowances. As these fabrications became more and more apparent, NGOs began to leave the area behind, and youth abandoned the clubs.
One of the more ambiguous projects that I have attempted to take on in my Peace Corps service has been a rehabilitation of these youth clubs. As one of our goals as Community Health Volunteers is to strengthen local health systems and infrastructure, this seemed a logical project. A strong youth network can lighten the load of health outreach staff while also increasing the reach of important messages. Our area faces multiple challenges including an extremely understaffed health center and a high number of youth, especially ones with substance abuse issues, so active youth clubs can provide this audience with a space in which to serve and help the community. With the help of my counterpart, we have successfully increased the youth club count from 2 clubs to 8, with more than 80 active members.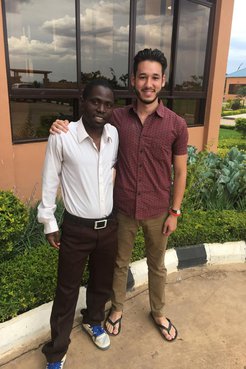 My primary counterpart for this endeavor has been a man named Christopher Banda. Together, we began by training youth from each community on business and leadership skills. We reasoned that business requires constant upkeep, so if each club were to have a business, then there would be little choice but to be active to maintain that business.
To assist with communication and organization, we created a Community Youth Coordinator (CYC) position attached to the health center which is currently held by Mr. Banda and another very active community member Daniel Jere. We did this for sustainability and to ensure that once my Peace Corps service concludes, the momentum among the clubs will remain strong. The CYCs act as the point of contact for NGOs who wish to work with the youth clubs attached to our health center. This includes everything from planning events to running trainings as well as initiatives for which the health center needs assistance in the communities. The CYCs serve as a filter of sorts to certify that those being trained are indeed active club members.
I am continuously impressed with the motivation and creativity I see among my counterparts and the club members. It is a large task to become active as a club when you have no resources. But I'm happy to say I think we have found those community members who care and have a vision of a healthier community.
HIV testing in the age group ranging from 14-24 is extremely low in our area due to a lack of opportunity to receive testing and social stigma. To promote testing in a more comfortable environment, Mr. Banda and I decided to plan a community-wide HIV testing and education awareness event. We coordinated with local non profits as well as the schools and youth clubs to advertise the event, get donations for activities and prizes, and provide HIV testing and counseling (HTC). The first organization who had promised to provide HTC backed out 2 weeks before the event due to unforeseen circumstances. We panicked but luckily found a back up organization who could help.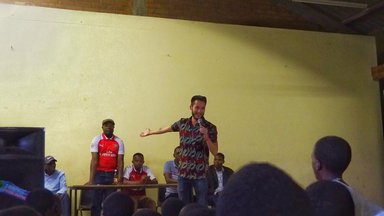 Then, the evening before the event, I received a message from that organization saying they would be unable to attend the event. Again, panicked, Mr. Banda and I began to brainstorm how to work around this issue. The activities for the event were already set with most performances presenting health related content the following morning. We decided that the goal of the event was HIV testing for youth and with health center approval we signed out 100 kits from the already limited supply of the health center, expecting to use only about 50.
As the youth performances filled the stage it was announced that testing services were being provided and anyone unsure about testing was more than welcome to watch me be tested openly. With this announcement the youth flooded out of the hall to watch the azungu get tested.
By 1:30pm, 100 youth between the ages of 14 and 24 had been tested, most of whom had never been tested before. By this time, we had run out of kits and the 30+ youth waiting by the testing room were referred to the health center to be tested on Monday. The remaining part of the day consisted of football and netball matches and a very lively dance competition.
I began that day doubting that the 2 months of work the organizers and I had put in would be enough without the presence of an external NGO. However, by the end of the day, we had adapted to put on an incredibly enjoyable event with a high yield of target group testing, seeing 100 youth tested and an estimated 500 individuals in foot traffic. We celebrated the talents of the local youth, spread health knowledge through performance, and showed the community and each other how much power the youth in the area really have to take their health into their own hands.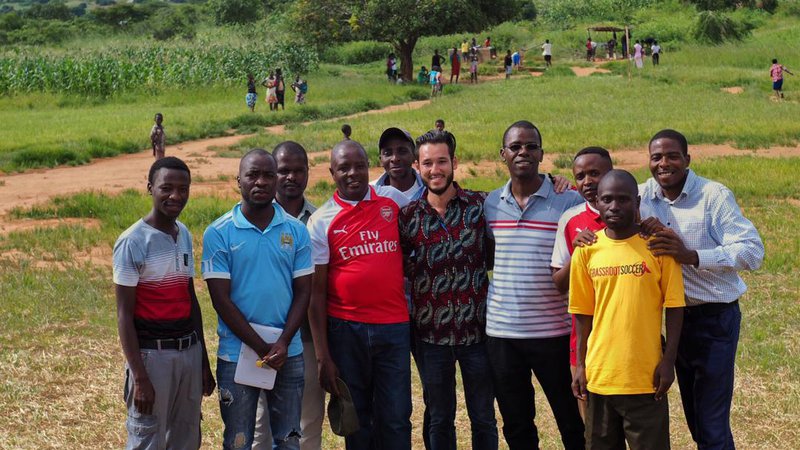 On Monday, I learned that our event still gained this foot traffic while competing with two large area football games. Minutes after learning of these other events, the health center saw a mob of another 34 students and youth who showed up together to fulfill their referral from Saturday. According to staff, this was the largest instance of mass HIV testing conducted in this catchment area, and we did it without any external support. Through the strength of health center staff, youth groups, and community interest, we now have tangible data to support the effectiveness of events such as these. Our hope is that this event provides a foundation for future youth-lead health events as well as an example to NGOs that large scale events can occur cheaply and easily when communities are involved and empowered.
---