"This morning, we found out that we have to leave Malawi. We don't know if we'll be able to come back."
After struggling out of my throat, these words hung in the air for what felt like ages. It was March 16th, and I was feeling devastated. Maxwell was quiet for a moment as we continued walking. His reassuring words followed, with a steady voice, "Do not worry. I will finish all of the programs we have started together. You should only worry that I will miss you."
My eyes stung as I tried to hold back the tears that likely would have made Maxwell or passersby feel uncomfortable. The idea wasn't real to me until I had told Maxwell. After only nine months of my expected twenty-seven months of service in Malawi, I was being evacuated.
I had met Maxwell in mid-November. Will, my partner and fellow Volunteer, and I had been frantically searching for the perfect counterparts to join us for the upcoming Grassroot Soccer training in the capital city, Lilongwe. I had asked everyone I knew in my community, "Do you know anyone who is young, energetic, responsible, comfortable talking about challenging topics like sexual health and gender norms, and speaks English?" Most inquiries received a nod and an, "I'll get back to you."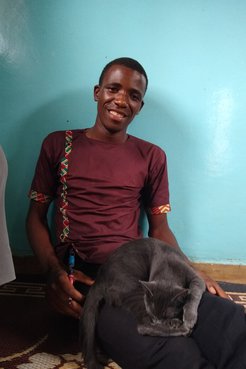 Just as it was getting close to our deadline, my friend Mary told me that she knew someone who might be a perfect fit. The next day, via Mary's introduction, I found myself chatting with Maxwell. From our very first meeting, he struck me as outgoing, kind, and incredibly intelligent. He told us that he loves working with people and learning new things, so if we could make those two guarantees, he'd happily join us for the training and work with us afterward.
Maxwell thrived at our weeklong training in Lilongwe. He brought energy, curiosity, and the humility to challenge his own beliefs. I was proud of him and hopeful for the future.
After the training, our friendship with Maxwell flourished. He started coming to our house every weekday morning to practice Chichewa with us. He was patient even when Will and I were not, as we asked the same Chichewa grammar question for the fifth time. He even developed a friendship with our kitten, Utsi. She would run out to greet Maxwell when he arrived every morning, and he would pick her up, play with her, and pet her. He would come over in the evening sometimes to watch movies and eat "American" dinners. One evening, when I questioned him about whether he was enjoying the meal, he boldly proclaimed, "I can eat anything but a stone." It didn't make Will feel proud of the falafel he had prepared that night, but we laughed together in appreciation of his open-mindedness.
While we had a lot of fun with Maxwell, we also did a lot of work. First, we planned and implemented our first Grassroot Soccer intervention, meeting with a team of adolescents twice per week for six weeks to facilitate activities and discussions about making healthy choices. A day or two before each lesson, Maxwell would spend hours reviewing the lesson with Will and me, discussing key points, and troubleshooting potential challenges. He was completely committed to being the best Grassroot Soccer coach he could be.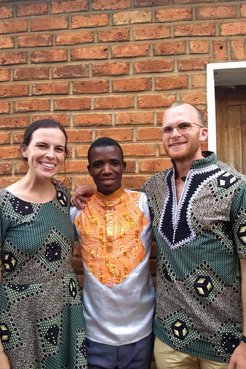 Although he was already spending hours working with us each week, Maxwell asked if we had any other projects with which he could help. We started inviting Maxwell to meetings with community leaders to plan future programs. As a young man who happened to be volunteering to work with two Peace Corps Volunteers, Maxwell handled these meetings with chiefs and community leaders with the perfect balance of respect, humor, and confidence. The meetings always ended positively, and we soon had a full schedule booked for the coming months.
Before our first Grassroot Soccer team had even graduated, Maxwell eagerly committed to coaching two more Grassroot Soccer teams, in addition to leading the facilitation of a Sustainable Opportunities for Leaders of Internal Development (SOLID) training with a group of community leaders. By mid-March, we were in the thick of the busy schedule we had set up for ourselves with Maxwell. We had programs together four days a week, with tutoring and planning sessions filling our remaining free time. Our weeks were busy, and we were all feeling resoundingly dedicated, motivated, and fulfilled.
All of that momentum felt like it screeched to a halt when I received notice on that March morning that all Peace Corps Volunteers worldwide were being evacuated. We informed Maxwell of the news on our long early morning walk to our SOLID training session that day. Without Will or I even raising the question, Maxwell insisted that he would finish everything we had started. After saying goodbye the following morning, Maxwell walked away with a bag full of program manuals in one hand, and our kitten, Utsi, in the other.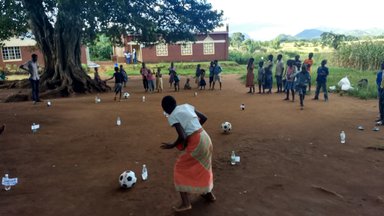 Maxwell never missed a scheduled meeting, even after we left Malawi. He messaged us on WhatsApp daily to update us about that day's activities and to send photos of the training groups and of the scenery on his long walks, that we used to take together to and from the meeting hall. A couple of weeks after our departure, right on schedule, Maxwell led graduations for both Grassroots Soccer teams and for the SOLID group. He sent photos and videos of the groups all dressed up, proudly holding their certificates and enjoying refreshments. I found tears trickling down my face again as I celebrated the graduations from across the ocean.
I am proud of the youth who maintained their commitment to their fellow Grassroot Soccer teammates. I'm proud of the community leaders who worked through challenging conversations with a shared goal of bettering their community. And I am proud of Maxwell. His commitment to his work and his community never wavered, even as he was unexpectedly and suddenly left to complete the work on his own. Maxwell is the counterpart, tutor, and friend who every Peace Corps Volunteer dreams of. I count myself lucky to have shared so many memories with such a special person, and I look forward to many more years of friendship from afar as Maxwell continues his journey of finding ways to learn, grow, and serve his community.
---