Unexpected Inspiration: Adopting Vertical Sack Gardens for Improved Household Nutrition
'Little did I know at the time that our exchange of ideas would be the catalyst for a bigger project,' Diego reflects.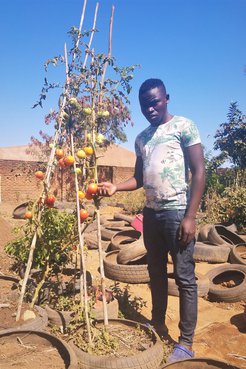 Diego Najarro Sedar, a Costa Rican native, joined Peace Corps Malawi as an Environment and Food Security Volunteer in June 2019. As an introduction to Peace Corps Volunteer service, Diego underwent ten weeks of training in Njombwa Village, located in Kasungu District in Central Malawi. During training, Diego and his colleagues in the environment sector learned about the challenges that Malawi faces in terms of environmental conservation. Malawi's sharp rise in population creates a higher demand for raw materials such as coal and firewood and therefore puts strain on a country that is already experiencing a rapid and unsustainable rate of deforestation.
Why is it key to limit deforestation? Why must we not only preserve and protect, but also seek to expand forests while applying climate-smart agriculture at the same time? It is proven that a strong biodiversity in the context of the environment ensures richer soils. This in turn translates to a wider variety of fruits and vegetables grown and consumed. By taking action to promote biodiversity, we can better enjoy Mother Nature's gifts, including Malawi's traditional stable food nsima which is made from local maize. As global citizens, we cannot forget that biodiversity is the foundation of a healthy livelihood as well as many global industries.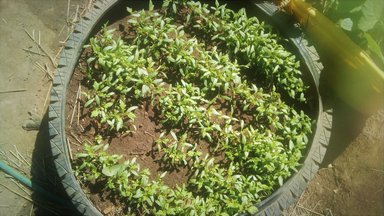 Peace Corps Volunteers in the environment sector often work with their communities to promote reforestation and environmental conservation and to introduce more efficient and eco-friendly methods of farming and living. Among the many activities and lessons that Diego learned during his training, one involved establishing and maintaining vertical sack gardens.
Through the host family with whom he stayed, Diego was introduced to a man named Edwin Tangwe who helped him to develop not only a deeper understanding of Malawian culture and language but also a vision for a greener Malawi. In one of their many conversations, Edwin mentioned that he was intrigued by a concept that Diego presented at a community demonstration on the topic of vertical/maize sack gardens. As a student at the Lilongwe University of Agriculture and Natural Resources (LUANAR) and a young, educated professional in the field of development, he shared his fascination about the potential of this farming method. He was inspired by the idea that with a small amount of materials, space, and water, he could increase production in his garden, especially with less labour and money invested.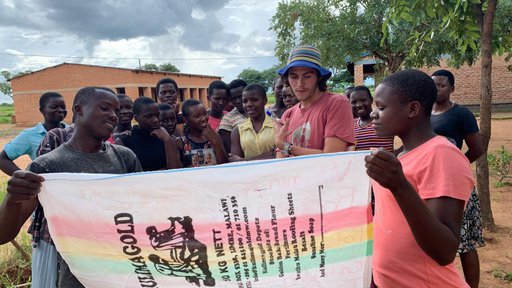 After the ten weeks of training, Diego moved to a new community in Chitipa District. However, the knowledge that he shared with the community had planted a seed for change. Little did anybody know that Edwin would utilize these newly acquired gardening concepts to create something remarkable and inspiring for the larger community.
Beginning with the knowledge and skills that Diego shared, Mr. Tangwe established a learning centre on vertical gardens. Through their organization called 'Green Uhuru,' Edwin and his friend Lackson have been visiting communities and women's groups in nearby villages to magnify information regarding this gardening technique. Their effort has been met with enthusiasm by many community members. Edwin aspires to expand the organization 'pang'ono pang'ono' (little by little), spreading the environmental conservation impact to communities in both rural and semi-urban areas throughout Malawi. He believes that protecting the environment in Malawi can create millions of jobs as well as opportunities to improve the quality of life for many.
In Edwin's words, "sometimes when you make good in the community, you become something great, even when you die you leave a mark that no one can erase. It is good for children as you become their role model. These kinds of initiatives involve all people, young, old, children, the entire community, and help us realize the responsibility we have of taking care of our environment. We are all obliged to take action to guarantee a sustainable future for the generations to come."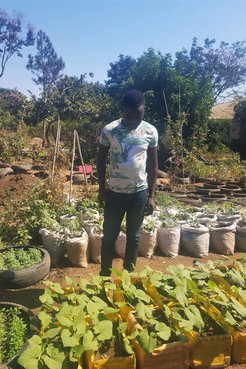 These home garden spaces, inspired by a single Peace Corps Volunteer, are a prime example of the impact that a small-scale yet simple project can have on communities across Malawi as well as around the world. Building vertical gardens provides many benefits ranging from generating income, increasing food security, improving nutrition, and overall enhancing the standard of living. It is through Edwin's spirit of volunteerism that we are reminded how being educated, open hearted, open minded and motivated can positively shift humanity's relationship with nature, preserving our societies with increasing harmony.
Due to the COVID-19 pandemic, a global evacuation of all Peace Corps Volunteers was ordered in March 2020. Diego was not able to taste the tomatoes grown in Edwin's vertical garden, but he is certain that someday in the future he will again be working hand-in-hand with his achimwene to build more gardens.
---