Unexpected Christmas Memories
I stood in the middle of the maize field as the sun set. The sky was painted in brilliant colors above me while I wandered through the field, phone in hand, searching for signal.
I stepped on top of a rock and, like magic, the faces of my family popped up on the screen and we all simultaneously screamed "Merry Christmas!!!!!"
While my family had gathered to celebrate Christmas together in the States, there I was, over 8,000 miles away, in a field in rural Malawi. It was my first Christmas away from home, and I had just moved into my community a few weeks prior. I didn't really know how I would celebrate Christmas in the village considering I was still building relationships with people. Prior to my Peace Corps service, I had always celebrated this day surrounded by family. I had been mentally preparing myself for this moment for a few days, anticipating feeling homesick and having to hold back tears. But surprisingly, in that moment, I was instead bursting with stories about my day and the people who had made it so special.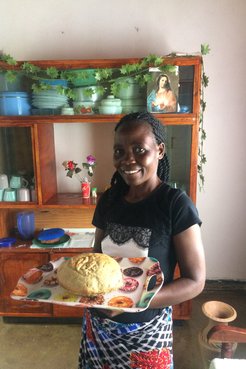 On Christmas Eve, one of my fellow teachers, Madam Kabula, showed up on my porch, calling me to come bake mandazi, a Malawian donut, with her. As we cooked, she informed me that the next morning, she and her nieces would collect me from my house and together we would all go to Christmas mass.
The church was packed full of people wearing their best clothes, whispering greetings and news to their friends, and singing loudly along with the choirs. Following the church service, I was told that I was due at my landlord's house for Christmas lunch. When I arrived, I was greeted by the rich smell of roasting meat and the delightful sight of a large container of rice on the table, both of which are luxury items in my village and only eaten on special occasions. After we ate large plates of these treats, the kids and I sang Christmas carols in both Chichewa and in English before showing off our best dance moves.
After all the celebrating, I set off for home. Along the way, my neighbor spotted me, ran out of her house, grabbed my hand, and pulled me inside. She set out a plate for me and insisted that I join her family for their Christmas lunch. She whispered in my ear that she had been saving up for quite a while to ensure that the family had meat on that day, and that they would be honored to share it with me. Though I was already more than full I happily accepted her invitation and joined her family for my second Christmas meal.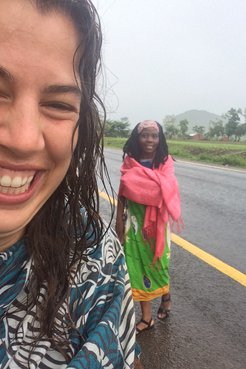 That Christmas was a turning point in my Peace Corps service. Suddenly, the people around me felt a lot more like friends and family than strangers.
When Christmas rolled around the following year, I no longer questioned how or with whom I would celebrate.
On Christmas Eve, I showed up on Madam Kabula's porch to inform her that the fire was ready and that she must come over to bake banana bread with me. On Christmas day, we were caught in a torrential rainstorm on the way back from church and took shelter on the porch of a stranger. As we laughed at our predicament, the owner of the house repeatedly offered us tea from the pot warming on the fire.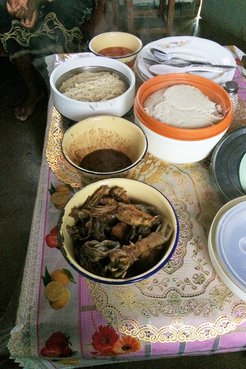 Once we arrived back home, I changed out of my wet clothes and carted a bucket of mangoes to my landlord's home. We ate every single mango while singing Christmas carols. Afterwards, I went straight to my neighbor's house, where we feasted on nsima -Malawi's staple food- and my contribution of spaghetti. As the sun set on another Christmas in Malawi, I walked to that same familiar rock to find network and call home. This year, however, I was joined by some of the neighborhood kids who also wanted to greet my family and wish them a Merry Christmas.
This year, in 2019, I will celebrate Christmas in the United States, over 8,000 miles from my neighbors. I hope to make mandazi or banana bread on Christmas Eve with my family and sing Christmas carols with my cousins. Instead of going out to the maize field to call home, I will sit on the couch and call my neighbors so that we can all shout "Merry Christmas" simultaneously. I'm sure we will all be bursting with stories to share.
---