The True Spirit of Christmas
When I left our training village after 9 weeks of Pre Service Training, I was not sure when I would see my host family again.
So, a few other volunteers and I made a vague commitment to our families that we would see them around Christmas time. When holiday planning came around, I knew that I had to keep that promise. I would go back to my host family to spend Christmas day with them.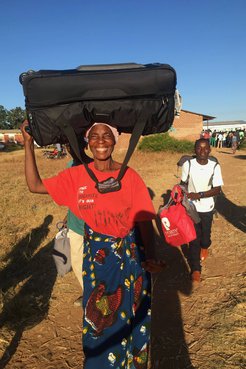 On the way there, I started to feel anxious. I hadn't seen my host family in 4 months, and I wasn't sure if things would feel different. While I generally talk on the phone with my family about twice a month, it's only for a short time because the cost of calling is so expensive. Usually, my amayi only asks things like: "are you eating?" and "are you cooking nsima?"
I was worried that my family would stretch themselves too thin for me. While staying with them before, I had a Peace Corps mattress, water filter, and Peace Corps supplied our host families with a bit of supplemental food each week. The seven other volunteers and I didn't want to show up empty handed. So, on the way, we made a quick stop in the trading center for rice and 10 live chickens.
When we arrived, my host sister Naomi sprinted out and greeted me with a giant and dramatic hug. Then, it was like the first day in village all over again. All of us Volunteers parted ways to find our homes. It was just me and my family, much like the very first time I had entered this home, naïve and overwhelmed by this new culture and lifestyle.
This time, however, these people were my family, not just the host family assigned to me for PST. My amayi showed me to my old room, and I was shocked to walk in and see a made up bed and mattress with a mosquito net draped over it along with a pot of boiled and treated water for me to drink. I started asking where all these things came from, and I found out I was sleeping on the mattress of my parents. I insisted that they did not have to give their bed up for me, but they would not take no for an answer. After just 10 minutes of arranging things and settling in, I retreated to the kitchen with my amayi and sisters where we cooked nsima and sang along to Taylor Swift's "Shake it off," just like old times.
On Christmas day, I went to my family's church, CCAP (Church of Central Africa Presbyterian), where my amayi leads the church choir. My fellow Volunteers and I sat with our moms in the choir, and each time a song started, we all naturally stood and danced with them.
During the church service, the most heartwarming and surprising thing happened. During the offering, where everyone walks up to the front to contribute some kwacha, some people were delivering boxes or bags with tags. I thought nothing of it at first, but then the pastor started reading the tags and I realized they were gifts. Families who were able were providing gifts for families who did not have as much (like widowed or elderly families). Among the gifts were different food items like eggs, sugar, corn, or ufa.
I teared up a little, especially when my amayi nudged me as they called her name and gave away her gift. She beamed with happiness as we watched another woman go up and receive her gift of two eggs.
It was in that moment that I realized, this is the true spirit of Christmas.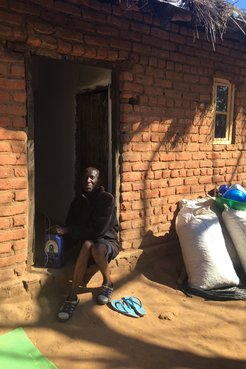 After church, we were off to grandma's house. Agogo Febe greeted me like she had not seen me in four years, rather than four months. I sat with her and all of our extended family for a while and visited. As I was leaving, Agogo Febe told me not to wait so long before coming back next time.
For our big Christmas meal, my amayi cooked at least 10lbs of rice, chicken, and cabbage and tomatoes. We also each had an orange Fanta to drink. We sat outside, so there was space for everyone to eat together, and we listened to Christmas music on my abambos prized hand crank radio. After lunch, we played card games, roasted marshmallows, and washed all the dishes.
The whole visit was special and heartwarming, but the best part of my day was when my Malawian family got to video call with my American family. My amayi told my mother that "she is my daughter, I want her to live in Malawi forever," to which my mother had quick opposition. As I was on the phone, missing my American family, I realized how lucky I am to have found a completely loving second family a world away from my American home.