Training Champion Teachers in Malawi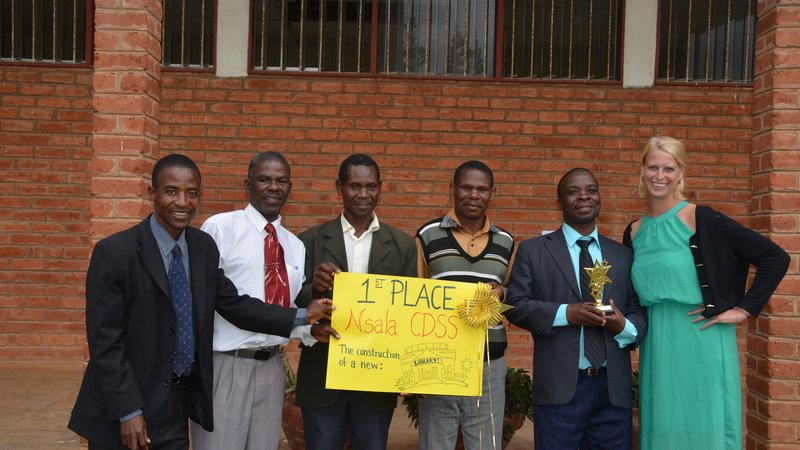 June 27, 2017
I began my career in education as a fellow at Match Charter, teaching in a tough environment and watching expert teachers transform students' attitudes and success in learning. After a number of years teaching English as a foreign language in public schools across the United States, I wanted to experience international education and applied to the Peace Corps.
I was chosen for Malawi's education program and was placed as the Teacher Development Facilitator for a cluster of ten secondary schools in my area.
As a Volunteer, I worked with teachers to promote professional and school development. My first step was to get to know each school. After several classroom observations, I saw that teaching was often approached as lectures and copying notes from a chalkboard. Students on a large scale were unable to answer questions not based on recall. "Chifukwa chiyani" or "why" was rarely asked, by students or teachers. How could I help to address such a challenge, considering limited resources, time and motivation for teachers? 
I started the first workshop with three statements about what the role of teacher could be:
1. My job is to increase student learning in the most efficient way possible.
2. My job is to no longer say smart things but to get my students to say smart things.
3. My job is to provide opportunities to students to practice new thinking tasks and give feedback on how well they execute the tasks.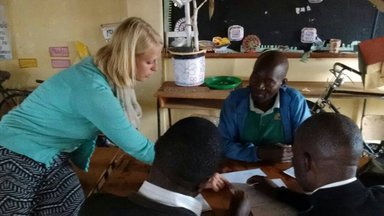 After some debate, the teachers in my cluster were buying in to these statements and we moved into our workshop on Ratio teaching. Ratio teaching intentionally increases the amount of time learners spend doing cognitive and linguistic work, while decreasing the time spent on the teacher talking. We trained on techniques for participation ratio and thinking ratio. Teachers were challenged to integrate high-level thinking tasks into their lesson plans. Their favorite part was the participation activities such as turn and talk, jigsaw, stop and jot, and cold call. The results of using these techniques during teaching were intrinsically motivating, but lasting behavior change in challenging environments is hard to sustain. 

Teachers would tell me, "Ashley, we have no resources, there are no books!" "Our students can't speak English." "Our classes are 80 stuents or more, we can't keep them under control."
I designed a project to motivate teachers through competition. With my counterpart and head teachers, we implemented a holistic assessment including indicators for Teaching and Learning, Leadership and Management, Student Friendly Schools, School Governance, and School Performance. Growth was assessed by classroom observations and teachers were scored on how well they demonstrated what was covered in our workshops. To conduct these observations, I rode my bike on dirt roads to reach our most rural schools, sometimes 25 kilometers a day!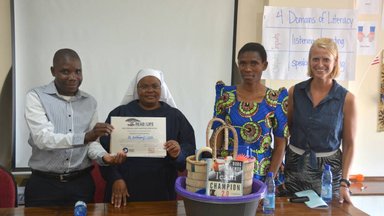 The competition design included a small grant from the Peace Corps Partnership Program. I assessed what might be of most use in the schools and came up with the idea of a portable photocopy machine. Teachers were spending a lot of time and money running to town to make photocopies. They did this during valuable class time and with limited funds. Once I introduced this prize, the challenge between schools was on. 

In 2016, Peace Corps conducted a project review in Malawi. Reviewers met with a focus group of my teachers and reported the following:
I sat with twenty-four teachers, asking questions about their work with Ashley. I asked what they liked the most about the teacher trainings. One teacher responded by saying, "the ratio teaching and the copier competition." Others nodded enthusiastically. The response initially gave me pause—Peace Corps is not in the business of giving things, but building capacity and cross-cultural understanding. Wanting to assume the best, I decided to reserve judgment.
Teachers explained how much they liked ratio teaching when learners would turn and talk to each other, or stop and jot down their ideas or questions; put things in their own words, not just repeat something from the notes. They told me Ashley talked with them after their lessons and told them how they were growing their practice, and update them on how each school was standing in the "copier competition".
"Who is winning?" I asked. Smiles lit up the room, and one teacher responded, "We all are." Twenty-three heads nodded in unison. I dropped any reservations. Ashley had talked with these teachers and identified something that could improve the quality of their professional lives—something as simple as regular access to a copy machine, and leveraged it into an intrinsic reward those educators recognized as a win for themselves and their students.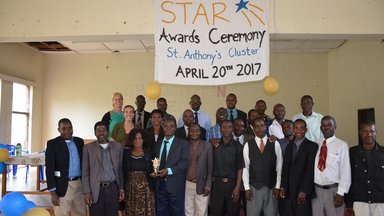 Recently, we held a ceremony to announce winning schools and give achieving teachers certificates of completion signed by the Education Division Manager and presented by senior education officials. I was able to add the construction costs for a school library for the top performing school, while the second place school would receive the copier. Last month I biked 15 kilometers to award the winning school their library construction money and presented them with a trophy. When I arrived, I saw that they already built the foundation for the library using community resources.

In less than a month, I'll be closing out my two years of service in Malawi. My hope is that I've instilled a culture of ongoing teacher development by conducting peer observations and utilizing champion teaching techniques.