A SOLID start for a SOLID future
At first, I was skeptical.
A three-day training with 15 group village headmen (GVHs), 8 members of my school's Parent Teacher Association (PTA) and 7 members of the School Management Committee (SMC) seemed like a daunting task. What would I, a 24-year-old recent college graduate, have to teach these grown men and women about how to start and effectively manage a project?
In some ways, my thinking was right. There was little I could explain to them that they didn't already know. However, I had faith that the "SOLID" training would be able to teach them how to use the skills and knowledge they had gained over a lifetime of experience in order to benefit their communities.
Sustainable Opportunities for Leaders of Internal Development (SOLID) is a training program that educates engaged and motivated individuals about how to plan, manage, fund, and monitor internally-initiated development projects in their communities. The primary goal of the SOLID program is to equip community members with the skills and resources needed to bring sustainable change to areas that need it most. Additionally, it provides community leaders time and encouragement to begin brainstorming, identifying, and planning potential projects for their communities.
As a new school with little infrastructure or resources, it seemed obvious to me that our Secondary School (where I am currently an English teacher) could benefit from this SOLID training. When the idea was brought to community leaders such as our teachers, GVHs, Parent-Teacher Association (PTA) and School Management Committee (SMC) members at an interest meeting, the discussion was met with enthusiasm and support.
While the 10-lesson SOLID training is most often spread out over a time period of three months, our group decided to condense the meetings into a three-day workshop. As the workshop date grew closer, cooks were hired, Fanta and food were purchased, and (many) flipcharts were decorated with information by myself and my counterpart Mr. Nyondo.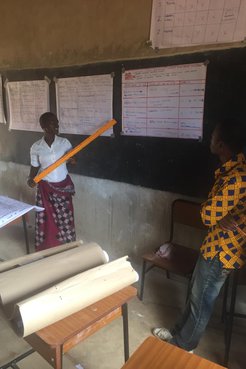 After the nerves settled and the training began, I quickly realized that I, much to my surprise, would not be doing much teaching at all. Instead, each lesson began with instructions on the specific tool that the participants would be working on, while the rest of the time was spent brainstorming, debating, creating, or planning. That gave my counterpart and I time to walk around the room, observe, and listen to what these community leaders found important in their specific communities. The PTA began preparing a plan to construct pit latrines at the school which would also demonstrate to the larger community how to build them in a safe manner. The group village headmen began developing a project to educate community members on the benefits of clean water and how to find it. And the SMC began planning the construction of a girls' hostel on our campus so female students would have a safe and convenient place to stay while attending school.
Since the SOLID workshop in April, I have seen the participants continue to use what they learned to develop their communities in a sustainable manner. The SMC's idea of constructing a girls' hostel on the campus of the school has taken off. A contractor was contacted almost immediately to provide a quotation, a grant was written to help purchase materials such as iron sheets and window panels, three meetings have been conducted to update stakeholders on the progress being made, and resources such as bricks, sand, and stone have started being collected. Additionally, a construction committee comprised of the headteacher, SMC and PTA chairmen, two teachers, and a few GVHs has been formed to monitor the construction's planning, budgeting, and eventual completion of the hostel.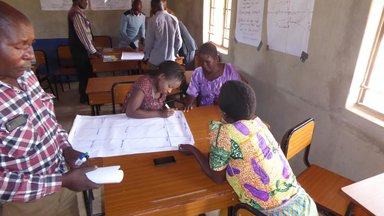 As I continue with the remaining months of my Peace Corps service, I hope to see the group that participated in this SOLID bootcamp use the tools that they developed to make effective and sustainable development in their communities. Whether they accomplish the projects they began planning during the training or not, it is my belief that they now at least have the skills to design, manage, and monitor whatever developments they deem necessary in the future. Whether it is something large, like constructing a health clinic, or something small, like a perma-gardening demonstration plot, I am optimistic that the tools developed during the SOLID bootcamp will help their projects start and remain successful in the future.
As a Peace Corps Volunteer, I am lucky enough to be surrounded by events, experiences, and people that provide me with learning experiences every day. My students remind me that anything can be accomplished if you work hard enough. And my SOLID group taught me that to unlock the potential in a group of people, you simply have to give them the tools to do it themselves.
---