From Seeds to Forests.. and Beyond!
Feb. 10, 2020
'Where are all of the trees?' I asked myself as I explored my new community with counterparts and neighbors.
Besides noticing the lack of trees, people commented to me that deforestation was an issue in the area. Upon hearing this, I knew that this was an issue on which I wanted to focus my energy and work as an Environment Volunteer.
When I got to know people in the community better, I learned that although many were living in an impoverished state financially, they were hardworking, determined to better themselves, eager to learn, and environmentally-conscious. This combination of traits was perfect for forming a tree nursery group. Plus they were eager to do just that.
There are many benefits to the community involved with tree nurseries. In terms of conservation, creating woodlots using seedlings from nurseries would help protect natural forests in the area from deforestation. Financially, woodlots could provide resources for the village and also create business by earning money from the sale of poles, timber, and/or firewood.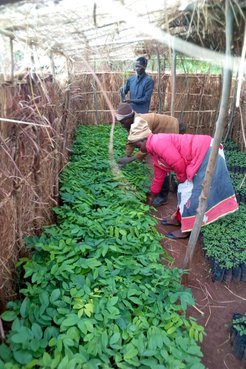 Our project began with a single tree nursery. As community members know their own area the best of anyone, they chose the location. They put in the time, energy, and resources to build a fence and covering to protect young tree seedlings from animals as well as from harsh sunlight. Next, they gathered the materials needed to start planting and growing seedlings, including sand, soil, manure, water, tubes, seeds, and watering cans. Once we had the materials, we held a mini training with the group on the basics of tree nursery management. My counterpart helped me explain to the group how to mix soil, fill the tubes, and treat and plant the seeds while I demonstrated. We also discussed how to care for the seedlings once they grow in an effort to encourage sustainability.
After this initial training, we gave the nursery group time and space to get the nursery underway. During this time, we returned periodically to check on the progress and to give the group advice on how to prepare the seedlings for out planting. Additionally, on a few of our visits, we taught the group more advanced skills such as how to prune roots, to weed, and to reduce watering and shading. Through the dry season, the seeds were planted and maintained by the group in advance of the arrival of the rains.
When rainy season began, the seedlings were ready to out plant! We explained how to dig pits and plant the seedlings to form a woodlot. This is a key activity under our Environment framework for Peace Corps Malawi with the objective of promoting proper forestry management.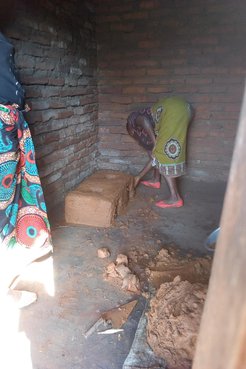 Fast forward a few months. I was very impressed by the success of the nursery and also of the hard work of these dedicated community members. Even when I was out temporarily for a training, community members did an incredible job maintaining their nursery. They even made sure that new seeds were planted in every tube in which a seed did not germinate. By the time I returned from training, there was a tree seedling growing well in every single tube!
Throughout that first rainy season, the community was able to plant around 1,000 seedlings in their very own woodlot. Furthermore, the village nursery group also sold around 1,000 seedlings to the District Forestry Office to be used for a youth development program with the aim of creating forests throughout the District.
Now, a year later, and this community is working hard and still progressing. In an effort to continue to conserve forests, we decided to conduct a training on how to build improved cook stoves. These cook stoves use much less firewood than the normal three stone cooking method and also steer the community away from using the much less efficient charcoal. As a group, we built two cook stoves in the community. When I returned to the village after being away again, I was happy to see that they had built two more on their own!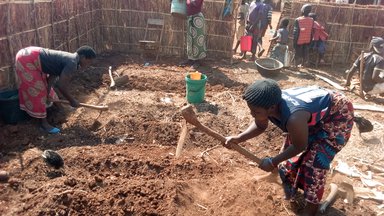 With all this hard work and willingness to learn, our next step was to create a permagarden that could provide nutritious food all year long using natural soil amendments instead of harmful fertilizers. My counterpart and I demonstrated how to create the garden at the community level. Then, we returned a week later to monitor progress. Not only were the crops growing well, but we were brought to someone's house and shown where one of the community members had made another garden at her own home with crops already sprouting!
I am extremely proud of this community for their hard work in completing these projects, their commitment to maintaining them, and their use of the knowledge they gained to go above and beyond my expectations. They have given me hope that, through tree planting, cook stoves, and permagardening, we will be able to improve the livelihoods of those in the community while also protecting and maybe even improving the environment of the area. Working with this community and watching their progress over my first year of service has made me grateful to be serving as a Peace Corps Volunteer in Malawi.
---