Planting the Seeds for Year-Round Food Security
The complex interweaving of rapid climate change combined with deforestation, soil erosion, and mono-cropping has been devastating to the land that my lovely community calls home.
Seeing the destruction firsthand has been a viscerally jarring experience for me, especially when I consider the monumental nature of the challenges. Nkhotakota (NKK) District, where I live and serve as an Environment Volunteer for Peace Corps Malawi, is one of the big "bread-basket" areas of Malawi. Agriculturally, NKK provides a great deal of food to the greater whole of Malawi because of our healthy, fertile soil, and skilled local farmers.
Living and working in this beautiful central region of Malawi has offered me the incredible opportunity to work with these farmers in order to address and combat these various environmental challenges that Malawians face. Some of these challenges include a lack of environmental sustainability, food security, and restorative farming practices.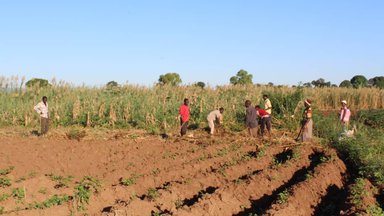 However, the tides are changing as rapid climate change is starting to affect the fertile farms and gardens of NKK. Rainy and dry seasons have become more unpredictable ultimately affecting the ever-important growing seasons that these communities depend on for not only food, but also for income.
In my first year as a Volunteer, rainfall was very erratic between the months of December and March (the normal rainy season). The massive amount of stress on community members was almost palpable as people harvested their rain-stunted maize early in fear of another hungry season. Malawi has a history with extreme climate conditions, most notably the 2001 famine (also referenced in the new movie The Boy Who Harnessed the Wind). Much of my community lived through that time and remembers the trauma.
We needed local solutions in order to be better prepared to face these climate challenges and to increase our climate resiliency going forward in the future. With the help of an amazing community leader and counterpart Chrisher Bezale, and excellent training from Peace Corps Malawi's environment team, we designed a program focused on building improved irrigation systems and sustainable/restorative kitchen gardens. Our goal was for this program to help community members create gardens that provide a greater abundance of nutritious foods on a minimal foundation of resources and finances.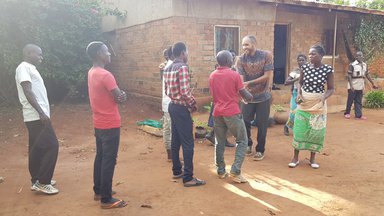 On the day of our planned program, I was very nervous about how attending community members would perceive the program. However, my nerves were blown away when we were greeted by a wonderful drama presented by the local Youth Club as they celebrated the program as well as the attendence of our fanatstic Environment Program Manager, Lughano "Lu" Munthali.
After the youth performance, I watched my enthusiastic counterpart Chrisher take the lead on the program while I monitored the audience and their reactions to the information. Chrisher's ability to distill complex ecology and garden techniques into easy-to-understand practices was beautiful to behold, and he had me beaming with pride at his incredible initiative.
We taught members of a local Community Based Organization (CBO) how to amend the soil, adding important nutrients like carbon, nitrogen, and other compounds back to the soil to feed the plants. We also taught community members how to intercrop, also called "companion planting," which consists of planting various vegetables and fruits together whose growing styles, defense systems, root systems, and other factors complement each other to maximize growth of healthy food.
Last, but certainly not least, we taught community members how to build a simple, but effective drip irrigation system that provides a more natural and resource-efficient way of watering crops, reducing the time spent fetching water in addition to overall water use.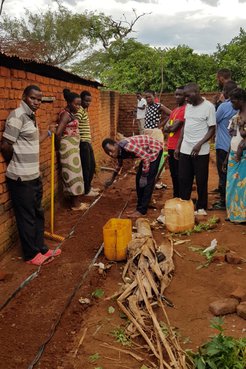 Some of the concepts, like amending the soil, were foreign to a few community members, who never considered that keeping soil healthy would result in healthier, nutrient-rich food. However, it didn't take long for everyone to grasp the information and to start working together to explain how each step worked in a hands-on application.
On that day, we didn't have quite enough time to teach all of the amazing, environment-themed topics that we wanted to cover such as making compost, garden management, and nutrition, but Chrisher and I look forward to inviting the CBO members back for lessons that build on this foundational training. As Chrisher, my community, and I move forward together, I have faith that the process will take a collaborative approach as we identify new themes and areas to teach based on what the community is most interested in learning at the time.
Until then, I'm so monumentally blessed to work with Chrisher and to witness how rapidly he is developing his facilitation and leadership skills in this project. Chrisher has been thrilled about the fact that he gets to promote sustainable behaviors to his peers. In his words, "I am so happy and blessed that I'm a part of the positive change that my community needs. Nothing in life here is more important than food security, and now I'm able to give people the knowledge and tools necessary to be food secure with their own hands."
---