Multiplying Vines and Improving Nutrition
It all began while I was away.
A team comprising of myself and a few local farmers had written a grant to establish a small demonstration garden to show villagers how to grow orange flesh sweet potatoes (OFSP), a local variety of potato that is drought-resistant and nutrient-rich. We bought 3,000 vines of OFSP to plant in the garden that would serve both as a demonstration site and also as a multiplication area. This meant that, as the vines grew, we would share vine cuttings with outside farmers to plant in their own gardens.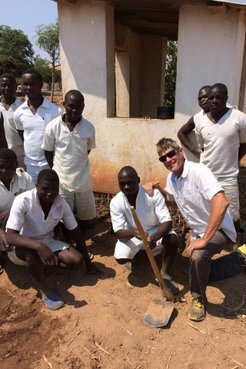 We had chosen a rocky site for the garden which required a lot of digging. However, it was a perfect location in the middle of town, next to a busy fuel station, across the street from the local police station, and behind the District Court. A non-profit organization called Belifa (Better Life for All) teamed up with Peace Corps for the project. While we were preparing the beds for planting, I managed to cut myself rather badly while using a local hoe and had to leave town for treatment. In the meantime, the vines we planted continued to grow.
One day, a guard from the Mzimba Prison stopped by to inquire about collecting some of the vine cuttings for a garden that the prison was establishing for their HIV nutrition group.
Providing adequate nutrition for prisoners living positively with HIV is a challenge in the Malawi prison system. At the Mzimba Prison, however, they have come up with an innovative solution. The inmates are allowed to grow and cook supplemental food on the prison grounds in a specific location called the National AIDS Commission (NAC) Garden. HIV positive inmates represent about 20% of the overall prison population. This came out to about 20 men, all of whom seemed interested in this gardening project. The guard took some vines back with him to the prison to add to the NAC Garden.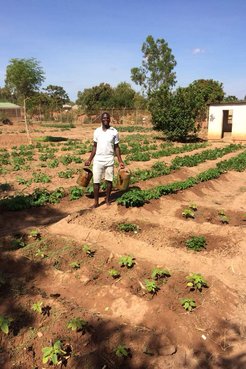 When I returned to site after recovering from my injury, I visited the prison to check on the progress. I found that the workers had doubled the amount of vines they were growing - from the original 130 vines to 300 sweet potato plants. Their hard work and dedication to the project inspired me to continue to visit the prison on a weekly basis to teach the inmates more about farming.
I have since held several sessions at the facility. I taught about the importance of improving the soil through organic composting and also brought a variety of seeds for them to incorporate into their prepared beds. We are focusing on a permaculture approach to food production—one that is inexpensive, sustainable, and environmentally beneficial.
At the site, we have also established a small tree nursery with the intention to distribute a tree to each inmate when they leave the facility. Furthermore, we have plans to demonstrate the benefits of building fuel efficient cook stoves which would reduce the tremendous effort of cutting large amount of wood to cook food for the prison population each day.
Through these types of programs, inmates are practicing positive changes they can make to take care of their environment in addition to learning new skills that promise to offer them a fresh start when they leave the prison.