Memory's memory of Camp GLOW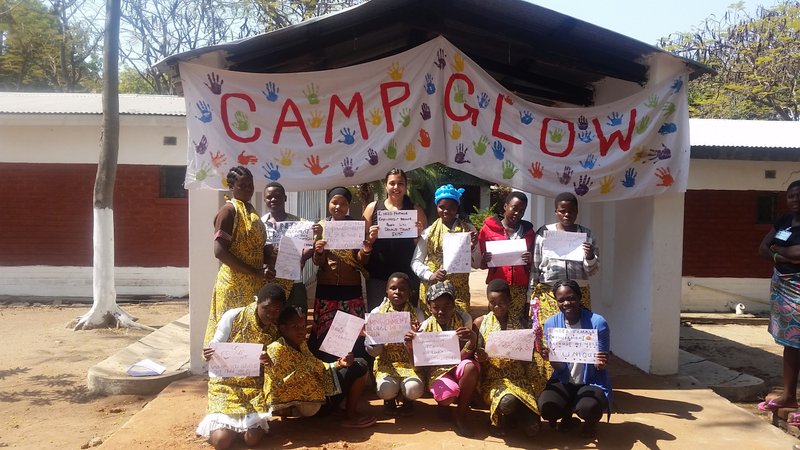 Dec. 30, 2016
On most days, Memory is hesitant to get up in the mornings. 
She knows that, once she wakes, a long list of chores awaits her. This includes sweeping the yard free of leaves and other debris that have made their way into it since the previous morning, starting a fire so her amayi (mother) can prepare breakfast for the family, and fetching water from the nearest borehole which is a few kilometers away. After she's finished her chores, she has to wake up her brother and make sure he's prepared for the day. All of this happens before seven in the morning. After seven is when she gets to go to her local secondary school for classes— an opportunity she knows she is lucky to have.
This morning, however, is different. Memory wakes up at the break of dawn and can't contain her excitement. She grabs her bag that she had carefully been packing (and repacking) all week. Today is the day she has been waiting for for over a month. Today, she is heading to a week-long Camp GLOW (Girls Leading Our World) that a Peace Corps Volunteer in her community is hosting. It's the first time she's ever spent so much time away from her family. She's nervous, but thrilled.
When she arrives at the camp, she is surprised to see so many people. There are thirty nine other campers, five Malawian counselors, and five Peace Corps Volunteers. She can't believe that there are so many people working to put this camp together. She knows that it's going to be something special.
She is also a bit overwhelmed. She hasn't been in the presence of so many foreigners (azungu in her local language) before, but they all greet her with smiles and hugs, and she feels so welcomed. Within minutes, she is assigned to a team, checked into a room at the lodge (that has running water and electricity!), and working on a team name and cheer with the 9 other girls in her team and Malawian and Peace Corps counselors. After a few minutes, her team comes up with the name, "Sparkle Queens". She was worried about not fitting in, but as she spends a few moments chatting with and getting to know her fellow campers, she feels right at home. In those moments, she forgets about her arduous and chore-filled village life, and realizes what it means to be empowered and supported.
The following day, she gets to sleep in until 6am, but she awakens way before that from anticipation. She bonds with her fellow Sparkle Queens during breakfast- more food than she usually eats in the morning, and learns countless cheers, energizers, and camp songs. She soon realizes that chanting as loud as possible, jumping and dancing around, and banging on all surfaces are completely normal and encouraged parts of camp.
After a long day of sessions and learning more than she's felt she's learned during her entire time at Malawian secondary school, she is served dinner and is excited to see that it's rice. Rice is a luxury her family can only afford on holidays like Christmas and Easter. With a full stomach and happy heart, she heads back to her room where a bed awaits her, so comfortable compared to the reed mat she usually sleeps on. After chatting with her roommate for a few minutes, she hears a knock on the door, and her Sparkle Queens' counselors, who are on bed-duty tonight, wish her a good night and tell her to get plenty of sleep because tomorrow will be just as busy. She falls asleep smiling.
She spends the next few days learning about so many different female empowerment topics, including: role modeling, consent, reproductive health, menstruation, abuse, rights, healthy sexual choices, and so much more. She also learns about how to properly use a male and female condom through a condom demonstration. She loved learning about female condoms and about how women can take protecting themselves from unwanted pregnancy and STIs into their own hands.
Memory also learns how to make a reusable menstrual pad, and she knows she will use it regularly in the future. In the past, her monthly period has been a struggle. It's hard for her to find anything sanitary to contain her flow that will last through the day, since her school doesn't have any private area girls can use to change pads. Sometimes, she even has to miss school. She knows that this reusable pad will make her life better. And she's surprised by how simple it is and that it's made out of 100% locally available resources! Memory thinks about how she can teach her friends at home how to make them so they don't have to worry about missing school each month either.
During all of the sessions, the facilitators and counselors answer all of her and her fellow camper's questions. She is shocked by how much they know, and even more shocked by all of the misinformation she's gotten from her own friends and neighbors. There's even an anonymous question box she and other campers can put questions in at any time of the day, in case they're too scared to ask a more personal question out loud. She's grateful for this. She's also grateful for the Manel (all man-panel) and Womanel (all woman-panel) that happens one night during the camp. The Malawian counselors answer questions about how they got to be where they are and how she and other campers can get to their positions. She drinks in their words unsparingly. She admires everything they've accomplished so far, and loves the confident and fearless aura that each of them exudes.
The later half of each day is dedicated to art sessions, something that Memory is ecstatic about. She loves writing poetry and songs, but her school doesn't have an arts program. During the week, they learn about creative writing, different elements of music, poetry, and visual arts. Local musicians and artists give these presentations. Each team is given the task of coming up with a team song and drama they will get to perform at the end of the week during the graduation ceremony. The Sparkle Queens choose to write their song about the importance of girls going to school and decide their drama will be about forced marriages. Memory is grateful that her parents would never force her to get married and saddened that she can't say the same for other girls in her community.
Each camper is also given the opportunity to perform individual or small group pieces. At first, Memory is reluctant because she knows the graduation ceremony will be held in front of a large crowd from the community, but with the encouragement of her Peace Corps counselor, she decides to read a poem she had written about girls' rights.
Friday arrives, and Memory can't believe that time has flown by so fast. The first half of the day is allotted to each group practicing their songs and dramas and any additional performances. She watches as the Peace Corps Volunteers run around frantically making sure everything is going as planned. She's still nervous about performing her poem and team song and drama, but after they've practice everything a few times, she feels much more confident. She realizes that she's made so many friends and positive allies this week that she's not afraid to be herself around them.
As the graduation ceremony begins, she is surprised and delighted to see that some members of the Peace Corps Malawi staff, including the Country Director, have arrived to watch and cheer them on. She feels even more supported and understands how important of an accomplishment this is. She watches her fellow campers perform their songs, comedies, dramas, poems, and even raps, and she can't contain her joy and laughter. When it's her turn to recite her poem, she nails it. Everyone applauds and cheers for her. She spends the rest of the ceremony with an unstoppable grin on her face. She has never been more proud of herself or her fellow campers.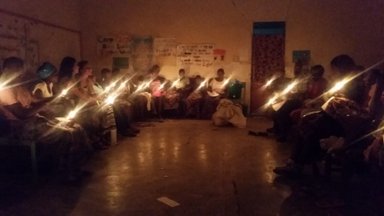 The final activity of the camp is a candlelight ceremony. All of the chairs are arranged in a circle, and each girl receives a candle. The flame spreads from one candle to the next as each girl shares one thing she's learned and her favorite aspect from the camp. Some girls say their favorite part was having electricity or running water, but Memory knows there are more important things she's experienced. When it comes to her turn, she lights her candle and doesn't hesitate. She's surprised by her confidence, but realizes that was the point of the camp. She states that her favorite part was learning about female empowerment and being given tools to make a difference. She enjoys seeing how others have also gained self-esteem and confidence. They all sign certificates stating they will become GLOW leaders in their own communities.

As she heads back to her room to prepare for bed, a myriad of thoughts crosses her mind. She's been given all the tools she needs to bring what she's learned at GLOW back to her community, but she wonders if it will be enough. She wonders if her family will accept her newly gained self-esteem and encourage her to make change and if others in the community will even listen to what she has to share.
Her Peace Corps counselor sees the worried look on her face and comes over to see what's wrong. After Memory explains what's troubling her, her counselor tells her something she knows she'll never forget. She tells her that she may only be one person, but that one is a powerful number. She cannot do everything, but she can do something. And she should not let what she cannot do interfere with what she can do. She's capable of so much more than she knows.
As she's lying in her comfy bed for the last night, the words of her counselor replay in her head. She smiles and knows that she can make change. As she closes her eyes, she silently vows to do everything she can to make her community a better and safer place for girls and women.