Making a Bold Change in Malaria Training
"If you can't make a mistake, you can't make anything." – Marva Collins (1936-2015), education activist and esteemed educator
I stumbled across this quote after a series of tried-and-failed attempts to implement a nutrition program in my community during my Peace Corps service in Zambia. It took nearly a year of reflection, reworking, and a community training to ensure its sustainability even after I completed my service. However, it taught me an invaluable lesson. Accepting that failure can be an opportunity to grow has made me a more fearless person and has influenced my current work as a Peace Corps Response Volunteer in Malawi.
Last month, I had the privilege to organize and facilitate the first Counterpart-Only Malaria Boot Camp (in Peace Corps' history as far as we can tell).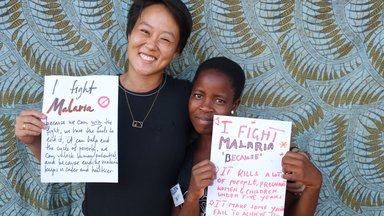 As part of Pre-Service Training (PST) under the Stomp Out Malaria in Africa Initiative, Peace Corps trainees in Malawi receive extensive training on malaria knowledge and prevention as well as interventions that they can implement in their communities. Once they had been working in their communities for a few months, we would host a Malaria Boot Camp for Volunteers and their community Counterparts where Volunteers would receive a similar training.
Instead of following this norm, I saw an opportunity for a more cost-effective and powerful option. I suggested that instead of bringing Volunteers back to go through the training again, we could invite two community members to the boot camp. In this vision, the Volunteer would serve in a supportive capacity as a technical advisor and cheerleader for their counterparts, who would likely feel more empowered and more responsible to take the lead on malaria prevention activities in their community. Previous Malaria Boot Camps resulted in 2 community members, 1 Volunteer and 1 Counterpart, trained up in malaria knowledge; however, with this new format, each community would have 3 Malaria Champions.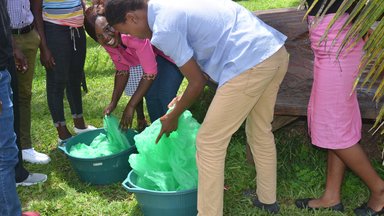 After months of prep and a healthy dose of "this could be a mistake" jitters – counterparts trickled in from their communities on a Friday afternoon, eager and excited. The energy of the room intensified as knowledge emboldened these young Malawians. I saw something special take place – I witnessed thirty young adults enter a training, excited to learn how they can help their loved ones fight this preventable disease. And when they left, I realized that somewhere along the way, they had transformed into thirty community leaders empowered to be Community Champions in the fight against malaria.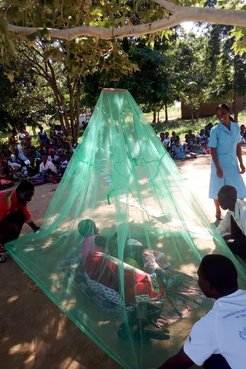 A Whatsapp group chat serves as our 'Community of Practice' with daily affirmations that this training was a risk worth taking. Said shares a photo of 2 women who have learned that they can mend a mosquito net. A few minutes later, Veletina shares a photo of her program at a health facility where she explains how malaria affects pregnancy. Celebration and congratulatory emojis are sent from Samuel, Chenjezi and Rejoice, recognizing the incredible work that is often insulated within a community. This forum is a space of encouragement, a community of people spread across the country all working towards the same goal.
Within two short weeks following the boot camp, these Community Champions have implemented programs that have already impacted over 750 community members. At the conclusion of the boot camp, Chikhondi reflected on the information she learned, stating "I fight malaria because it kills future leaders." There is one thing that I know for certain, Chikondi, and all of our other participants, are already leaders in their communities, and malaria cannot hold them back.
This boot camp, the first of its kind, was most certainly a risk and could have been unsuccessful. However, with intentional planning and reflection on past experiences, it seems that we made the correct choice to forge a new path and will continue to see the benefits long into the future through the actions of these young and inspiring Community Champions.
---