If you were to see me in my community, I would most likely be walking around with a book in hand, seated at a school bench under the shade reading, or on my front porch flipping through pages of text.
On a few occasions, you'd even find me briefly interrupted by students asking what I'm reading or asking if I have any novels I could lend them. In fact, community members, as well as fellow teachers from both our Secondary School and the local Primary School, have had similar curiosities and asked me this.
Perhaps they are encouraged by my ramblings about literature in class or maybe they are curious of my snickering as I bury my face between pages, but it has appeared to me that my community, too, holds a high interest in literature—in addition to the commonly found bibles carried with them at home or at church. And although I don't have a diversity of books to lend them--at least ones fitting for all skill levels -- we're fortunate enough to have a plethora of donated books in our secondary school's library. In March, when DEAR (Drop Everything and Read) Day was approaching, it was the perfect opportunity to utilize the nationwide event, as well as our school library, to introduce and encourage a reading culture within the community.
With the help of my counterpart, my Malawian mother, Marriam Sichinga; our Group Village Headman and Primary School Head Teacher, Chief Garang'anda; and the incredibly supportive staff from both schools in the area, we were able to hold a series of successful Dear Day activities aimed at encouraging reading and writing beyond the classroom. Ranging from writing and literature comprehension activities to a reading and writing-themed variety show, students were encouraged to explore their creativity and appreciation for literature. One my favorite events, in addition to the variety show, was the Reading Buddies activity our secondary students conducted with the primary school.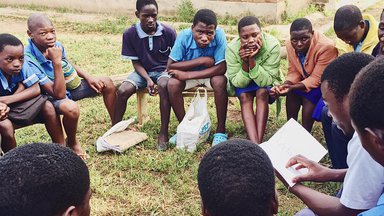 About forty Form 2 students were brought over to read to a class of seventy Standard 7 students in groups spread out amongst the trees of the Primary School grounds. What language they spoke or read in didn't matter. What mattered was understanding, and reflecting upon, the brief adventures, lessons, and knowledges that each book shared.
Students were given literature that contained both pictures and texts to develop listening, reading comprehension, and image literacy skills. Encouraged to play teacher, Form 2 students read, lead discussions, and answered questions in manners that were reminiscent of myself and my colleagues here at the secondary school. It was also in this space that many students began to shine. In their voices, their body language, and in the dynamics between themselves and the Standard 7 students they'd come to read to, one could observe leadership and passion beginning to flourish and unfold.
A student of mine, Glory, who dreams of becoming a nurse in the future, was one of the students who shined brilliantly under the silhouette of acacia trees as she read and discussed David Melling's "Hugless Douglas," a book about a bear's search for the perfect bear hug. And another student of mine, Francis, who has a bit of a mischievous tendency, shined just as brilliantly reading to a group of students a book entitled "Amazing Discoveries: Biology"; leading an engaged discussion, and answering questions with the gusto of a youthful science teacher in the classroom.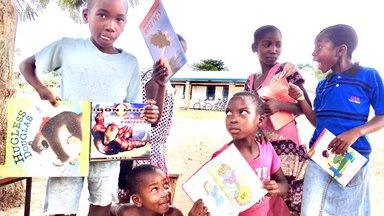 That day, there were so many younger primary school students who, after seeing our activity at school, came up to me and other Form 2 students asking for books or even asking to be read to. Even teachers at the primary school who saw us that day, have since stopped me to ask to lend them novels for leisurely reading.
My hope from this activity is that this curiosity for literature and reading continues to grow beyond school grounds, and into homes and the larger community. I hope that through this inter generational activity, older students feel encouraged to read to their younger siblings and similarly, younger siblings feel inclined to ask to be read to. Or perhaps, better yet, I hope children are passionate enough to read to the parents and caretakers who may not have had the opportunity to further explore the wonders nestled between pages of a book.
---