I do not remember why I first applied to join the Peace Corps.
Maybe I needed some fresh air after spending too much time in dank library basements. More likely, I wanted to see another side of life, and share my love of mathematics in the same way my teachers gave me their passion. I was introduced to the Peace Corps during a job fair at the University of Minnesota for students of the College of Science and Engineering. The job fair was big; Amazon, Google, 3M, Cargill, Honeywell, BOSCH. But what I remember the most was that the representatives at the Peace Corps table seemed genuine when they asked my name and how I was doing. I struck me how Returned Peace Corps Volunteers hadn't learned to stop caring about strangers. I did some more research, went to hear some more Returned Volunteers speak, and eventually applied.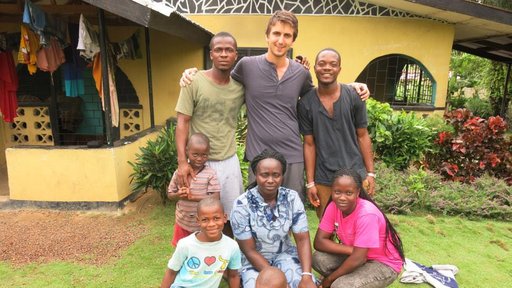 Over a year later, in June of 2014, I found myself headed for Liberia, a country with a unique history that I could hardly find on a map until I got there.. I joined the LR-5 training group, which was the fifth Peace Corps training group to return after the end of the Liberian civil wars. Liberia was my first experience in Africa. I remember the smell of the West African market when I first stepped out of the Peace Corps Land Cruiser three days into our training. It was like stepping onto the moon--otherworldly. I knew I was right where I should be. I spent ten weeks in Pre-Service Training (PST) learning to be a teacher, practicing 'Liberian English', watching the World Cup in bamboo video huts with my host brothers, eating spicy West African food, and teaching 11th grade Algebra for summer school. 

The dream came to an end on a Wednesday evening. We were told that due to the growing Ebola epidemic in Liberia, and the surrounding countries, the post and region was being evacuated. We were going home. The ensuing 36 hours was, to this day, the most emotionally charged experience of my life. Fearful goodbyes, closed schools, broken down buses, rain, jungle roads, biohazard suits, delayed planes, pandemonium, and much, much more. At the end of it all I found myself in Heathrow Airport, London. I had dusty sandals on my feet, dirty clothes in my backpack, and a bewildered look upon my face. Now what? I made my way to the States a week later. A strange welcome greeted me. 
I was left in a state of limbo. If the situation cleared up, I could return to Liberia. If it got worse, which it did, I would have to make a difficult decision. The choice I made was to go to Malawi. It was hard. This time it was different. I knew what I was getting into, or at least I had an idea. I was no longer the starry-eyed college grad on an adventure. My eyes had now seen tears and some scary things. The nine months in the the U.S. between Peace Corps Liberia and Peace Corps Malawi were terrible. The barrage of questions, the guilt of leaving, sensational media coverage peddling fear of a twenty-first century plague on every screen, phone calls from Liberia that I was afraid to answer for what the news on the other side would bring, whilst trying to decide if it was worth doing all over again.
For all of the sadness and fear, friendship and sense of purpose was stronger. I did get on the plane again, this time to Sub-Saharan Africa. I was still unsure when I arrived in Malawi. Luckily, I had company; nine people in my new training cohort were West African evacuees, three of which were friends from Liberia. Almost two years later I can say I made the right decision to come back to Peace Corps. It was worth it, and I'm right where I should be.