Let's Celebrate Progress!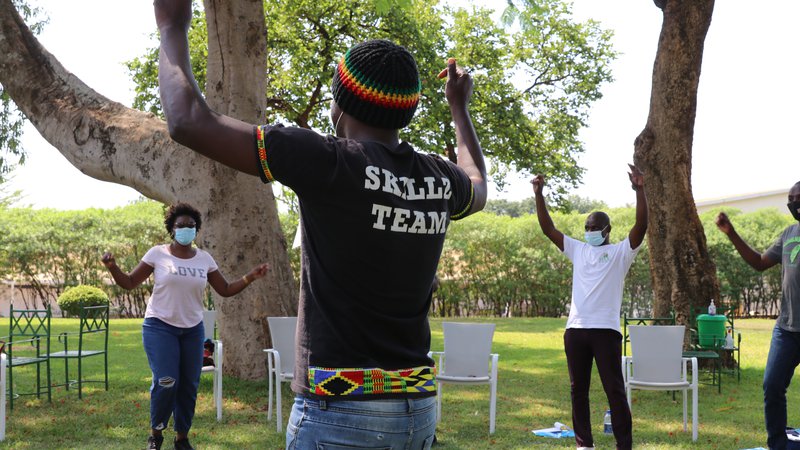 Dec. 1, 2020
Malawi may soon be known around the world as one of the first countries in Africa to achieve control of the HIV/AIDS epidemic. And we know Peace Corps Malawi contributes to that vision.
The nationwide effort to eliminate HIV in Malawi is yielding significant progress. In 1992, the number of new HIV infections in Malawi was 111,000, yet last year, in 2019, that number decreased to 33,000, according to UNAIDS epidemiological estimates.
Unlike other viruses, there is no vaccine or cure for HIV, so talking to people about prevention is key. Youth in Malawi, particularly those between the ages of 9-19, are especially vulnerable to HIV due to a complex array of social, cultural, and socioeconomic factors.
Serving as Youth Health Advisors, Peace Corps Volunteers in the health sector in Malawi work with rural health centers on a variety of health activities that support children and youth. However, ALL of our Volunteers, regardless of sector, engage youth with HIV prevention and sexual and reproductive health programs such as Grassroot Soccer and GoGirls. These evidence-based programs are interactive and fun, and also provide a safe space in which youth can discuss ways to keep themselves healthy, to address harmful gender norms that perpetrate physical and sexual violence, and to gain the confidence to seek HIV tests and access other health services.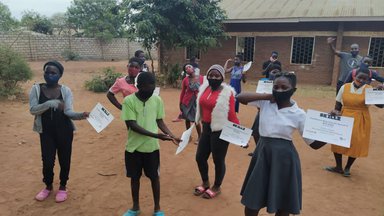 The global evacuation of Peace Corps Volunteers in March due to the COVID-19 pandemic threw us all for a loop, but HIV transmission doesn't hit the brakes with a pandemic, and nor do we.
Malawi's love for football (or soccer as Americans call it), doesn't end when the game is over. Grassroot Soccer (GRS), which incorporates many aspects and analogies of football, is a crowd favorite among Volunteers, coaches, participants, and now, even our Peace Corps Malawi staff!
During the suspension of Volunteer activities, Peace Corps staff in Malawi brainstormed ways in which we could continue our impact and embolden sustainability. And, we had an idea. Why not lead a GRS intervention with nearby youth to re-spark inspiration and then bring together nearby GRS coaches to share best practices in terms of conducting GRS programming during COVID times. We set out to conduct this important HIV prevention education activity with COVID-19 safety measures in place.
GRS coaches who worked alongside our former Peace Corps Volunteers came from all walks of life - teachers at local schools, youth club leaders, motivated youth, and community members – and 15 of them regrouped for a refresher training last month in November.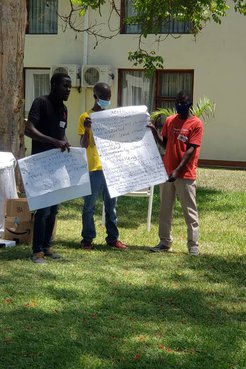 "The training was a big success because we had chance to reflect on the accomplishments that Volunteers' counterparts have made since March," recounted Peace Corps Malawi's resident Master GRS Coach, Robin Namoto. "It was great to listen to the group presentations and to see how motivated the counterparts are to continue this important work, even in the absence of their Volunteer co-coaches. However, I most enjoyed when counterparts led us through teachbacks, presenting a lesson to the group while sharing lessons learned and adaptations in order for the program to be COVID safe. It was amazing to see how creative people have been when addressing the challenges to implementing this program in the field."
Participating coaches were also reinvigorated by the time spent together. Many expressed excitement to work with youth in particular to help them avoid the roadblocks that may prevent them from accomplishing their dreams. Others felt inspired by the opportunity to be an agent of change in their communities. Madalitso Ackim from a Lilongwe-area secondary school commented, "I see this as an excellent opportunity to share the knowledge and skills of GRS during this challenging period of COVID-19 and after a long break [from school due to precautionary measures]."
Another recounted the number of school dropouts at their school saying, "We registered a total of 12 known teenage pregnancies as well as 4 boys who never returned to school because they got married."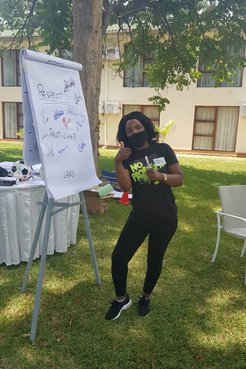 After the refresher workshop, Robin led a training for interested staff at Peace Corps Malawi. For many, GRS was simply a program that Volunteers conducted and talked about as part of their service. But now, our staff can, too, be engaged with the program and even lead interventions!
"I loved the Grassroot Soccer training because I can relate to the topics that are covered. I'm excited to be a coach so that I can meet up with girls in the community and talk to them about these issues that all of us women in Malawi face, issues like Gender Based Violence, HIV, and malaria, but in a fun and engaging way," said our Procurement Officer, Edness Kenamu.
We look forward to seeing what these new and seasoned coaches achieve in the coming year as we continue along the path, together, to epidemic control of HIV/AIDS in Malawi.
*The UNAIDS 90-90-90 targets shows Malawi was on course to reach epidemic control by the year 2020, if it was not for the disruption caused by the COVID-19 pandemic. Progress of the UNAIDS 90-90-90 was at 93-84-92 in September 2019.
By 2020, 90% of all people living with HIV will know their HIV status.
By 2020, 90% of all people with diagnosed HIV infection will receive sustained antiretroviral therapy.
By 2020, 90% of all people receiving antiretroviral therapy will have viral suppression
---