Dec. 11, 2019
Sometimes it's the quiet and unassuming ones, the ones who never brag, who rise to the top. Shadreck Gondwe is one of those such students.
"Writing essays and short stories is my hobby. When I have free time, I like to write. It comes naturally to me. I like creating stories. I never become tired when I'm writing, so I just keep writing," he says.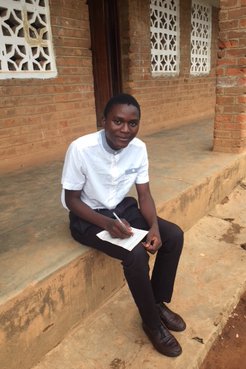 In Form 3 (junior year) at secondary school, Shadreck is a student of Education Volunteer Rebecca. He is well known on the school campus as a hardworking spirit and a high performer since Form 1. The Head of the Department of Languages at their school, Madam Chima, comments that "he is also a member of the English drama club, debate club, and the writing club. He is quick to grasp concepts and advice."
When Rebecca started teaching in this community in September 2018, she said that one of the first things she noticed with her English students was that they struggled with writing, especially essay writing. But this didn't deter her.
"I noticed that my students were extremely imaginative. I recognized this within the first week of class when, together, we created a folktale about a student superhero with the power to fly. That was when I realized that what my students were lacking was practice with different types of writing," she says.
To combat this, Rebecca decided to make writing practice a key focus area in class.
"We learned how to write short stories, reports, memoirs, and letters to friends, but most of all we focused on persuasive essay writing. This type of writing is an important skill to have as it combines creative thinking, logic, and writing skills. Since we've begun practicing more in class over the past year, I've seen a huge improvement in students' writing and critical analysis skills."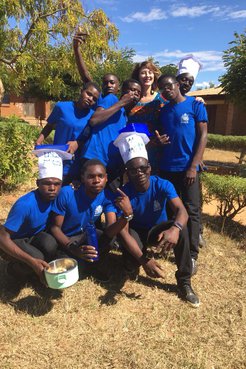 In their junior year of secondary school in Malawi, students prepare to write their high school termination exams. These exams test students' knowledge across various subjects and, if students pass, it allows them to graduate from secondary school and potentially attend university. One of the required subjects on this exam is English, which includes a section on essay writing. This is precisely where our Volunteers who serve as a High School English Teachers are particularly useful.
Rebecca is determined to assist her students improve their writing skills during class and outside of class. To prepare for their MSCE exams, her class spent one day each week this past year focused entirely on the process of writing persuasive essays. Topics ranged from lessons on brainstorming and outlining to drafting content and proofreading for the final draft. "It has been amazing to see not only how hard the students have worked, but how far they, and their writing skills, have come," she comments.
Fast forward one year. With a little bit of encouragement from other teachers at the school as well as extra practice in English class on his writing abilities, Shadreck submitted a story to a nation-wide writing competition.
Shadreck had already discovered his talent for writing when he won a writing competition in Standard 7 (grade 7) on the topic of 'His Future Goals.' For this competition, the theme was "Consumer Rights in the Agricultural Sector." In his essay, Shadreck explained the problems that consumers in this sector face and how they can be solved. He eagerly awaited the announcement of the winner of the competition.
Shadreck has big goals. Someday he wants to become a mechanical engineer and invent products to help Malawi's economy. "I would like to invent something new, something to help my country. Malawi is a poor country because technology here is still weak compared to other countries. I want to bring more technology to Malawi," he says.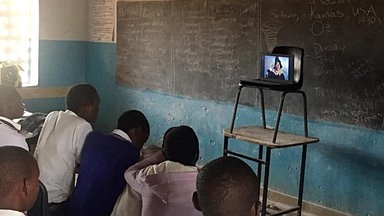 In addition to being a writing fanatic, Shadreck is also an avid participant in the school's English drama club, as well as the English film appreciation club. In the latter, Rebecca shares films like The Wizard of Oz in order to help students improve their English listening comprehension as well as to discuss literary devices learned in class such as irony and flashback.
When the announcement of the top essays from the competition was delivered to the school, teachers were excited to have one of their many students who participated in the competition, in the top 5 finalists. The next week, at morning assembly, the Head Teacher made the announcement that Shadreck had placed 4th in this national competition, as well as 1st of those coming from the Northern Region. Shadreck, always a stoic character, humbly accepted his award of a t-shirt from the competition organizers and a 10,000 kwacha cash prize from the school, with a big smile on his face.
Not one to accept all of the glory, Shadreck commented, "Madam Hall helped me very much because she is the one who teaches me English. She has been teaching me how to write a good essay. I was not able to write the way I wrote without her and I have improved my English because of her. Madam Chima also helped me because she was the one who corrected my spelling and grammar mistakes on the essay I won the competition for. I would like to thank the Head Teacher and all members of staff for encouraging me to take part in the competition. Special thanks to Madam Chima and Madam Hall for their help and encouragement. I would also like to encourage my friends and other students through my achievement. Anyone can do wonders if he or she works hard."
---