Malawian communities utilize bamboo for a range of livelihood activities. However, due to unsustainable use of forest resources, bamboo has become scarcer than ever.
A unique collaboration between AfriBam, USAID Agriculture Diversification Activity (AgDiv) and Peace Corps Volunteers is rebuilding resilience of bamboo in hard-to-reach, rural communities. AfriBam provides the cultivars, AgDiv facilitates training and distribution, and Peace Corps Volunteers mobilise community action. As thousands of giant bamboos are being planted, farmers are learning to utilize bamboos for flood risk reduction and income generation while forests are being conserved.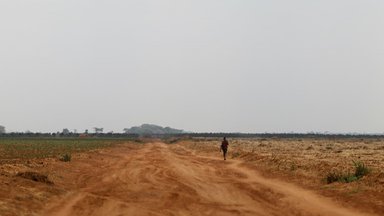 Trees yield many benefits, particularly to farming communities, including improving the soil composition, preventing erosion, providing shade, offsetting atmospheric build-up of CO2, and providing wood for fuel and building. However, rapid deforestation to meet fuel and construction needs, particularly in rural areas where electricity is not available, is depleting the forest cover in Malawi and ultimately causing more erratic weather patterns like floods and droughts that affect crop productivity. In a country where 80% of the population works in the small-scale agriculture sector, this affects livelihoods, health, and food security.
Although there are many efforts to combat deforestation in Malawi, much of the problem is due to barriers faced by community members in hard-to-reach, rural areas due to a lack of knowledge about the negative effects of deforestation coupled with limited access to alternative resources. It was this gap which USAID Agricultural Division (AgDiv) wanted to bridge with a plan to distribute bamboo seedlings to these communities who are most vulnerable to the effects of deforestation and who will benefit the most from an alternative natural resource.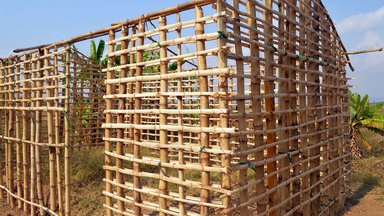 Bamboo is beneficial because it provides an alternative to firewood, which is becoming increasingly rare as the population in Malawi continues to climb. The species of bamboo which this project is distributing is called Dendrocalamus asper, which is a non-invasive species that takes only 5-7 years to mature. The hope is that these bamboos can provide a short-term source of cooking fuel, thereby reducing the pressure on forests and woodlots so they can recover and regenerate. Additionally, this bamboo can be utilized to protect watershed buffer zones, prevent soil erosion, build structures, and provide economic opportunities.
Our Peace Corps Volunteers in Malawi, who directly serve and live in these vulnerable and hard-to-reach communities, were excited to hear about this exciting opportunity as well. In the 2019 campaign, they engaged up to 1,750 households in this project. We collected stories from our former Peace Corps Volunteers to highlight how they worked with their communities in order to utilize this unique opportunity and grow sustainable and alternative natural resources to replace the high demand for wood.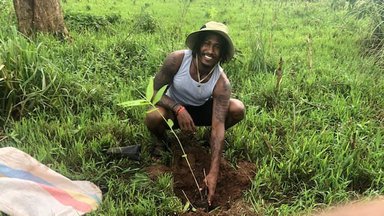 And despite a global evacuation in March 2020, we at Peace Corps Malawi were inspired by the dedication of former community counterparts who reached out to our Environment Team to see if the distribution would continue in 2020. Through their initiative, we were able to secure 21,500 bamboo seedlings for twelve (12) counterparts in Malawi as well as to organize a refresher training regarding essential care and maintenance of the seedlings to ensure that they are well-taken care of once they reach the communities! Talk about a brilliant display of program sustainability and passion for caring for the environment.
Audrey Garcia served in Ntchisi District, 2019-20
As an Environment Volunteer, I was thrilled to hear about the opportunity to assist our agriculture extension office in acquiring bamboo seedlings to share with as many people in our community as possible. I had learned through my time in the field that many people in our community supported the planting of bamboo. Many already knew the benefits of planting bamboo around their homes and boreholes, but a gap in access existed. No one knew where to source bamboo seedlings.
With this challenge out of the way due to the USAID AgDiv partnership initiative, the next step was deciding who had the greatest need for bamboo in our area. One of my counterparts from the Agriculture Department took the lead on teaching about and distributing bamboo to a group of 35 farmers. These farmers had access to fields in which they could plant the bamboo and also already knew about growing and maintaining plants.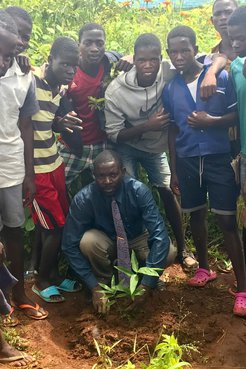 I, on the other hand, was interested in collaborating with Wildlife Clubs in the schools located in our community in order to facilitate a discussion with these environmentally-aware students regarding the benefits of bamboo. I also wanted them to get some hands-on time in the dirt. With the help of teachers and Wildlife Club patrons, we provided interactive Question and Answer sessions with students whilst planting bamboo in a dedicated plot on the school grounds. This way, involved students could return to and maintain the seedlings. Students took time to ask questions about bamboo and myths around their benefits/drawbacks. After the planting demo, we all walked down to a nearby borehole and teachers and students chose places to plant the remaining bamboo seedlings. Participation was high, which was encouraging. I was very impressed with a few students who spoke up and shared insights on their ideas of the best places to plant seedlings in their community.
Students have done a good job at taking responsibility for their bamboo, and I am also proud of the students who really seemed to get into the demonstration and rather than just following directions on where to plant, thought critically about the ideal planting area. Additionally, I took it as a good sign that teachers wanted to meet with village heads to make sure they not only knew about the bamboo we were planting, but that they could make it known to the community that the bamboo should not be disturbed.
Dakota Sparks served in Karonga District, 2018-20
'What is your biggest worry about our local environment?' I asked our Natural Resource Committee (NRC). Overwhelmingly, the answer was flooding. Per year it is common to lose one meter or more in arable land due to erosion. We went to the sites which saw the biggest issues and, with the NRC, devised a plan to both prevent erosion and help water infiltration.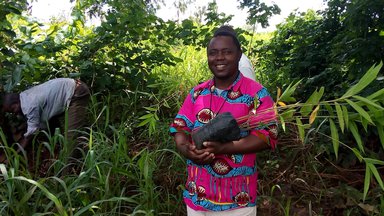 We were able to demonstrate the difference that vegetation has both on water infiltration and soil retention. We then began a larger project of improving the conditions around a vital river running through our community. We built check dams to help slow the flow of the river before it enters the most erosion prone area, planted three rows of vertiver hedge along the contours of the river bank, and finally planted a grove of bamboo in the remainder of the river's flood plain as well as a line along the waterline. Once the bamboo propagates and takes root, it will help water from heavy rains to infiltrate more quickly into the soil before it has the chance to erode the river bank.
Elise Kendall served in Nkhata Bay District, 2019-20
My counterpart and the District Forestry Office (DFO) held a bamboo planting campaign once in the past, but the seedlings were planted during the wrong season and were not successful. However, the community knew about the benefits of bamboo, they just didn't have access to seedlings.
I worked closely with the DFO throughout the planning and distribution of the bamboo seedlings; they provided guidance on identifying Community Based Organizations (CBO) and local schools with whom to partner. Additionally, I attended weekly Chief meetings to connect with neighboring villages and locate other nearby CBOs. I wanted to make sure wherever the seedlings were planted they had the greatest chance for long-term success. The initial discovery stage of choosing organizations introduced me to driven community members who became future partners for other projects outside of the bamboo distribution. We decided to work with local Village Natural Resource Management Committees (VNRMC), schools with environmental clubs, HIV support groups, and a disability support group.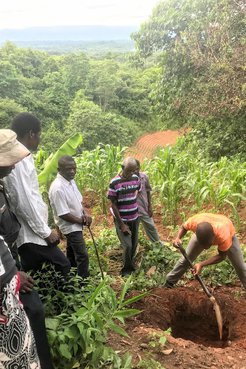 Once the groups were chosen, I connected with the organizational leadership to decide our course of action to distribute the seedlings. With each group, I held a training and planting lesson to teach the long-term benefits of bamboo and also how to properly care for the seedlings once planted. Following the training, identified members were provided with seedlings with which to teach other community members about bamboo and also to plant on their own. Through this process, we were able to reach a wider audience with our bamboo messaging, especially in regards to deforestation issues in the area.
Unfortunately, due to the COVID-19 evacuation I was not able to finish distributing all the bamboo to my partner organizations, but the DFO has finished that process on their own. The bamboo has not yet reached full maturity, but I have been able to keep in touch with a few organizations who have informed me the plants are healthy and some should be fully mature in the next few months.
Ayla Anderson served in Rumphi District, 2019-20
Standard Eight students plan to care for a grove of ten bamboo seedlings until they are flourishing and able to produce large bamboo to sell as building material. This will help reduce the amount of deforestation in Malawi. Once sold, they will use the money earned to pay for new textbooks to be shared with students at their school.
Elise Gurney served in Lilongwe District, 2019-20
Upon hearing of the bamboo seedling distribution through AgDiv, my counterpart was very excited. Previously at a Peace Corps training, we had learned about the many advantages of growing bamboo, and we were eager to implement this in our community.
In order to reach audiences that would show dedication to put the time and energy into this initiative, my counterpart suggested that we reach out to nearby village chiefs. By involving community members in this process, we hoped to encourage community buy-in and for people to take ownership and responsibility of their bamboo seedlings, including providing them with proper care so that they would reach maturity.
To prepare participants, we held trainings on caring for bamboo. In the first, we explained the many uses of bamboo in addition to a step-by-step explanation of how to plant and maintain it. We also introduced an interactive element as we worked with the chiefs to identify appropriate planting locations, after which we, together, planted a number of seedlings.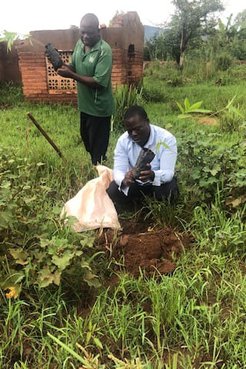 In multiple instances, chiefs chose to plant on school grounds in order to engage local students and teachers with the project as they gathered to watch the implementation and asked questions. This location was also beneficial to the schools because the mature bamboo could be utilized for school-related construction project and/or fuel needs. After the trainings, the chiefs decided how they would allocate their share of the seedlings, based on which groups seemed most motivated and had the highest needs.
One of the biggest challenges we encountered in this project was that some of the chiefs and/or individuals did not have existing plans for their bamboo seedlings when they came to pick them up. Where this occurred, it was not uncommon for the seedlings to sit around for a while before being planted which can compromise their ability to survive and thrive. Additionally, as typical with community projects where responsibility is shared, some seedlings planted in public locations were not looked after and were destroyed by local livestock.
Through this project, I learned many lessons. First of all, I realized how influential chiefs can be in their communities by way of encouraging change and setting a positive example. I also learned how important it is to have a plan (and ensure that other people have a plan) before embarking on a large-scale and time-sensitive project such as this one.
What was most encouraging through this process was how open-minded and willing people were to try something new. Though many of those involved were previously familiar with bamboo as a natural resource, and some had even planted it before, few had actually used it in the wide range of ways we suggested (as a property boundary, wind breaker, and even as a source of food).