Engaging Youth to Make Health Education Relevant
The rural health center with which I am partnered for my service as a Community Health Volunteer in Malawi recently received a satellite dish and projector.
We were all so excited, especially when we switched on a music channel and found it playing the song, 'Particula' by Major Lazer, a popular tune around here. After a bit of time passed, and my colleagues and I noticed a trend: patients would linger in the space all day long, eyes glued to whatever was on the screen. Most of the time, what was playing was world news in English, and over half of the audience could not understand what was being said.
My community counterpart, Mr. Chenjezi, and I saw these new resources as an opportunity to engage the community with health information. So, we decided to create a set of health films.
Chenjezi runs an Arts and Theater club at the secondary school at which he teaches. One day at a club meeting, he invited the students to write 3 different health-related dramas in our community's local language – Chichewa. The students wrote a drama on malaria, where a family sells their bed net to the fishermen at the lake and then their child gets sick. Next, they wrote a drama about peer pressure, where a teenager from outside the community comes back for the holidays and brings with him illicit drugs in which he convinces other teens to take part and which ends with them all being caught by the police. Lastly, they composed a drama about cholera where a family has poor hygiene practices which cause them all to suffer from cholera.
We felt these topics were all appropriate, as they reflect common issues that people in our communities face.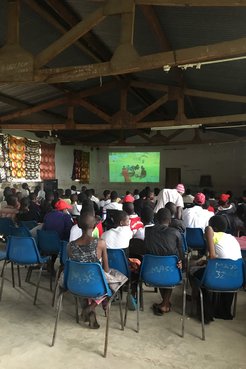 Once the students wrote these plays, we had them act them out (in Chichewa) and filmed them. Then, instead of turning on music videos or incomprehensible news at the clinic, we showed these dramas during clinic hours. With this activity, the drama club members were able to practice their creative skills and also serve as leaders in their community in this capacity. In addition to this, community members can now understand the dialogue and key messages in these videos. They can clearly point out the bad behaviors and learn how to adjust and improve household health outcomes.
The films were filmed in and around our community, so locals can connect with the setting and story even more. Some of the scenes even took place at our clinic, and I am appreciative to the health center staff who not only let us use the clinic space to film but who also lent us props (like white coats and stethoscopes) to make the videos more realistic.
To celebrate this exciting creative endeavor, Chenjezi and I organized a movie premier for the community. It was a collaborative event as mothers came to sell bags of popcorn and students brought chitenge fabric to "black out" the room. We encouraged all the actors and actresses to spread the word and bring their families and neighbors. In the end, over 200 people showed up on a rainy day, to watch the films. Chenjezi and I also prepared a health talk to deliver in between each film to reinforce key messages. To wrap up the event, we had the audience vote on best actor and best actress, and those students were awarded with certificates.
Our feedback has been positive, and the students now want to try a real movie, instead of a 15 minute short drama. I told them we can try as I am learning as we go in terms of filming and post-production. We are all excited for the next project!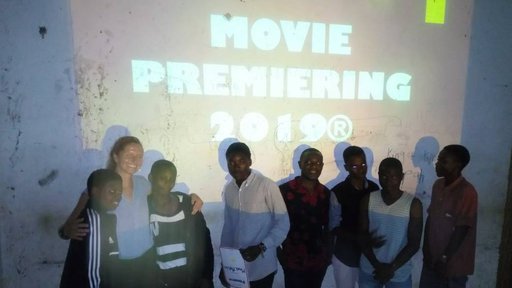 ---