Distributing Nets and Knowledge
Most of the meeting had been in Chichewa and even after living here for more than a year I still need the speaker to be talking very slowly to fully understand the topics being discussed.
However, I glimpsed words throughout that I recognized: malungo (malaria), udzudzu (mosquito), kuchapa neti (washing nets), usiku lilionse (every night). I understood enough to get the gist of what was being said without needing everything translated. They were explaining the logistics and goals of the upcoming bed net distribution to all of the HSAs (Health Surveillance Agents) and health volunteers.
I work with a clinic in rural Lilongwe, and we serve a large population and have a large workforce. This was the first time in over a year that all of the HSA's and health volunteers had been present in one meeting at the same time. I used the opportunity to publicize my agenda relating to the bed net distribution as well.
I stood up and introduced myself to anyone who didn't already know me, as the Peace Corps Volunteer working with the clinic. I said a few words meant to inspire and mobilize my colleagues. I shared some of the recent stats that they may not all have been aware of, such as in 2018 our area saw an increase in malaria cases compared to recent years especially during months that are typically considered "low season." I let them know that my counterpart, Blessings, who had recently been trained at a "Malaria Bootcamp" sponsored by Peace Corps, and I would hold a series of trainings for any interested HSA's and health volunteers who were interested in learning demonstrations and games they could play with community members leading up to and during the bed net distribution to help spread key messages regarding proper bed net usage.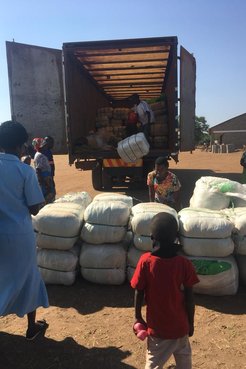 Blessings helped me hold several successful meetings at the health clinic before distribution day. We trained numerous HSA's and Health Volunteers (as well as dozens of guardians and pregnant women staying in the maternity facilities). We demonstrated how to properly hang a bed net, played a quiz game testing community members' knowledge about how to wash a net and myths related to malaria, and discussed how to repurpose old bed nets to make window screens. Our most popular demonstration, by far, was showing people how to easily convert the square hanging net (one that requires 4 nails and a significant amount of space to hang) into a circular hanging bed net using just an old bucket lid and some wire.
We also shared with everyone our plans for continuing the malaria prevention campaign after distribution by conducting home visits to check that people are using their bed nets and that they are hung properly.
Bed net distribution day came and was a great success. I was very pleasantly surprised that Blessings, as well as the health volunteers we had trained, implemented several of the demo's we had shown them without any prompting or input from me. They shared with the large group of community members who gathered how to hang and wash a net, some common myths about malaria, and the demonstration of how to convert a square net into a circular one. In fact, the demo was so popular and met with so much cheers and applause that two men decided that they must build a structure with some rope and fallen branches so that the circular net could hang for the whole day in hopes that everyone who came through would see it in all its glory. We worked hard from 8am-6pm, happily distributing a total of 2,495 new nets.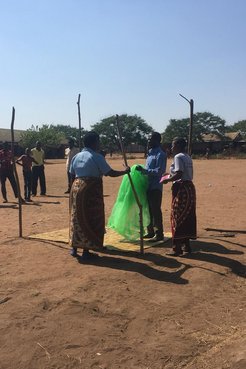 The work is far from being finished though, as Blessings and I are still getting requests from HSA's who were unable to attend the previous trainings to visit their outreach clinics to teach them and their community some of the demonstrations. We are also planning to hold trainings for the health volunteers on how to assist us in conducting door-to-door bed net checks and how to fill out a simple survey of how many families have nets hung properly. At the end, we will provide certificates of training completion and appreciation, signed by our National Malaria Coordinator, to all of the health volunteers who conduct these bed net checks along with us. I hope these efforts in training and motivating community members will prove to be sustainable and that 2019 will show a decrease in malaria cases – thanks to new mosquito nets for the community and new skills for our outreach workers.
---