"You will never have another experience like Peace Corps."
Today we're talking with former Health Volunteer Cody Reed, from Chino Hills, California. Cody served from 2014-16 in the furthest south district of Malawi, Nsanje, where the sun shines hot and the mangoes grow huge.
Cody's main projects during his service revolved around gender and girls empowerment. Let's dive into the conversation!


What were your main projects during your service?
I was a health Volunteer, but my main projects were setting up girls' empowerment clubs at my local secondary school and coaching Grassroot Soccer interventions. I also helped to found the Gender Equity Committee at Peace Corps Malawi.
What is your favorite memory from your service?
It is extremely hard to choose just one as I loved my time in Malawi. My proudest moment though, it was getting to be a session leader at Camp GLOW (Girls Leading Our World). I created a session on how to find your voice as a creative writer, something I am very passionate about. We read traditional Malawian folktales out loud then discussed how these stories create identity and culture. After that, the girls discussed how they felt about the representation of women in these stories. We then encouraged the girls to create their own story where they were the heroines of the tales and where they altered something about their culture for the betterment of women.
After the session, I was worried I had not done well because the girls were quiet. But the next morning the camp counselors came up to tell me that they were amazed by all the inspiring stories the girls suddenly wanted to share and that some who hadn't participated or spoken much previously wanted to tell their story, perform, and participate. To hear this was incredibly satisfying, and it made me feel proud to have been able to help these amazing young women find their voices.
What was your job following your COS (close of service)?
I was hired by School on Wheels, a nonprofit in LA that provides free volunteer tutors to homeless students along with other educational services. I served as the training coordinator and went all around southern California training a total of approximately 1,500 volunteer tutors to work with homeless students. I served in this role for two years.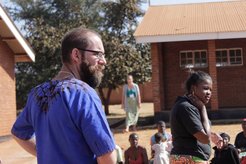 How would you say that PC service prepared you for this job?
My Peace Corps service really helped in taking away performance anxiety. I used to be very shy, but through my time in Malawi, I gained confidence and learned to not be embarrassed by making mistakes (just like when I used to speak Chichewa in my village). I also learned how to manage myself and my time which was crucial in this position where I worked mostly from home, setting up and facilitating almost 100 trainings annually. Finally, my service taught me the value of being adaptable and flexible; this was vital in my job because things changed all the time and I had to learn to roll with it.
What advice do you have for Volunteers approaching the end of their service?
You will never have another experience like Peace Corps. Enjoy as much of it as you can, while you can, so that you don't have any regrets after. Plan for the future, but don't let the stress of it overwhelm you. Finally, use your fellow Volunteers for support because you are all in it together. I have been amazed at the help and encouragement I have received from the RPCV community here in the states. Everything is going to be okay. Osadandaula (don't worry).