Two Volunteers finish what they started four years ago in Madagascar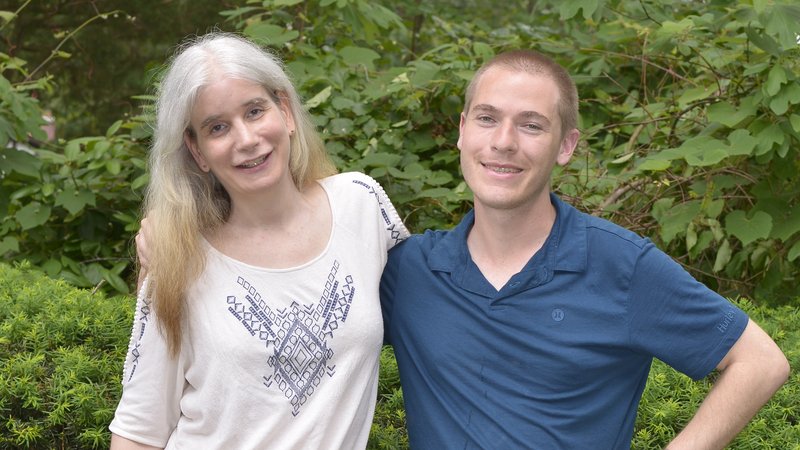 Sept. 15, 2023
In September of 2019, forty-two strangers met in the conference room of a Philadelphia hotel for the beginning of what would be the beginning of a most unusual Peace Corps adventure. It was there that Ben and Kristy met for the first time, not realizing that they were starting a journey that would eventually take them four years to complete. For Ben, Peace Corps was another step in the uncertain journey of a young person finding a way to make a difference in the world. For Kristy, joining the Peace Corps had been a lifelong goal that regrettably was put on hold after college due to obligations but with an early retirement was suddenly feasible.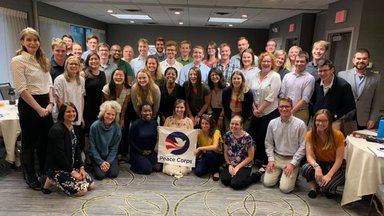 After staging, the forty-two new Education PC trainees of Group 55 hopped on a midnight bus to JFK terminal and boarded their flights to Madagascar. After spending three months in training at the Peace Corps Training Center in idyllic Mantasoa they were sworn in as proud Peace Corps Volunteers. Kristy was sent to Antsirabe where she taught English and American Sign Language at two schools; Excelsior Language School and FoFaMa School for the Deaf. Ben was sent to remote Brieville where he taught English at the village's public middle and high school.
For the first few months, service was exciting in all the right ways as the PCVs adjusted to expected challenges and embraced an entirely new culture. In December of 2019, Kristy noticed the rumblings of an unusual and novel virus outbreak in China on a CDC bulletin and in February both of them saw alarming reports in the news and social media of mass quarantines and border closings in China; they wondered what would happen if the outbreak spread to other countries. As the COVID outbreak became an official pandemic, countries started rapidly closing their borders and Peace Corps made the monumental decision in March of 2020 to evacuate every single one of their volunteers worldwide.
The order to evacuate came suddenly and the close to 200 trainees and volunteers of Madagascar began their journey of what would be a mass exodus of volunteers back to the U.S. It was a crazy, chaotic two days of frantic packing, hasty emotional goodbyes, and a mad scramble to Antananarivo in order to board the last civilian flight out of Madagascar just in time before they officially closed their borders. Kristy and Ben ended up in Addis Ababa, Ethiopia at a consolidation point for multiple African Peace Corps posts for two days while PC organized the flights to send thousands of wayward evacuated volunteers back to their home of record.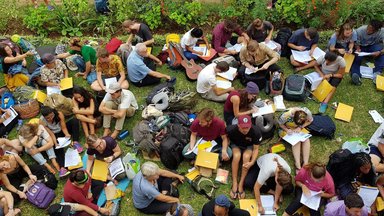 Their time in Addis Ababa was a strange and surreal one, uprooted suddenly from their sites and faced with the prospect of returning to a markedly different version of home the volunteers of different posts huddled together sharing stories and comfort. Flying home, there were almost no other passengers except PCVs on the planes and once they arrived at Dulles International it was clear that home was not the same home that they left. The airport was a ghost town with the majority of stores and restaurants closed. Kristy went on to JFK airport, one of the busiest airports in the nation; it too was deserted. During the drive home from the airport, her car was the only car on the Long Island Expressway. Ben returned to California to quarantine in his childhood bedroom for two weeks, before finding an outside world that had a very different emotional tenor from the one he remembered.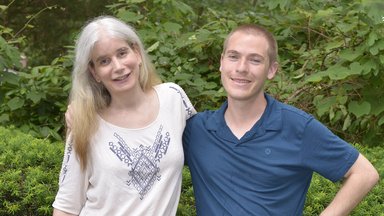 During lockdown, Ben and Kristy whiled the time away with their quarantined families and friends, playing guitar and video games and wondering if things would ever go back to normal. Through social media, Group 55 kept in touch and shared their lockdown stories. In 2021, evacuated PCVs wondered if they might ever be able to continue their service. In 2022, Peace Corps Madagascar announced that they would be inviting back evacuated PCVs, however only two answered the call. For many of the evacuated volunteers of Group 55 too much time had passed; a few got married and started families, others used their experience from Peace Corps to embark on new careers and one went to medical school; for them, returning to service was no longer feasible. However, determined to finish what they started, Ben and Kristy started the process to return back to the island of lemurs. Getting medical clearance again post-COVID was much tougher, but they supported each other through the process. During a trip to NY, Ben visited Kristy at her Long Island home and they baked bread together while sharing their pandemic stories. Finally, in July of 2022, officially cleared by medical, they embarked on their flights back to Madagascar.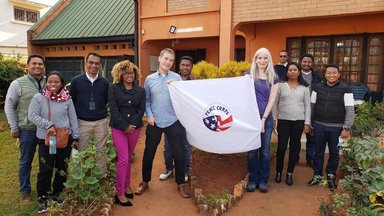 After a month of re-entry training in Antananarivo, they went to their sites. Kristy went back to her previous site in Antsirabe. She said of her homecoming, "It was like coming home after a long vacation, my house and schools were the same, I even had the same students for the most part. Seeing my supervisor, co-teachers and students again was like one big joyous reunion." Ben was sent to a new site he had no familiarity with. He had returned in part to see the friends he missed from Brieville but without the ability to rely on fellow PCVs other than Kristy, he found himself making more Malagasy friends than he ever had before.
A common saying in Peace Corps is that we plant trees without ever getting to experience their shade, meaning that we don't usually get to see the positive outcomes of our service. One benefit of the interrupted service was that we did get to see and experience it. Kristy met a couple former students who now work in the tourism and hospitality field and thanked her for her English classes since they helped their careers. Ben stayed in touch with people from his old site throughout the evacuation, some of whom began to work as English teachers in new villages. He later heard from another previous Brieville PCV that his former students at his site remembered his time there and the town was still fighting through many challenges in the hope of a better future.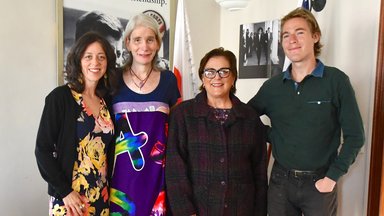 A year later, in September of 2023, Ben and Kristy met again for the last time as official Peace Corps Volunteers at the Peace Corps Office in Madagascar to ring out for the second time. "The first time I rang out back in March 2020, it didn't feel real because in my heart I knew I would be coming back," remarked Kristy, "It is also more meaningful because as I ring this bell I'm ringing it for the other members of Group 55 that wanted to come back but couldn't."
---
Ben Breen and Kristy Conn are Evacuated Returned PCVs who served as Education Volunteers in Madagascar from 2019-2020 and 2022-2023.
---