Volunteers' successes – big or small – wouldn't be possible without the tireless efforts of Peace Corps Madagascar's staff.
Working behind the scenes, they strive to equip Volunteers with the necessary tools—through language classes, administrative work, and technical trainings—to make a difference in their communities.
Get to know the team players who empower Madagascar's Volunteers day in and day out.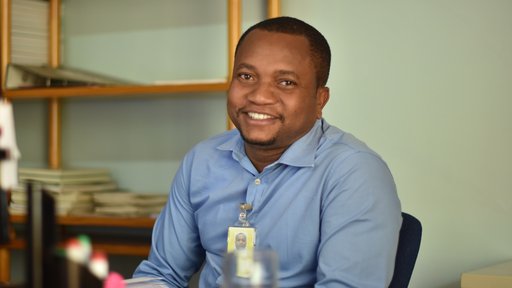 Meet Feno.
Learning a language starts with motivation—a lesson Peace Corps' Language and Cross Cultural Coordinator, Feno Dida realized selling seashells down by the seashore. 
Feno didn't always love English. In fact, he used to hate it. 
Growing up in Tulear, on the southwest coast of Madagascar, he remembers his dad forcing him to study English in high school. He reluctantly attended English tutoring sessions after school. One day, while selling seashells with his cousin, an American tourist gave him two dollars. Young Feno had suddenly found his motivation. 
"Wow, I love this English!" he remembers saying. 
He told his dad his change of heart and headed to the capital to focus on becoming fluent in English. He studied at the Centre Nationale de l'Enseignement de la Langue Anglaise and at the University of Antananarivo, where he received a degree in English.
He compared his motivation to learn English to Volunteers' experience learning Malagasy. 
"If there's no motivation, they cannot do anything," he said.
Based in the Peace Corps office in Antananarivo, he helps Peace Corps Volunteers learn Malagasy in order to successfully integrate into the communities where they serve. Self-motivation is a key element to the process, he said. 
External motivation is important when learning a new language, too, Feno said. A big part of his job—and sometimes, hardest— involves coaching and encouraging the Volunteers. 
"Sometimes, it doesn't work so I have to give advice and provide feedback," he said, explaining the ways he's willing to support Volunteers having difficulty learning the language. For some PCVs, he checks in weekly by sending text messages offering his support and vocabulary. 
"My goal is to really help the Volunteers be really settled at site and more comfortable staying at site, especially when it comes to language and culture," he said. He admits that the intercultural adjustment isn't easy. Though he's been with the Peace Corps for five years, he said he is still learning to interact with Americans. 
"I think not only me, but most of the Language and Cultural Facilitators, change little by little, over time, when working for the Peace Corps." 
Feno said he has become more sensitive, veering away from the directness that is a common custom of people living in southern Madagascar, when speaking to his family. 
Feno said even his wife has commented on the changes in his behavior, suggesting that working with the Peace Corps is turning him into an American. 
"She's like 'Hey, who are you?' I'm like, 'I'm Feno. I'm still your husband.'"
Feno started working for the Peace Corps as a Language and Culture Facilitator (LCF) in 2012, joining a team of Malagasy teachers hired to teach Volunteers the dialects spoken throughout Madagascar, according to the location each Volunteer was assigned to serve.
Now, he's responsible for preparing other LCFs to teach Americans. 
He trains the teachers—some which have never interacted with Americans before— on best teaching practices and American culture.  He makes sure to communicate the importance of personal space, a somewhat foreign concept in Malagasy culture. 
"We have a practicum, like how to teach trainees, and we pretend to be the trainees. [One LCF] was so close to the students. I said, 'No, no, no, no. Step back, like one meter. And stay there.' Every day we give the new LCFs informal sessions on how to work with Americans."
As he trains others about American culture, Feno said he also learns a lot about his own country. 
"It's really an amazing and interesting culture," Feno said.
He coordinates the most intensive language and cultural sessions during Pre-Service Training, a three-month period where trainees prepare themselves for service before they officially swear in as Volunteers. 
Once the Volunteers begin to work in their communities, integrative motivation—the desire to get to know the people in their community—begins to plays a larger role in the language learning process, he said.
"If you want to know the culture, you have to know the language. If you want to know the language, you have to know the culture," Feno said. "It's interconnected." 
But Feno also focuses on supporting Volunteers' language learning by organizing language classes during conferences held throughout their two-year service. He's currently developing tools to help Volunteers become more independent learners throughout their service. 
Outside of the office, Feno is still coaching others in learning new languages. His son, one month shy of two years, is already learning the English alphabet.
"I repeat it at home very often and every day and it sticks in his mind," he said. "It's still really broken," he said of his son's ABCs, "but he knows the rhythm." 
Just as he supports his son's English education, Feno is committed to supporting the Volunteers through the ups and downs of the learning process of the Malagasy language. 
"Learning the language is difficult," Feno said, "But I'm always here to help."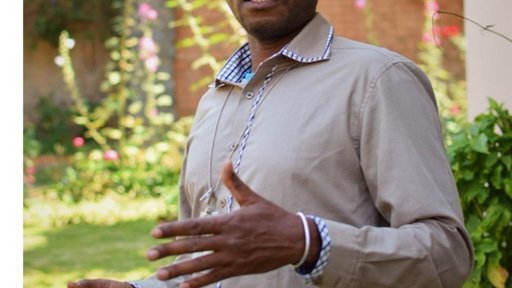 Meet Rigo.
Rigobert Mahonjo began with Peace Corps Madagascar as a Language and Cultural Facilitator in 2009 and is now an Agriculture Program Training Assistant. After numerous academic battles and an unyielding desire to make his humble community of Ampasimena proud, he is now applying the skills he obtained by guiding, encouraging, and motivating Peace Corps trainees and volunteers to thrive in this magnificent country. The number of volunteers he has enabled is a testament to his tenacity and determination to see others excel. This is his story:
A tall, young man looks out at the sun's departure. A salty breeze flutters a paper in his hand. A sheet of paper bearing his name and failure stamped on it. The BACC exam. A tortoise crosses his gaze. This was his fifth failure and without it, he couldn't obtain his high school diploma. He folds it up, puts it in his pocket and steps forward.
Originally from a small town north of Ft. Dauphin, Rigo's upbringing in the city was not unlike many other boys of his generation. Nostalgically, he recalls sunny days spent playing soccer until the black sands, particular to the region, burned under his bare feet. In search of refuge, Rigo and his friends would run into overgrown fields hunting for grasshoppers to skewer and grill over sticks for an afternoon snack. Those days were not all care free, however, for he admits to having had a really hard time in school. 
As a student, young Rigo was well-behaved and well-liked by his teachers.
"I was not maditra," he said. Among his peers, he was known to never refuse anyone a helping hand. Often he would watch the classmates he tutored pass and move up through the grades, while he himself failed, a victim of test anxiety.
The bitter reality of the school system in Madagascar is that if you fail a national exit exam, you have to wait a whole year before retesting. Rigo in fact had to take the BEPC (the exam required to graduate middle school) three times before he could continue on to high school, and then the BACC (the exam required to graduate high school) no less than six times.
When asked why he did not just give up and try to find a job, he says he did, but unfortunately, no one was hiring at that time. Besides, Rigo had dreams for himself. He wanted to go to college, be an intellectual, and make his humble family proud. Not wanting to go down the path of subsistence farming like his brothers in Ampasimena, he persevered, eventually graduating from high school at the mature age of 27.
Time has a way of romanticizing the hardships of our past, and with a smile on his face, Rigo expressed his belief that everything in life happens for a reason. His philosophy is that behind every problem, lies a solution, and beyond that solution myriad opportunities for a good future. In his words, "If you still have the opportunity to continue, you should."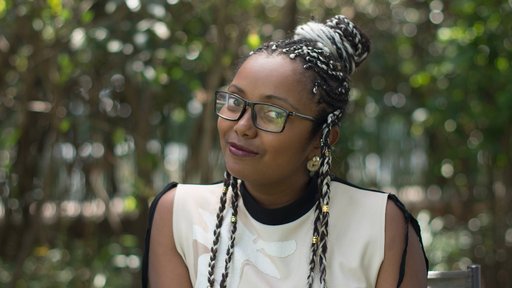 Meet Fenitra.
She joined the Peace Corps Madagascar team in March 2015 as a receptionist in the Peace Corps Antananarivo office.
Three-inch heels, fringe necklace, leather skirt, and a coordinated headband to bring the outfit full circle. No, this isn't a depiction of a model in New York. It's just another Monday for Fenitra Rakotovao, the receptionist at the Peace Corps office in Antananarivo.
Fenitra's fashion sense makes her famous among Volunteers and co-workers alike. Her most remarkable pieces, like a tors-length fringe necklace, were sent from Paris by her equally-fashionable sister Myria. Here in Tana, Fenitra prefers to buy her clothes at 'frip' markets, where second-hand clothing is sold, because she enjoys the thrill of finding buried treasure.
To the foreign eye, Fenitra is a sight of individuality and inspiration. She says she prioritizes comfort over style, but her definition of comfort may be different from that of the average Peace Corps Volunteer. Recently she was spotted at the office in leather leggings and a tailored blazer.
On the outside, Fenitra is a well-dressed woman, but what truly makes her fashionable is her self-confidence. Her self-assurance is a remind to all Volunteers to find--or 'frip'-- second-hand clothes that makes us joyful and confident.
Just one piece of advice: don't make the same mistake as PCV Kamaka, who asked Fenitra for feedback on his wardrobe. Like a stylist lion pouncing on a badly dressed gazelle, Fenitra kindly told him he had no fashion to speak of. Apparently not all 'frip' is buried treasure.
A backwards cap and khaki shorts won't cut it for this fashionista. So next time you go to the office, dress to impress Peace Corps' own unburied treasure; she's sitting at her desk and her name is Fenitra.
---
Check back to meet more members of the Peace Corps Madagascar team.