Blazing the way for Deaf Volunteers in Madagascar and beyond
When I originally applied for the Peace Corps, they asked me for my top three preferred posts. My first two were in Ghana, one as a Deaf education specialist, the second as a science teacher at a deaf school, and my third was quite literally, anywhere. Ghana did not pan out, so the Peace Corps asked me if I would consider Madagascar. Visions of rain forests and lemurs filled my head and I quickly said yes and enquired if I could get a job working with the Deaf community. Their reply was, "We will try our best, but we can't promise."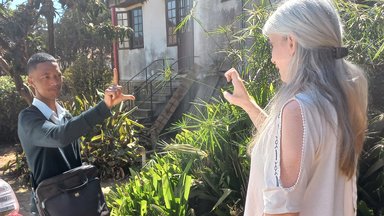 I received the invitation to serve as an Education Volunteer in Madagascar in 2019 and I asked my country desk officer how many Deaf Volunteers the post had hosted in the past and her response was, "You'll be the very first." We talked about accessibility and the accommodations that I would need and with an open mind I embarked on the journey to the island of the lemurs. My first stop was to Philadelphia for staging, which is an introduction to the Peace Corps, and to meet the forty other Trainees who would make up my cohort, Group 55.
The Peace Corps provided two American sign language (ASL) interpreters for me that night and I made full use of them, introducing myself to each and every one of my cohort mates to break the ice. After midnight, we boarded a bus to John F. Kennedy International Airport and hopped onto the long flight that would eventually take us to Antananarivo, Madagascar.
After arriving in Madagascar, we were swiftly shuttled to the cozy environs of the post's training center on the banks of the tranquil Lake Mantasoa. There, we had a full three months jam-packed with training sessions covering language, cross-cultural learning, and medical sessions. It was impossible for the Peace Corps to provide ASL interpreters for these sessions, but my fellow Trainees took notes for me, and the presenters always had detailed handouts and slides so that I never felt left out. As site selection day inched closer, I repeatedly asked my program manager if I would be placed in a Deaf school and her response was always, "We're working on it."
The day of site selection, our two wonderful Volunteer leaders led us on a wild scavenger hunt that ultimately led to the basketball court, where a large map of Madagascar had been drawn out with chalk and festooned with our names and sites. My site would be in Antsirabe, a large city a few hours south of Antananarivo. Then our program manager came out and handed out the sheets with detailed information about our site. I noticed that mine was kind of long in comparison to the others. My first school was a language school for hearing adults, and then I noticed I had two been assigned to two schools. The second was for Foibe Fanabeazana Marenina (FoFaMa) and because I knew that "marenina" was the Malagasy word for Deaf, my little Deaf heart skipped a beat. Sure enough, I would be teaching English (and ASL) at the largest and oldest Deaf school in Madagascar.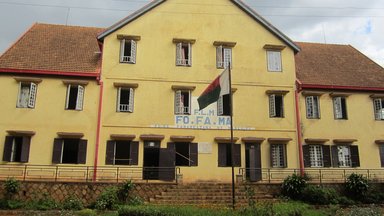 Going to FoFaMA during my installation week was like coming home to a home I had never known. Despite the many differences between ASL and TTM (Malagasy Sign Language), we had a commonality in our deafness and the language barrier just melted away. Since fingerspelling was so similar between the two languages and with my knowledge of Malagasy vocabulary and the student's knowledge of English vocabulary, we were able to share our signs for different words. Many hours were spent in the classrooms, in the cafeteria, and on the playgrounds comparing signs and sharing stories about life in Madagascar and life in the U.S.
As a mainstreamed child growing up in the 1980s, I never really got to experience the Deaf community. The vast majority of the other students in my schools were hearing, only one or two of my classmates would be Deaf. I didn't even start to ASL until I was about 14, so being in a community of 200 Deaf students and several Deaf teachers was a phenomenal experience for me.
I'm glad that things worked out the way they did. I'm incredibly thankful for my experience in Madagascar, because even though it was a learning experience, both for myself and Peace Corps Madagascar, the door is now wide open for other Deaf volunteers. I don't mind being the first; after all, I was the first Deaf student at my college and my veterinary school, as well.
I shared my story with the U.S. ambassador at my swearing in and she remarked to me, "Wow, you certainly are a trailblazer!" and I said, "Yes, I love blazing trails because I hope there will come a day when a Deaf person does something, they will no longer be the first, but instead one of many."
---
Kristy Conn is an evacuated returned Peace Corps Volunteer who served as an Education Volunteer in Madagascar from 2019-2020 and 2022-2023.