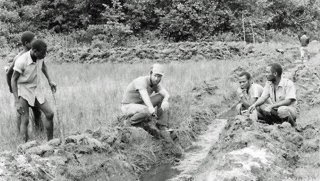 Dec. 7, 2017
"I think it was a case where Liberia chose me," shared John.
In 1982 I began the application and interview process to become a Peace Corps Volunteer. I did not list Africa as a preferred region. At some point, mid-1983, I received a call from Peace Corps saying I was accepted and could deploy right away if I were to agree to go to Liberia. I must admit, it was not my first choice, nor second, nor third.  I had to get a map of Africa to find out where it was. But after a short consideration, I decided it didn't really matter where I served, nor what I did. I just wanted to do something. And Liberia had a coastline. You can't go wrong with a coastline!
Everything about Liberia was different; some things very different.  Looking back, I suppose the biggest difference was the living conditions. This was my first time in the developing country, and the harsh living/economic conditions we discovered upon arrival in Monrovia, and during our site visits to the bush during in-service training, were stunning to say the least. My site, at the furthest eastern part of northern Maryland County on the Cavalla River, was as bushy as you can get. The romance of colonial Monrovia and Harper and the rustic charm of bush villages did not last long, and once I arrived permanently at my site, the reality of the differences began to sink in.  I think we call it culture shock.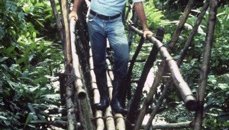 I suppose I expected something similar to the old Peace Corps ads…the ones that said it was the toughest job you ever had. I expected to be tested and was looking forward to the adventure of the whole thing. The testing was certainly an expectation fulfilled. I was assigned to a village in northern Maryland County. The village had Peace Corps Volunteer Teachers in the past, but I was trained and assigned as a Fisheries Volunteer.  The village was a bit disappointed as they expected Teachers and they had no idea what I was trying to do.  We worked it out and we did eventually build some village fish ponds.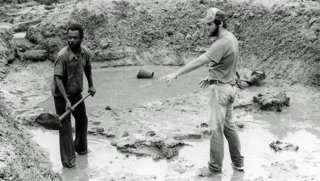 Upon my arrival I was welcomed by the village elders and the various chiefs, and the council determined that it was essential that I employ a "houseboy" to ensure my essential living conditions were met. As it turned out, I almost requested someone else outside council advice, but quickly realized that would have been a grave error.  Karta was introduced to me during a village palaver gathering and many village leaders debated who would have this honor to help the new Peace Corps Man. After hours of debate, Karta was brought to my house and introduced to me by his kwi name, "Stephen," Cooper and that's how I knew him.  He did all the things that a Peace Corps Volunteer requires in the bush; brushing the yard (the kid could handle a cutlass), washing clothes down at the stream, hauling water during dry season, cleaning the house and of course, eventually becoming a  great friend and partner during the adventure.  I eventually just called him "Coop" and he worked for me until I departed country in 1985.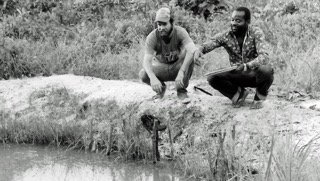 In 1989 the war broke out, for many years, I had no news from anyone in Liberia and assumed the worse for Karta and others in my village. Due to the invention of social media Peace Corps Volunteer Matt reached out me, a long shot really.  Karta asked him to find a Peace Corps Man, named Mr. John from Winnemucca, Nevada, who was in Liberia in the early 1980s. Matt found me through Facebook messenger and set up the original phone call with Karta. When Matt reached out and told me Karta alive, I was shocked!  He set up a phone call; my phone call with "Coop" was a perfect day. It is hard to describe the emotion of hearing my good friend and colleague's voice after all these years thinking he was dead. It is rare when we live a perfect day. Hearing my friend's cheerful voice after all the years, the wars, the destruction and displacement was indeed, a perfect, perfect day."