Staff and Volunteers Aim to Create Student Friendly Schools
As part of Peace Corps/Liberia's continued support of the education sector, 8 regional Student-Friendly School's (SFS) workshops addressing school-related gender-based violence were held across the country from January to May, 2017.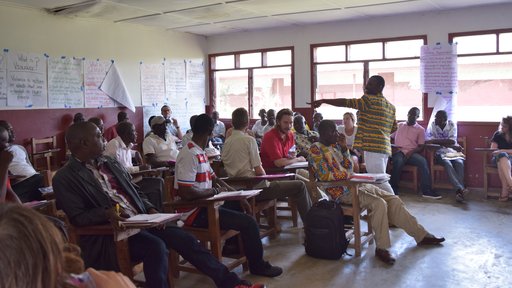 The workshops sought to address issues affecting learning in our schools. Participants were taught alternative ways of addressing issues both in and out of the classrooms by ensuring the use of positive disciplines techniques instead of punishment and the use of gender-equitable teaching techniques to encourage more equitable treatment of male and female students. 
A total of 244 participants consisting of school administrators, teachers, students, Parent-Teacher Association (PTA) members, and Peace Corps Volunteers (Volunteers) from 52 institutions, across all 15 counties attended the SFS workshops. Each institution invited 4 participants, including the principal, an administrator, a teacher, and the Volunteer. A total of 193 Liberians, 164 males and 29 females, benefited from the SFS workshops.
Participants had lively discussions surrounding the capability of all students with the understanding that boys and girls can compete at the same level if we give them equal opportunity, access, and treatment both at home, in school, and in the community.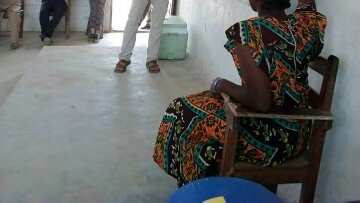 The workshops also focused on why corporal punishment is harmful to the overall growth and development of a child and ways schools can develop different types of disciplinary actions that help the students learn to improve behavior. Another key area addressed is how gender roles and stereotyping can lead to School-Related Gender-Based Violence, which includes physical, sexual and psychological violence. At the end of each workshop schools made a pledge and work plan to address some of these challenges and to change behavior at their school. 
Some examples of those pledges are:

Change culture from punishing to disciplining students

Ensure inclusive and equitable learning environment for boys and girls

Erase all forms of gender-role stereotyping in school

Challenge gender-role stereotyping by modeling certain behaviors to show that sweeping classroom, bringing water, cutting grass, being in student leadership is not limited to one sex

Develop or amend school handbooks to be more gender equitable and add discipline techniques

Creating awareness among students and teachers about the MOE Code of Conduct

Recognize and intervene whenever any form of violence is seen on campus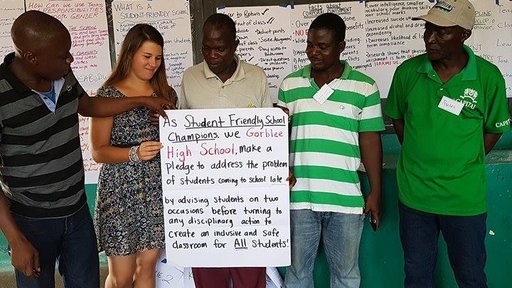 There have been a number of success stories reported by Volunteers in their schools around changes in the behaviors of teachers and school administrators. For example, one Volunteer reported that the Dean of Students at his school has changed his discipline methods. Prior to the workshop, the school staff were practicing corporal punishment and often sending students home sometimes for unexplained reasons. Now the school staff are having conversations with students about what happened and finding ways of disciplining the students without punishment. In another school, the workshop participants called a staff meeting to address teacher attendance. The staff made a commitment to be in class each day. Since the teachers are coming more frequently, student attendance has improved as well. We will continue to follow the impact of Student Friendly Schools.