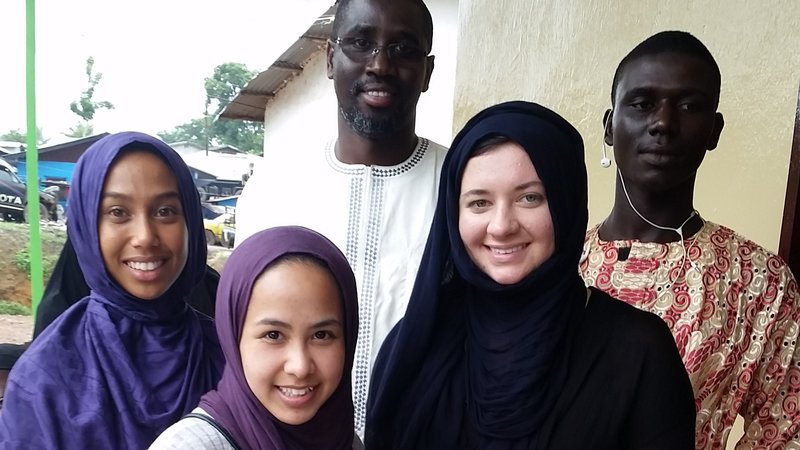 May 24, 2018
To say I was nervous would be an understatement. 
The day I left for my Peace Corps service in 2016 was also the first day of Ramadan. On top of all of the emotions that came along with beginning a new journey in a foreign place, I was also anxiously awaiting the discovery of what Ramadan would be like in Liberia.
Ramadan is a time of reflection during which Muslims fast from dawn to dusk, not even drinking water or sneaking any snacks. The fast is meant to deepen relationships with God and also to remind participants of those who are less fortunate. During Ramadan, many Muslims give to charity or feed the hungry as a way of giving back.
At dusk, when we break the day's fast, it's a community affair. Everyone gathers together to sit and enjoy a large meal together, called iftar. It's a time for joy and spending quality time with family.
That year, when I left for Liberia, I thought about what I would miss at home. My family would gather around the dinner table to break the day's fast, go to the mosque for prayer, make late night coffee runs, and celebrate Eid al-Fitr at the end of Ramadan. Would Liberia have a mosque? Would there be other Muslims around me? Would I be accepted as I practiced my religion? I didn't know.
During our Pre-Service training, I was happy to discover that I wasn't the only one observing Ramadan. Some of the Liberian staff, a few volunteers, and even my host family fasted together. I was placed with a Muslim host family, of which a few members fasted consistently with me. Our PST staff was also very supportive- saving plates of food for us to eat for Suhoor before the sun rose and for Iftar after the sun set. I felt a sense of comfort knowing that I was not alone.
When I moved to site, my experience practicing Ramadan was even more rewarding. My community is predominantly Muslim, so the majority were also fasting. My ma at site would come to my house in the dark to fetch me to come eat at their home with them before dawn. At the end of the day, we would also break fast together with the traditional water and dates before praying and then enjoying a large meal together.
The first time I entered the mosque in my community, people thought I was just visiting it. When I began praying, people stopped what they were doing and stared, whispering to each other. They were shocked that I knew how to pray! Over time, people became accustomed to my attendance.
This time of prayer and reflection brought us together and created the opportunity for us to exchange bits of our cultures. Some were surprised to learn about my Malaysian heritage, and their enquiries about my ancestry spurred conversations about Asia and the array of countries besides the most well-known, China. I shared Malaysian goodies from a care package with Liberian friends, and they cooked traditional Liberian dishes to share with me. I was also able to educate my community about the diversity of America- that we are a country of people of different nationalities, races, and religions.
This is my third Ramadan away from home. I, of course, always miss my family and our traditions, during such a special time. However, I also feel extremely blessed to have had such positive memories celebrating Ramadan in Liberia. The experiences I have had exceeded what I was expecting as I boarded the plane to this unknown place. I've realized over the past few years that Ramadan can still be a special, meaningful, and reflective time, no matter where in the world I am.