Peace Corps Liberia trains 185 community health workers in three counties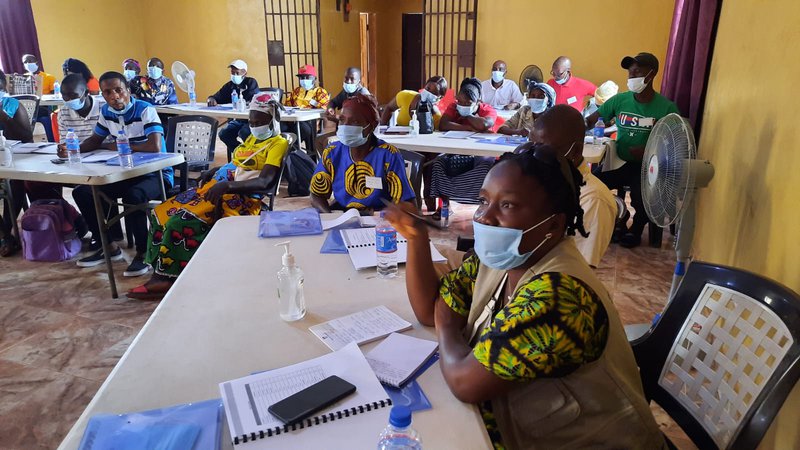 July 29, 2022
Last month, Peace Corps Liberia completed its last cohort training for community health workers (CHWs) in Buchanan, Grand Bassa County. The training brought together over 42 participants including traditional midwives, district health officers, communities' health committees, and other staff from various health facilities in Grand Bassa.
The goal of the CHW trainings was to create meaningful learning experiences and stimulate CHWs to think through real-world problems they face. The training also focused on how they can support each other including building relationships and working with Peace Corps Health Volunteers to find innovative ways of problem-solving.
The CHW training in Buchanan was the last of five cohorts' trainings which started in Gbarnga, Bong County, to Kakata, Margibi County, and ended in Buchanan, Grand Bassa County.
During the training in Kakata, Margibi County, the Peace country director urged the participants to use the knowledge gained to improve the lives of the people they are working for in the discharge of their duties.
"I thank you all for participating in this training today to gain more knowledge and improve your skills," said Peace Corps Liberia Country Director Vernice Guthrie. "One thing I can tell you is that, the biggest room in any house is the room for improvement and as you improve your skills by learning something new, I want you to go out there and make the difference."
Health is one of Peace Corps Liberia's two main areas of interventions with strong emphasis on strengthening community health systems through training and technical support. Education is the other area of focus. The training is unique in that it brought together a wide range of professionals and practitioners who rarely have an opportunity to interact around barriers to providing effective community-based health care. Over the course of all the trainings, participants included 185 community health workers including officers-in-charge of the clinic, community health supervisors, community health assistants, trained traditional midwives, district health officers, community health committees, and health facilities development committees from the three counties. The trainings were facilitated by trainers from the Ministry of Health, County Health Teams, and Peace Corps Liberia.
Each cohort training lasted for three days and participants received certificates and awards for their active engagement during the session. Pidgin (or simple Liberian) English and local vernaculars (Kpelleh and Bassa) were used to promote understanding among participants from the counties.