Delivering evidence-based teaching to the next generation of nurses and midwives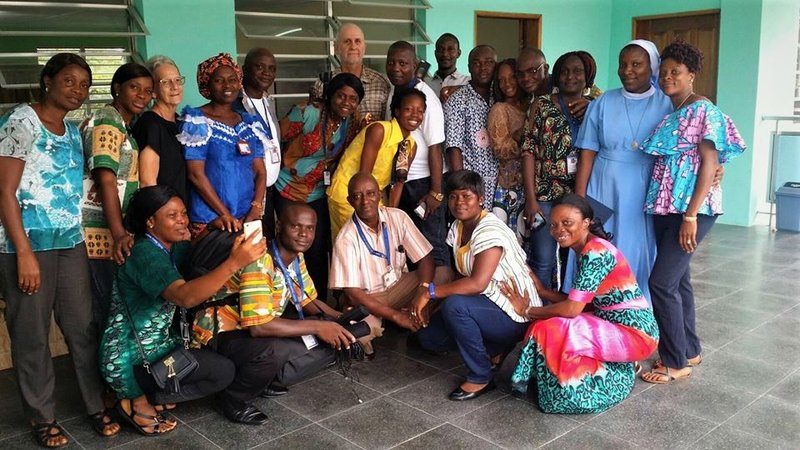 June 18, 2018
I am GHSP but even more, I am Peace Corps Liberia.
GHSP (Global Health Service Partnership) is a public-private collaboration between Seed Global Health, the Peace Corps, and the US President's Emergency Plan for AIDS Relief (PEPFAR).
I clearly remember the day in early 2014 when, while surfing the internet for an international job opportunity for a young nursing colleague, I clicked on Seed Global Health. As I read, I knew "this is me; this is who I am; this is what I do." I waited patiently for May that year, so I could apply for the 2015/16 cohort group. And I never looked back, until today – three years with GHSP later and wishful for a fourth.
Some people join the Peace Corps to discover themselves or to respond to some inner drive. I did not join to discover myself. I knew who I was. As a nurse and an educator of 40 something years, I entered to serve and to share who I was and why I am.
I came to share my passion, love, and commitment for the profession of nursing with others. I do what I do for the love of it and for the pleasure of giving back to a world that has blessed me in so many ways. My passions are consistent with the vision and mission of GHSP – a program that aims to strengthen clinical education, expand the base of physician and nursing educators, and build healthcare capacity in countries that face critical shortages of healthcare providers. 
My current assignment in Liberia with GHSP began in August 2017. This project granted me the opportunity to teach in a Masters in Nursing Education program, the first program of its kind in Liberia. The goal of the program is to provide currently employed nursing and midwifery faculty with upgraded knowledge and skills so that they can deliver evidence-based teaching to the next generation of nurses and midwives; thereby, improving the capacity and sustainability of the nation's healthcare workforce. This was a perfect fit for me as I had previous experience with students at this level and found them to be so highly committed and motivated. They were truly a joy to be with each day.
The 20 students I have worked with, poised as the leaders of tomorrow and ready to create change, have been so eager to learn and expand their skill sets. At the same time, they have challenged me and shared so much with me. It has been a reciprocal relationship as we have grown and learned together. And yet there is still so much more to be learned.
Since January 2018, my students have been scattered across Liberia, engaged in their final teaching practicums. Traveling to their sites for monitoring and evaluation of their activities was a very special experience. Because I work in the capital, Monrovia, I have not had many opportunities to really feel the true and authentic pulse of the people of the country. As I ventured from north to south and west to east on roads that were not always paved, I came to understand the unique challenges my students experience daily – besides pure access issues, there were the overcrowded classrooms, the utter lack of current textbooks, the insufficient educational resources, the lack of clinical resources, the absence of electricity, the limited to no internet access, and the water shortages just to highlight a few of the most demanding challenges for an educator. Yet they persevere; Liberians are resilient.
Through GHSP, I have been fortunate to also serve in two other sub-Saharan countries (Uganda and Swaziland) before I came to Liberia. Each of these three postings have afforded me the opportunity to explore the uniqueness of the people and to examine the similarities and differences within and between cultures.
It was Mahatma Gandhi who said, "A nation's culture resides in the hearts and in the soul of its people." Thus, it has been the people and the relationships that I have experienced in each of my postings that played a role in drawing me and keeping me in GHSP. My counterparts, supervisors, local and GHSP colleagues, and nursing students are still with me in spirit. Each has had an impact on my life just as I hope I have made a difference in theirs. Education is about touching lives so that they can touch the lives of the next generation. I think of the students I have taught, and I hope I have touched their lives in a meaningful way.
My experiences have shown me that long-term outcomes are often not realized immediately. I have been personally and professionally gratified in the short-term and will await the long-term.
These educators I have come to know this year in Liberia want to improve the education of the healthcare workforce here; they want to make Liberia a healthier place to live. It is with this thought—of these nurses and midwives who are so dedicated that they return to these difficult environments which they left to come study—that I think, I am ready for the commitment as well. Who am I to leave them or the school without whatever support I am able to provide for the next year?
I arrived in August 2017, but very quickly decided that I would not be leaving after my year was up. Liberia feels like home, and I know I am meant to be here for at least another year. I put in my wish to extend in early January to discover that a year's extension was not a possibility. Ultimately, and with great sadness, I was told that GHSP was being closed for a variety of reasons.
Sometimes one must feel like all hope is lost before you can rise like a phoenix out of the ashes. With Peace Corps Liberia taking my back, I looked for a new beginning. As of this month, I have accepted an invitation to serve with Peace Corps Response for the next year in Liberia. I will officially close my service with GHSP in June, but, as we say in Kentucky, "God willing and the creek don't rise." I will be back to Liberia very soon!