Liberia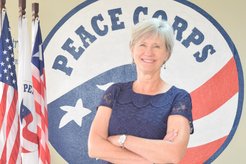 "But if the life will not be easy, it will be rich and satisfying. For every young American who participates in the Peace Corps – who works in a foreign land – will know that he or she is sharing in the great common task of bringing to man that decent way of life which is the foundation of freedom and a condition of peace."

John F. Kennedy
Have you dreamed of answering President John F. Kennedy's call to serve as a Peace Corps volunteer? Are you someone who is optimistic? Adventurous? Hardworking? Concerned?  If yes, I invite you to Liberia, a country of unmatched generosity, resilience, and need.  Among the countries where volunteers serve, Liberia provides the quintessential Peace Corps experience where volunteers are embraced by their communities and where they can make a difference.       
Liberia is at a juncture in its post-conflict history where Peace Corps can contribute as an effective development partner to support the government in its pursuit of long-term development aspirations. Our volunteers work in education, primarily as teachers in public secondary schools, and in community health helping to address the gaps in care highlighted by the outbreak of Ebola.
Peace Corps Volunteers in Liberia often serve in villages or towns where modern conveniences such as running water and electricity are scarce. Although this simple existence can be difficult, the lack of modern amenities challenges many volunteers to refocus on life's fundamentals. As the Peace Corps advertisements used to say, "it is the toughest job you'll ever love".
Peace Corps is fondly regarded and well loved by Liberia. In fact, most people over 30 had a Peace Corps teacher at some point in their lives. As Sargent Shiver, the first Peace Corps Director said, "The Peace Corps represents some, if not all, of the best virtues in this society. It stands for everything that America has ever stood for. It stands for everything we believe in and hope to achieve in the world." Peace Corps Liberia will change you – it will teach you grit, perseverance, agility, gratitude, resilience, empathy, and give you a world view. You will look back on this time as one of great personal growth where you overcame some of life's toughest challenges.
As you consider joining us in Mama Liberia (or have been a volunteer here before, or have loved a volunteer who served here), I am thrilled to share with you the exciting work of Peace Corps Liberia. The work of our volunteers is where the magic happens!
Warm regards,
Kristi Raube, PhD, MPH
Country Director, Liberia