BEING BLESSED WITH BOYS DOMINANTED GROUPS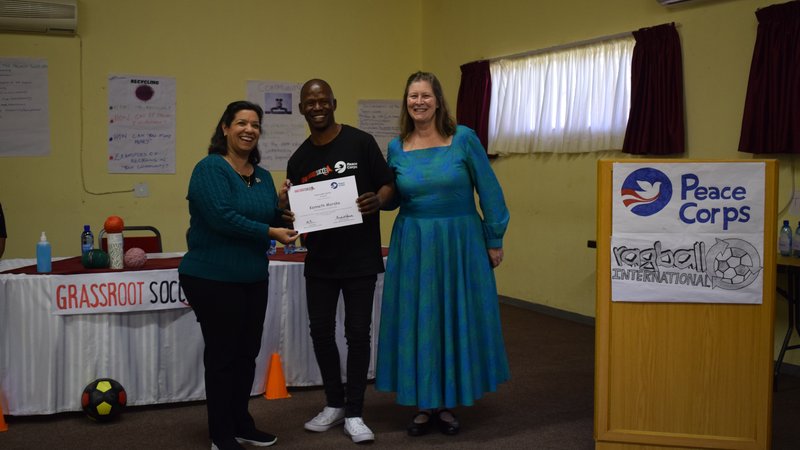 Sept. 6, 2023
One would wonder why I call this a blessing! Oh yes it is a blessing as a female coach to have a group of participants mostly as boys in the rural areas at high school level. The community influence, the peer pressure, the cultural barriers and gender diversity among other issues usually become stumbling blocks in allowing a smooth collaboration between males and females and in most cases between female teachers and boys.
I have been the Grassroot Soccer (GRS) coach at Makhobalo High School since 2017 when we started with Peace Corps Volunteer (PCV) Karina, and even then our group was still boys dominated. Currently I am working with my fourth group after the refresher training without PCVs and the story is the same. In a group of 21 participants I only have 5 girls. These boys are tall, in their late teens in grade 10 and 11. The connection we have developed, and trust they show has humbled me. With them I have stories to tell. We have testimonies to share. And for me this is what I call a blessing!
For long I had always told myself that one day I will arrange co-coaching visit with a male coach for my boys' motivation. I told myself that I owe them that. On the 30th August 2023 God answered my prayer and Coach Kenny (ntate Kenneth Morake) from Emmanuel SDA Primary School paid us a visit. It was awesome. The day was really successful. They were on their normal behaviour; he was neither stranger nor visitor to them. He was Coach Kenny the GRS coach. He became the referee of the Maluti Cup challenge. IT WAS LIT! The fulticipation; the discussions during presentations, reminding one another of the contract, competition spirit on the grounds. This is what I refer to as a blessing!
It is usually not an easy task to handle the boys especially in a group, but not these ones. The GRS bug has really bitten them. They cannot let me miss the practice day without clear explanation. They are always there to collect the equipment and voluntarily return it. They could not allow me wait longer than August to start the RAGBALL INTERNATIONAL. These kids are really a blessing!
I wish them all the best and to always remember what they learn in GRS. May they become resilient and be game changers in their communities. I will forever offer all my participants a safe space and time and may God bless them all. May they have money to pursue those goals they shared in our second practice. These kids are a blessing indeed!
A GRS coach since 2017 and never looked back! Thank you PC. Thank you once again to the PCVs that introduced me to PC/GRS. Makhobalo High School shall never be the same.
Coach Mats'epo Molefi-Sepanya (Makhobalo High School)