TEFL Volunteer Returns for Local Kyrgyz Wedding
Although I spent nearly four years as a Peace Corps Volunteer I missed the opportunity to attend a real local wedding until this past September.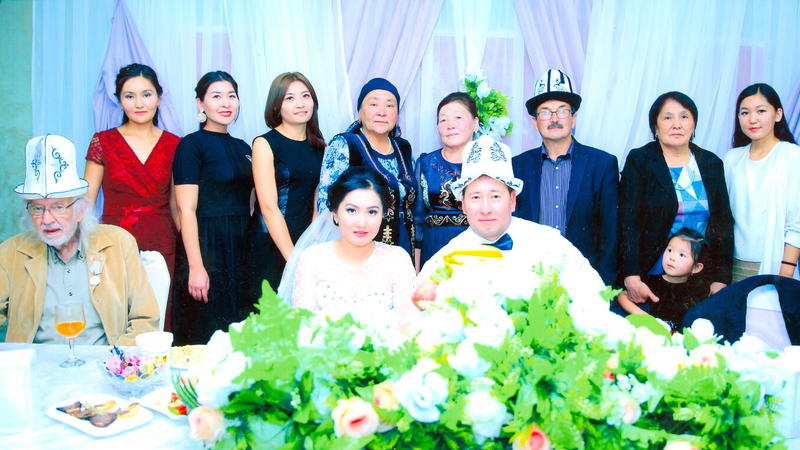 My return to Kyrgyzstan began when the bride Aitbubu, who was also my first and my best student invited me to her wedding. I have served four years as a TEFL Volunteer 2013 – 2017, teaching at a university. Although the university is in a large city most of the students like Aitbubu come from rural Kyrgyz speaking villages. I was not intending to come back to Kyrgyzstan so soon, but Aitbubu insisted, sending emails telling me "Please, please, please, please Warren…come back for my wedding."
Aitbubu is one of those women to whom it's hard to say no and here at last was my chance to experience this unique part of the culture. I returned to Bishkek on my 83rd birthday after a long flight from Seattle with the usual 8 hour layover in Moscow. Aitbubu and her fiancé met me at Bishkek Airport "Manas." From there, we went for breakfast, and then drove most of the day to Aitbubu's village near Naryn city, the provincial capital. We had a week of busy and long days welcoming many guests and family members to Aitbubu's home. Then, we moved to Naryn city to Ulan's (fiancé) home where I stayed in a small guest house. It seems there was no room for me in Ulan's home which would have been customary.

The wedding was attended by two hundred people. Everyone except me was Kyrgyz. It lasted about 6 hours with much food, singing and dancing, all of course in Kyrgyz language. The four young women in the photo were members of the same cohort, University group with the bride. Over the years I taught English with various counterparts, rehearsed plays like Shakespeare's, and other literature like War and Peace. I miss teaching my Kyrgyz students, but am glad for the experience of living and working as a Peace Corps Volunteer in Kyrgyzstan, and now finally being invited to such a wedding. From Kyrgyz culture I've heard that having such an experienced Volunteer like me at a wedding is an important symbol. Hopefully, my attendance will bring the bride, groom and their families much good luck.