I am excited to celebrate my next two birthdays in Kyrgyzstan
In two days I will be 29 years old.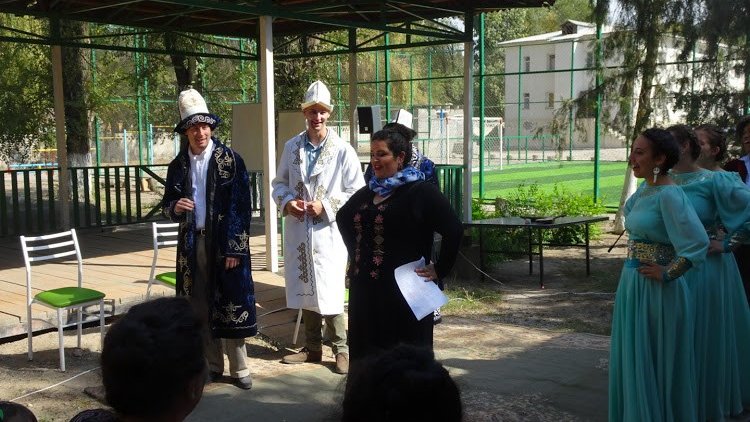 On my last birthday, I celebrated in Thailand. I'd been living in Suratthani, a medium-sized suburban-ish town on the Southern tail of the country for about six months. I told my first-grade students that we were going to make "Happy Birthday, Teacher Amanda!" cards because I have no shame (and even more selfishly, I liked that they always drew me with 'pretty princess hair'). We did a whole grammar lesson on the Happy Birthday song, with some added dancing because I think it's a Law of the Universe that six year-olds have to dance if music is playing. We even added birthdates and ages to our math lesson. Later in the day, when I got to my second school, I didn't mention my birthday because my students were 12, and 12 year-olds are far too cool to celebrate their teacher's birthday. But unbeknownst to me, my first-graders had talked up our birthday lessons to anyone that would listen, the word had spread, and my sixth-grade class had pooled together their lunch money, run to the corner store, and amassed a pile of Oreos and banana muffins that took up three desks pushed together. They sang to me, we took selfies, and it remains my favorite birthday to date.

This year, I'm celebrating in Radom, Poland. It's my first snowy birthday ever (Miami did not prepare me for ice-cold toilet seats), but I think I look pretty chic in winter clothes, so it appears to be a fair trade. I'm applying to the Peace Corps because while I haven't completely figured out what I want to be when I grow up, I know it involves teaching, traveling, and cultural exchange.
But I don't really want to talk about this birthday.
I want to talk about my next birthday. I turned 28 in Thailand, 29 in Poland…but where will I turn 30? (And 31, I know how Peace Corps service works.) I have gained invaluable tools from living abroad, but I know I can grow even stronger. I have made a difference in the schools and communities in which I've worked, but I know I can have a greater impact. I've applied to Peace Corps in the past, and I dropped out after the interview process. I wasn't sure if I could "make it". I'm still not sure if I can "make it". But two years, two countries, and countless challenges later, my passions and convictions are stronger than ever. Peace Corps is my next step. Peace Corps is my next birthday.
I am excited to celebrate my next two birthdays in Kyrgyzstan!