8 Things I'll Miss Most About my Time in Kyrgyzstan
I write this with the K-23's in mind because I hope you can continue to savor the moments I've grown to love so much.
1. The jams. Not the music… The verenya; the apricot, raspberry, strawberry, and other oh so wonderfully sweet jams. I've been lucky enough to serve in a little village known for its strawberries, so I had jam on the table all year 'round.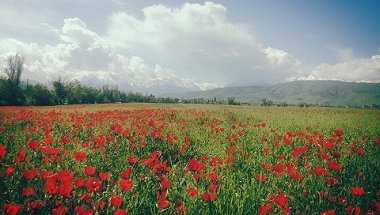 2. April. I do believe something magical happens to Kyrgyzstan when April arrives; it's the right amount of "shamal", light rain and sun that makes my favorite thing happen: the poppies bloom. The landscape electrifies and it puts your eyes in a trance. It's poetic, really.
3. Shaurmas. Whether it's 2pm or…2am. It's actually, like, not even that bad for you. (This is what I tell myself every time). It has veggies, it's not chemically made…and it just hits you in the right spot. Not to mention…they're cheap!

4. My little host sisters. They're my best friends here and they were the ones who were never too shy to speak to me. They're the reason I speak Kyrgyz the way I do: I know I'm saying words incorrectly, but I say them anyway. They made me a more confident PCV in this way; I'm always willing to express myself or greet someone new now.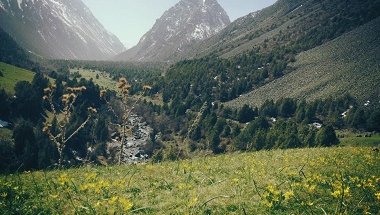 5. Mountains. I've been to some pretty spectacular places for hiking and I can honestly say, Kyrgyz landscapes are some of the most beautiful in the world. They're peaceful, serene, unique… My favorites have been Alakul in Issyk-Kul, where I was actually stuck for hours because it started snowing and we lost the trail, and Alamedin Gorge in Chui because it was a hike we did together as an oblast.
6. Hearing the call to prayer. There's something very soothing about it – everyone else is listening too. It's a moment your village is sharing together, a moment of true peace, a moment you can feel tranquility. 

7. Strong Kyrgyz women. Our Apas, our sisters, our friends, and our students; Kyrgyz women are inspirational to me because I've witnessed them stand up for each other despite inequality, I've witnessed them speak out despite being told to be quiet, and I've witnessed them walk boldly despite being told they're weak. My fondest memories here have been in my Women's groups and I'm so proud to have been part of their courage. I believe they are the ones who will make this  country stronger and help it reach its full potential.

8. Cherishing solitude. Sometimes it gets lonely as a PCV, but you learn to take advantage of it. Explore, go on walks, listen, read… you'll learn to appreciate things on your own, and you become braver and more intuitive by doing this.

Sing the songs of the land you're in.
(My favorite Kyrgyz proverb)
---