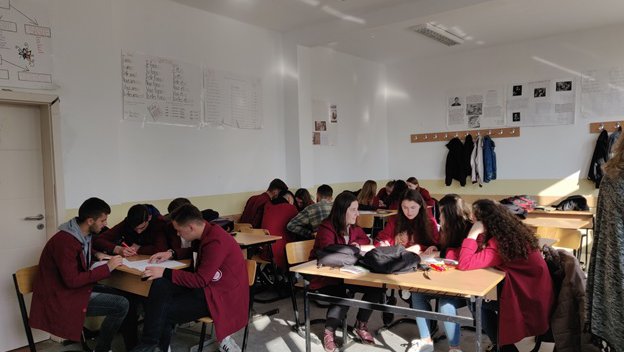 Jan. 28, 2020
In the Peace Corps, we tend to measure time in various ways.
Some of us measure time in each month that passes since arriving in country. Others count the months since we arrived at our permanent sites. Still, others measure by counting the days until they close out service or until their next adventure outside of Kosovo. I prefer to measure my time by noticing and expressing gratitude for small victories.
I've always been a person who gets excited by small things. A special chord progression in a new song, a friend remembering my favorite flavor of Skittles, or an exceptional sunset can all get an overly excited squeal and smile out of me. Even so, here in Kosovo, my awakening to small things has undergone a transformation.
I live in an incredibly beautiful part of Kosovo that is almost entirely surrounded by mountains. My municipality is small enough that I am easily recognized as one of the two Americans here, but large enough to stay anonymous and take solo walks if I want to. I was sick during Christmas and went out of town for New Year's celebrations, so when I returned to my favorite convenient store this week to pick up a snack, I was elated to find that the two women who work there remembered me.
"Qysh je? A je mirë? Qysh po kalon?" (How are you? Are you good? How's your time been?) They realized that I'd been missing for a couple of weeks and wanted to check in on me. They're about my age, maybe a little younger, and this affirmation of my presence being noticed by two women in my community was such a small thing, but it felt so big to me.
Another win came in the classroom. I am incredibly fortunate to have two remarkable counterparts. We are constantly learning from each other. I asked one of them if she'd be willing to try a group assessment with me instead of having our students take a written test. I felt like the technique would be a better way to assess what our students know and don't know and that the students would be more engaged in the process. She took the plunge, tried something new, and it turned out beautifully. Our students stepped up in ways that we never would have imagined. We challenged them to think critically and creatively using some of the English concepts that we'd learned in our first semester together and they delivered.
These are the small victories that we as PCVs revel in. When I think about my time passing here, I think about moments like these where the joy overcomes the minor inconveniences or frustrations. These are the instances that make the time away from home and family worth it. I am so grateful for the opportunity to serve the people of Kosovo. It is such a pleasure so far. I can't wait to commemorate more small victories along the way.