An Interesting Experience: My short tenure as an African American in Kosovo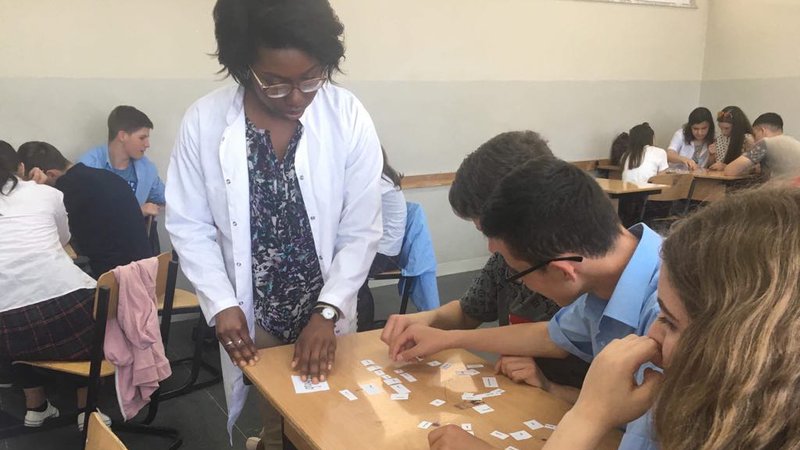 June 20, 2019
With only a few months left in service, I often find myself thinking "what an interesting experience." Opportunities to get involved in my community are plenty, my students are gifted and thriving, the winters are icy cold, and I often get unwanted attention on the street due to my ethnicity. Collectively, these experiences shape my opinion of not only my host country, but they shape how I view of myself as well. If not for this opportunity, I would have never have believed in myself as a strong, resilient woman.
By exploring America's diversity, I am able to teach students about topics not mentioned in their school books, topics that shape America.
Although I receive hurtful comments like "I don't see color" or "where in Africa are you from?", I am grateful to be a part of this experience. I am often the first African American many people in my host country meet. When asked, people typically know of political figures like Martin Luther King, Jr, or even billionaire Oprah Winfrey, but I'm constantly explaining the unique predicaments and micro-nuances of African American living. I teach classes on Black History Month, offer leadership programs, and guest speak at fellow-volunteer sites. By exploring America's diversity, I am able to teach students about topics not mentioned in their school books, topics that shape America.
What's most interesting about my experience is that I typically play the role of the "Face of Black America." I attend iftars, a muslim traditional fest during Ramadan, as well as attend various events for minority groups in Kosovo. At these events, I'm often asked about the political climate in America for minorities and about my familiarity and friendship with African American celebrities like Beyonce and Will Smith. Though I adore them, the true challenge arises when explaining the vast diversity of America. Its difficult to explain the history of the Civil Rights movement, affirmative action, and Dreamers in a 15 minute cab ride to the next city. Yet, I persist.
How did I become the poster child for Black America? Who was I to voice the opinions of 37 million African Americans? Are all conversations "teaching moments?" I often wonder these questions and my conclusion is constantly the same - If I dont stand up for minorities, who will?
Something highly regarded in the Peace Corps post is the differentiation of "intent and impact". The intent of a stranger on the street shouting derogatory words is to bond based on what they've seen pop culture. The impact on me is that I'm hurt and reminded of my ancestors journey. The intent is to connect, the impact is harm and hurt. Undoubtedly, I feel honored to have the opportunity to use these teachable moments.
Where else in the world can I walk into a place and be immediately welcomed and lionized? After moving past the unsetting greetings, I enjoy explaining my childhood experiences. Residing in San Marcos, Texas until departing for Peace Corps allows me to connect with people about growing up in a "small town". I also connect deeply with women, based on a shared amount of diligence and strive. There's an unspoken bond between women in my host country - a smile or a nod to say hello is remembered for many moments. Living in a country where women can bond based on a simple smile reminds me of the relationships I've formed with other minorities in the states. Living in a country that has been economically, politically, and socially disadvantaged forces me to reflect on my own privileges as an American. This shared understanding of oppression leads me to deep relationships and strong ties with my community.
I've rarely been in a position where small changes make such an amazing difference - smiling and greeting students as I walk into class encourages them to be open throughout the session, and slowly breaks down the high power distance cultural nuances citizens are unsatisfied with lately. Being patient when faced with adversity allows true conversations and relationships to blossom. Changing simple classroom behaviors like adding response time, interactive activities, and positive affirmations, are the things that add up to the largest rewards. In a way, that's true about life as well - the smallest changes make the biggest impacts.
My strongest support system in country is my fellow volunteers. My Peace Corps Kosovo cohort is a group of resilient and strong people who bring joy to my life. We immediately bonded during mishap at the airport departing to Kosovo. In short, the airport concierge announced we each needed to lessen the weight of our bags by almost half - forcing people to rearrange carry ons with each other, from childhood blankets to classroom materials. This hilarious experience broke the ice for each of us, and was our first opportunity to support each other during service. Im lucky to have co-workers who listen to understand my plight. Without them, my experience would be immensely more difficult.
In addition to seeking clarity and support from my cohort, I'm also lucky to have a counterpart who listens and corrects actions of misguided students. I can count on her to stand up for diversity and equality, time and time again. Friendships like ours remind me that the world is still a nurturing, caring, loving place for those who chose to believe so.
As my 27 month Peace Corps service comes to a close, I am constantly thinking of how eye-opening this experience has been. I am able to meet adversity with positivity and patience. It's true what they say, there are more things that connect us than separate us.