Kenya
Staff
Peace Corps Kenya Programs and Operations Staff make it possible to implement intervention programs.
---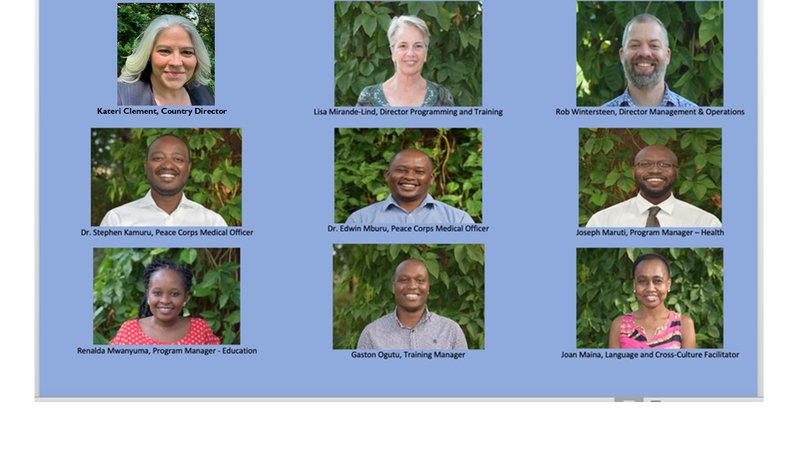 ---
Kateri Clement holds a master's degree in law and diplomacy from Tufts University's Fletcher School of Law and Diplomacy, and has a bachelor's degree in philosophy and history of mathematics from St. John's College in Annapolis, Md.
Clement has been working on poverty reduction and economic development for more than twenty years with her primary focus on Africa.
Kateri Clement's international career started as a Peace Corps education volunteer in Niger, her service ten years later as the Peace Corps Country Director in Mauritania and then in Mali were career highlights.
Before rejoining the Peace Corps in Mauritania, Ms. Clement worked on small business finance for women, emergency health services and post conflict recovery in Guinea, Burkina Faso, and Niger with Catholic Relief Services and Care International.
Ms. Clement's most recent positions were Directing Millennium Challenge Corporation grants in Burkina Faso, Liberia, and the Republic of Georgia. During her thirteen years with the Millennium Challenge Corporation, she oversaw multimillion dollar projects addressing impediments to economic growth including those in education, transportation infrastructure, agriculture, water resource management, power generation and transmission, rural finance, and land tenure.
---
Lisa Mirande-Lind is the Director of Programs and Training. Lisa began her Peace Corps journey after graduating from California State University, Fresno, with a BS in Animal Science and an MA in Applied Linguistics. As a Volunteer, she taught linguistics at the University of Nouakchott, Mauritania. Since 1989, Lisa has lived and worked with NGOs primarily in east and southern Africa. Lisa returned to Peace Corps as a Programming and Training Officer in Morocco and Jordan in 1999 - 2006.
---
Robert Wintersteen is the Peace Corps Kenya Director of Management and Operations. Prior to that he worked for the US Department of Agriculture's Agricultural Marketing Service in operations support for the Commodity Procurement Program, which purchases food for the National School Lunch Program and other domestic nutrition assistance programs. Robert served as a Health Volunteer in Peace Corps Zambia from 2014 to 2016. Before his Peace Corps service, he worked with a variety of local and international NGOs in several East African countries.
---
Edwin has been a medical doctor with the Peace Corps since 2017. Initially with Peace Corps/Guinea and now with Peace Corps/Kenya since Aug 2020. He is originally from Nairobi where he trained and practiced medicine for four years before joining Peace Corps. He has worked in both the private and public sectors in Kenya. His areas of specialty include emergency medicine and surgery, internal medicine, pediatrics, and gynecology. He also has extensive experience supporting Volunteer mental health needs. Edwin has a good knowledge of in-country resources and maintains a healthy network of in-country providers. He is soft spoken, patient, innovative and speaks English, French, Swahili and Kikuyu.
---
Dr. Stephen Kamuru is the Peace Corps Medical Officer. He joined the Peace Corps/Kenya team in January 2020 after three years as the Peace Corps Medical Officer with Peace Corps/Liberia. He has more than 10 years of rural and urban clinical, administrative, and consultancy experience in the public and international development sectors, including working with the US Government, Kenyan Government, International Rescue Committee, Aga Khan University Hospital and Africa Air Rescue.
---
Joan Maina is the Language and Cross-cultural Facilitator. Joan has extensive experience working in a multicultural context having worked with diverse refugee populations in Sub Saharan Africa. Her work experience is mainly in providing training and administrative support in both Non-Governmental Organizations and the Private Sector. Joan holds a Bachelor of Education degree from Kenyatta University in Nairobi, a Diploma in Community Health and Development from the Great Lakes University of Kisumu, and a Master of Arts in Refugee Integration from Dublin City University, Ireland. Joan enjoys traveling and has visited countries in and out of Africa.
---
Joseph Maruti is the Program Manager for Health. Joseph worked for Peace Corps/Kenya as the Training Manager from 2007 to 2018 and is returning to the re-opened program to serve as the Program Manager for Health. A Certified Productivity Coach with a Master of Science in Project Management with more than ten years designing and managing programs, Maruti's leadership and program management experience spans Kenya, Tanzania, Namibia, Madagascar, Ghana and Timor Leste. He has designed, planned, delivered, and evaluated world class training programs for Peace Corps and other Agencies and Departments in the United States Embassy at Nairobi.
---
Renalda Mwanyuma is the Program Manager for Education. Before the suspension of the post, Renalda was the Program Assistant for Education and has re-joined Peace Corps/Kenya as the Education Program Manager. Her experience includes work as a program/project management consultant, Deaf educator, trainer, Kenyan Sign Language interpreter, youth coach/mentor, among other capacities in local NGOs and schools for the Deaf. She has also provided administrative support services in the US Embassy- Nairobi. Renalda has international experience completing assignments in Tanzania and training in Lesotho, Ethiopia and Uganda.
---
Gastone Ogutu is the Training Manager. Gastone worked in Tanzania for three years as the Head of Linguistics and Foreign Languages at Ahlulbayt Islamic Center in Kigoma. He then joined the Resettlement Support Center Africa and was the Cultural Orientation Field Team supervisor. He spent five years travelling to different refugee camps in Africa providing Cultural Orientation Training to all refugees approved for resettlement to the US with the aim of helping them to culturally adjust to their new home.
---