Born in the Portland Parish to a large family of 24 brothers and sisters, Headley was given away at the age of four. 
His new guardian, an elderly woman in a neighboring community, did not have enough money to put him through school. Headley would often go to bed hungry. From age six Headley was only able to attend school three times per month until he dropped out at age thirteen.
He then turned to farming and learned by trial and error, working on a large property owned by someone else, harvesting bananas, oranges, and coconuts as well as bushing the landscape with a machete. He remembers hiding from his classmates in the street when he would carry his produce to market in a large chicken feed bag on top of his head. No longer attending school brought him pain and embarrassment. Farming the property provided a hand to mouth lifestyle, so he decided to start planting his own crops and sell to the community.
Headley started growing short-term crops such as pak choi, callaloo, and coco yam as well as long term crops from fruit trees. Every Sunday morning he would pack his bicycle with two large bags of callaloo and go around the community to sell. His profits allowed him to join a "partner" in the community. A "partner" is a group of people who agree to pool money each month, and one person is allowed to take the pool, or "draw", so that he or she can start a business. Once Headley took his draw, he ventured into livestock farming by purchasing 5 goats, and eventually growing his herd to 35.
After his success in farming Headley met the woman who is now his wife, and they had four beautiful daughters together. Headley, with no formal education, realized he had to find ways to generate more income and provide for his family. He was determined to work with sweat, blood, and tears to provide for his family through farming and prevent his children from sharing the experiences he had during his youthful days. He farmed 34 acres with only a machete and fork, and educated all of his daughters to the highest level of schooling available.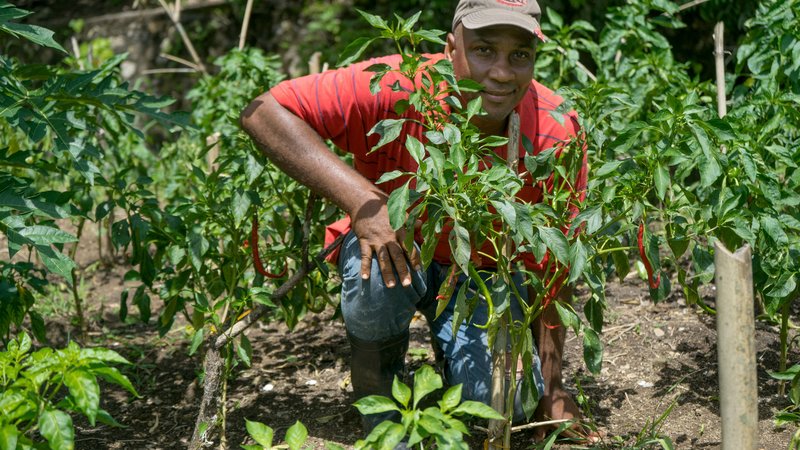 Despite the wide held cultural belief in Jamaica that no one can make a living in agriculture, Headley put his three eldest daughters through university and his youngest daughter is about to start college in 2018.

One night Headley went to bed and reflected on his past success through farming. He had a vision that other farmers in need can find success in agriculture, and he decided to form the United Farmers Group. In 2012 the United Farmers Group was legally recognized by government stakeholders and started to take a new direction. Rather than focus on agriculture alone, The United Farmers Group decided to become involved in community development and environmentalism.
One day on his farm, Headley received a visit from Mr. Cox of 4H club, a Jamaican youth training organization. After learning the direction of the group, he suggested that the United Farmers Group apply for a Peace Corps Volunteer. The United Farmers Group received their first Peace Corps Volunteer in May 2016.
"[Peace Corps] has been more than help. It is like having a family to us. Having the volunteer around is one of the greatest things that has ever happened to Jamaica. Speaking on a personal level, if it wasn't for Peace Corps, we would not accomplish our projects and learn to do the technical parts of the job. We do not want to stop working with the Peace Corps; we will work with the Peace Corps as long as the organization will be around. Peace Corps is changing the lives of many others around the world...Stephen is not only a volunteer to us, he is our brother, our friend, and we will never forget him. Big up yourself Stephen, you're one of the greatest ones."
As for the future of the United Farmers Group? Headley envisions the group growing to a national level, so that all Jamaicans can reap the benefits of agriculture.