In the Business of Empowering Women
Read below the tales of two volunteers, Jennifer O. and Loren R., as they work alongside Jamaican women to improve livelihoods and broaden job skills.
One of Peace Corps' global initiatives is a focus on Woman's Global Development and Prosperity. As in many countries served, Jamaica comes with her own nuances around gender norms, and volunteers have been encouraged to work within the identified roles and responsibilities of host country women to equip them with skills that promote personal development. Read as two female Volunteers give their perspective as they strive to empower Jamaican women and improve their financial independence.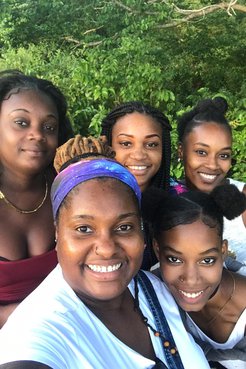 Jennifer O. is an Environment Volunteer who rallied ladies together in her community to form a young women's group. As she spent time in her community, Jennifer O. recognized the role that gender played in allowing opportunities for women in her area, "Many young women do not have a steady occupation or income, as the access to many jobs are difficult to come by in the surrounding area. In my community, many are set apart from the majority and stay in home doing household chores. I wanted to empower the young women to think about their futures." After their group's formation, Jennifer O. recalls one of her first assemblies with the women, "We had an activity on Valentine's Day that we called 'Galentine's Day.' We discussed self-care and what that means to each of us. I then charged them to think about their futures, letting them know that it may get challenging as they get older."
Jennifer O. is an involved role model to many members of the group and makes personal connections that empower a self-starter mentality. One way she connected with women in the community was through crafts that improve their mental health practices. As she remembers, "One of the ladies, Sachelle T. 17 yrs, was interested in making bracelets, as she had noticed one on my ankle. I taught her how to make a hemp bracelet and she enjoyed making them. A few weeks later, she knotted one to my hair. As Sachelle says, 'I'm a professional now.' As she wove the material into my hair, she told me how pulling the hemp strings relieved her stress. I responded, 'That's what I taught you for!'"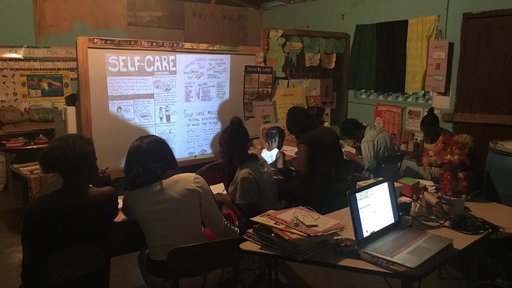 Jennifer O. got on board with the group through a discussion with a community member, who was encouraging the women to go to a call-center training. "The ladies said they would be in attendance; however, they decided not to go and missed out on the training," said Jennifer O., "When I asked why, they said the call center wouldn't open for another 2-3 years and it's a waste of time to do it now. I told them even though the call center won't be opened for some time, there is still need for those skills, and you can apply skills from that training to any job in the future. A couple months passed, and I heard that the training had opened for another class, so I encouraged the ladies to attend. A couple weeks later, they came to me telling me how they attended and are enjoying it. Then they asked if I could go over scenarios with them to prepare for their test." To supplement their training, Jennifer O. held a class in resume writing. Her participants wrote up resumes that were submitted to the National Youth Service of Jamaica.
In all, Jennifer O. says, "I'm overjoyed that I am making an impact and empowering these women, I am looking forward to what else comes with the Young Women's Group." Needless to say, the ladies in her community are too.
---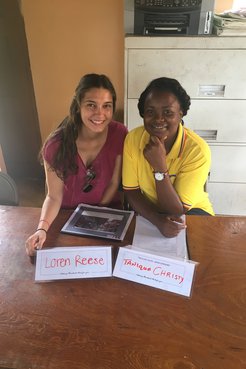 Loren R. is an Environment Volunteer who works with a women's group called Mountainside Juices Benevolent Society. They are dedicated to bringing financial opportunities to women and families in their community. The group began to blossom when they received financial support from a local funding organization to reopen a natural juice factory.
"Initially, my job was to assist in the facilitation and implementation of their grant." Loren R. states. "I attended trainings, meetings, and gender discussions. But, one of my most important roles here came when the women in the group, who I began to work one on one with, started to share their dreams and aspirations, their struggles, their triumphs."
Loren R. expanded upon the connections she built through this opportunity. "I began to build deep, meaningful relationships with these women. I learned one had a dream of opening a chocolate factory, and I am now working with her one-on-one to create a business plan and budget for her factory, which she will be opening later this year. I found one woman has an organic farm with her husband, and I have helped her to pick and prepare produce as well as advise her on ways to protect her hillsides to prevent land slippage and protect her livelihood. I have listened to the women in my group talk about the struggles they go through to make ends meet, to raise their children, provide them with the best education possible, all while juggling household responsibilities. I have also watched the men in the community support this group, without hesitation."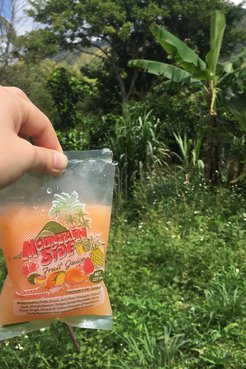 However, the group's visions of their juice factory did run into many obstacles, some of which seemed near impossible to overcome— and yet, they stuck with it. "They are always looking for solutions, new ideas, and ways to create a prosperous community. These women were born from resilient women, into a world where they were taught to persevere. In my service, I have shared many skills with this group: how to vision board, how to use a computer, how to do monitoring, reporting, and evaluating, how to keep records, how to improve on delivering the duties and responsibilities of executive officers. I have worked to try and build their capacities in implementing this project. But, what they have taught me goes far beyond technical skills and knowledge. They have shown me community, the remarkable power women have when they are working towards a goal, and the strength and determination of Jamaican women in particular," Loren R. explains.
A common epiphany within development work, and something Loren R. and Jennifer O. have both found, is that work embarked on to empower others tends to empower oneself as well.
---
Written and Edited By Jennifer Odom, Loren Reese, and Alexandra Teesdale.