I started my day annoyed. A local Islamic boarding school had asked me to meet with their students and told me they would pick me up in a car at 7 a.m.. 

Three hours later, a motorbike arrived – which I had already told them I am not allowed to ride as per Peace Corps policy. They scrambled for another hour to find a car to transport me all the while I silently cursed their disorganization, and was generally in a foul mood.
My mood turned quickly when I realized who my hosts were. It wasn't the school that asked me to come at all; it was the high school students themselves who arranged this, without the school's knowledge or permission, and entirely without cell phones because their strict Islamic boarding school doesn't allow them. They had no teacher – only college-aged assistants barely more advanced than their charges. They were so desperate and willing to learn English that they asked me if I might "practice" my weekly lessons with them before I teach them to my actual students and happily grilled me on grammar, pronunciation, and teaching techniques for five hours.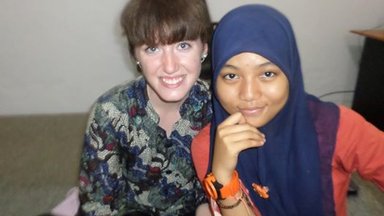 These thirty girls spoke English better than most of my own students. All of them fearlessly participated when I asked, all of them were respectful not only of me but of each other, serious and focused the entire time with a simultaneous undercurrent of absolute joy. They worked with what they had, banding together to better themselves. Their discipline and drive to learn regardless of authority is humbling. 
When I asked these girls what their dreams were, most of them told me they wanted to become teachers like me. Not only did they come together to learn on their day off but they arranged everything and sent me off with a thoughtful gift basket.
That is how eager Indonesian girls are to learn. That is how willing they are to improve themselves. The young women in this country are demanding a good education and better lives; they inspire me to give as much of my knowledge, energy, and time as I can in return because they deserve nothing less.