Indonesia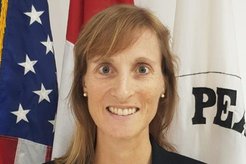 Selamat datang! We invite you to learn more about the Peace Corps in Indonesia, through the eyes of our Volunteers and staff who witness daily the people of this vibrant and fascinating country!
"Unity in diversity," Indonesia's national motto and " Pancasila", the national philosophy and guiding principle meaning: God, humanity, unity, diversity, democracy and justice! This is what Indonesians proudly refer to when speaking of their country and what binds this vast archipelago of 17,000 islands that are home to more than 240 million people, 3000 local languages, and 300 ethnic groups.
Peace Corps' mission in Indonesia is about expanding people-to-people exchange, cultural understanding, and building educational partnerships through our English teaching program and a variety of secondary activities and programs that focus on youth and community development.
After a 45 year absence, Peace Corps returned to Indonesia in 2010 and have rapidly grown into a program of 104 Volunteers; teaching English at schools and madrasahs in East and West Java. Why, you may ask, is English so important to the development of Indonesia? A cornerstone of the national curriculum, English language acquisition and ability is recognized as a means for the country to further grow and integrate its economy and to expand its presence both regionally and globally. Thus our program and our Volunteers are directly engaged in and supporting the development goals of the Republic of Indonesia, while also contributing to the mutual respect, understanding and goodwill that Americans and Indonesians share.
Indonesia is a beautiful, diverse land that has a rich history and a bright future! If you arrive as a Peace Corps Volunteer, with an open heart and mind, a sense of humor and humility; you will be welcomed and rewarded with challenging, but life-affirming and life-changing experiences.
What Sargent Shriver, the first director of the Peace Corps, said so eloquently 50 years ago, "Peace requires the simple but powerful recognition that what we have in common as human beings is more important and crucial than what divides us!"
Jennifer Goette
Country Director