Guyana
Director's Welcome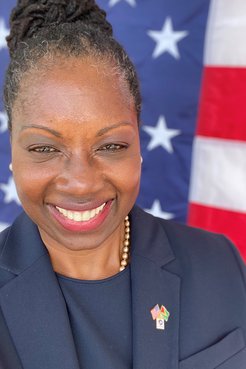 Greetings from the Co-operative Republic of Guyana the "land of many waters," (please, let's not confuse us with the African nation of Ghana or our neighboring South American cousin, French Guiana).
Since 1961, the mission of Peace Corps remains singular and unchanged: to promote friendship and world peace, one person at a time. We have been playing our part towards this mission since 1966 (with a break in service from 1971 to 1995) with close to 1,400 Volunteers serving in the areas of health, education and environment; living and working alongside the Guyanese people; sharing their aspirations; challenges and celebrating their achievements.
From indigenous villages in the grasslands and rainforests of the Rupununi, to bustling coastal towns and villages; from the meandering black-waters of the Essequibo and the Pomeroon, to its vibrant capitol of Georgetown, Volunteers serve across the country to support the advancement of a better future for all through sustainable initiatives requested and supported by the Government of Guyana.
Through living with host families, working with local counterparts, and based heavily on their own curiosity, commitment, humility and humor; Volunteers become integrated into communities; gaining tremendous understanding and insight that deepens the irreplaceable cultural exchange which lies at the heart of Peace Corps.
Guyana is a truly fascinating place. It is biodiverse and offers opportunities to work on environmental education and capacity building at a moment in time when the extraction industries are preparing for major undertakings. It is historically interesting and gives us all a chance to watch a democracy unfold and come into its own, even as we support communities in their growth efforts. It is racially and ethnically complex, with the beauty and difficulty of racial differences, poverty, and political divisions on full display, giving our Volunteers the opportunity to teach and learn as we ourselves grapple with some of the same challenges. The COVID-19 pandemic presents us with health and educational gaps that we had not anticipated, but that we are energized to help address.
Peace Corps Guyana continues to achieve success due to the intertwined and supportive roles and responsibilities taken on by the community (made up of counterparts, host families, Volunteers and staff) we build and foster every day. Our hosts (the Guyanese people) lead and Peace Corps follows; providing reinforcement, expertise, creativity and the willingness to share of ourselves and our experience.
There is no question that the COVID-19 pandemic has changed the whole world. Certainly, like every country, Guyana has been affected by this unprecedented public health challenge. Some communities may have been more impacted than others. However, as we safely continue to serve, we remain committed to supporting capacity building needs at the community level. We promise you that serving in Guyana will pull and stretch your mind, body and spirit in ways you might not have expected. Don't be afraid; the country will give back as much if not more than you could ever imagine. Your service in Guyana will be an experience that will leave you changed and that will stay with you for the rest of your life.

Nadine E. Rogers, PhD, PMP
Country Director
Peace Corps Guyana
Director's Reflections from the field
Our previous Country Director traveled around the country visiting Volunteers where they served. When I took the helm in February 2020, I was just beginning to arrange my first site visits when COVID-19 struck. So, I had to pivot as a leader, and focus on getting our Volunteers home safely and having their amazing service accurately documented. Below are some highlights of the kind of work that our Volunteers were doing before COVID-19. We hope that we will be able to do this kind of life changing work again soon.
Volunteer Gabrielle - Education - Region 9
I spent an amazing week connecting briefly with the lives and work of some incredible, trailblazing volunteers based in Region 9 (one of the most remote in the country). One such firecracker is Gabrielle, a Community Education Volunteer swiftly coming to the middle of her service in Guyana. Her energy and passion emit from every pore the moment you meet her - starting with an infectious smile; leading to  one of the best hugs I've ever had. Then there's the excitement and joy when she introduces you to her Headmistress, counterpart, and colleagues; tells you about her work supporting the capacity building of teachers at her school; not to mention the passion and pride behind the creation of the school's first reading library due in large part to her unwavering commitment and tireless effort. 
Thank you Gabrielle for sharing a little slice of your life and service with me. 
Volunteer Thomas - Environment Conservation - Region 9
About 45 minutes from Lethem, the capital of Region 9, is a picturesque little village, population 767 (or so says the Toshau). One of the newer inhabitants is Thomas, a GUY 29 member (first Peace Corps/Guyana Environment group). As we drove up on Thomas' little slice of heaven, we were met by his lovely Auntie (aka Host Mom). She immediately took me on a tour of her property, which hosted an impressive amount of various fruit trees (from what I recall - orange, cashew, pear (aka avocado) and lemon). 
The pride on her face as she told me about her crops and then gushes about her "Son's own vegetable garden (also amazing). i then had teh pleasure of being introduced to Thomas' work in the village; hosting a Wildlife Club right next to the primary school and supporting the Head Mistress filling unexpected teaching needs at the school. A highlight of my time there was meeting with the group of children that participate in the Wildlife Club. Their wonderful smiles told me all I need to know about the future success of this program. 
Volunteer Germinal - Health - Region 3
It all started with a little black and white flier handed to me with so much pride by Volunteer Germinal (accompanied by that amazing smile). Just being presented with this invitation, I could feel his excitement about the upcoming Camp BRO (Brothers Respecting Others) event that was to take place that weekend in Region 3, which he would be leading. Based on that positive energy alone, I would have been crazy not to have made all attempts to be there for some part of the event. So, with some fellow colleagues (huge shout out to Merica, Ashema and Jamal for taking time out of their weekend to accompany me on this road trip) we went off to experience Camp BRO. Arriving at lunch time offered me an opportunity to meet with and introduce myself to some of the approximately 20 campers, a nice crew of very well-mannered 12-14 year old young men excited about doing something productive with their weekend. They told me about the recent conflict resolution and suicide workshops/ discussions they had earlier in the day (both very relevant topics for this region); telling me about some of the key takeaways they learned; particularly regarding techniques in managing conflict. I was extremely impressed by the mature way in which they shared their understanding of the key messages from these sessions with me. 
Now, back to Mr. Germinal - he has one of those personalities that resonate with you almost immediately. Apparently, he has positively affected/infected other volunteers in his region and beyond because they came far and wide to support him; with representation from GUY 27, 28 and 30. Along with Germ, it was wonderful to have a chance to briefly chat and catch up with Antonia, Briona, Chelsea, Dorie, Jocelyn, Ryan, Taylor and Tony as they took part in and supported this event.

Thanks for the invitation Germinal. It was absolutely my pleasure to see you in your element. I completely agree with your counterpart – you are truly invaluable in your community (and beyond).
Volunteer Zachary - Education - Region 2
Heading for Volunteer Zachary's (GUY28) site brought me for the first time on to the Pomeroon River in Guyana. I am always fascinated and honored to be embraced by the absolute and relatively untouched beauty of this country (slightly smaller than Idaho). Upon reaching Zach's village (close to the end of the river), we were met by his lovely and very accommodating Head Mistress. She showed us to the room where Zach sat towering over the most adorable Indigenous primary school girls practicing their literacy skills – the letter O was popular at that time. I found it quite humorous to hear Zach requesting his little pupils to practice writing and pronouncing their Os; offering a deep guttural, baritone sounding rendition of an O and hearing the almost immediate response of their lower pitched soprano voices attempting to replicate the verbal assignment. Those adorable silky black pigtails with bright red bows will always remain in my mind. I smile just writing about it.

Volunteer Rachel - Health - Region 2
This was my first visit (albeit short) to one of the newer members of the PC Guyana Family as Rachel was just placed at her site in early March. Except, you wouldn't know that she just arrived because she has to have beaten everyone in the record for accomplishing integration into a community! Her host family adores her! Their kids adore her! And, everyone who is anyone seem to know her.

Who knew she was also a serious gamer in hopscotch and dominated her little sister in jacks? It was so refreshing to see her in her element within this community without missing a beat. 
The health center in which she works was immaculate and her counterparts were equally taken by Rachel's energy and commitment to supporting them in whatever way they needed. When we ran into her, she was sorting a number of health information brochures - which (incidentally) kept blowing away with the slightest breeze. But, she just laughed, kept picking them up; ensuring the completion of the task at hand. During our time there, we saw some great mentoring from the head nurse in training Rachel on the (rather old school) blood pressure equipment. Program & Training Specialist Jamal was her guinea pig, but by the time she got to me, she was a pro! I cannot wait to see what the remaining 22 months has in store for this vibrant individual. I'm on pins and needles!
Volunteer Rebeca - Education - Region 2
As I reached Volunteer Rebeca's village, I found her (based on the knowledgeable intel of a few little boys as I walked up the hill) sitting with a couple of lovely young ladies (maybe 8 or 9) in the midst of literacy tutoring. These little cuties were sitting on either sides of Rebeca inside the newly established media center that she helped the community bring to fruition at the primary school. Rebeca beamed with pride as she shared with me the inclusive development techniques she used to advance this project; being sure not to leave out the elements of future sustainability being put in place to ensure that all of the hard work went into the enhancement to the school, lives well past her time in this picturesque village.

We (myself and Program & Training Specialist Jamal) did not run into too many students during our time with Rebeca because everyone (including teachers) seemed to be involved with preparations for the upcoming May Day celebrations. So, as we walked over to see Rebeca's digs, we saw a number of kids skipping round and round, under and over each other to create a lovely/colorful pattern down the Maypole. 
Now, let me tell you about Rebeca's home – it was SPECTACULAR! She holds the title for pulling Shabby into Chic on a Volunteer's monthly stipend. I was joking with her (but also totally serious) that she could post this on AirBnB and probably get some takers! 
Rebeca departs early July and I get the sense that her name will remain on the lips of community members for many years to come. She is definitely unforgettable.
Volunteer Gregory - Education - Region 2
Now, I have to admit that it was Greg (GUY28) who single handedly convinced me to make this trip down to the Pomeroon and then the Wakapoa River to visit these amazing boat/canoe dependent communities nestled inside. As we turned onto the Wakapoa River, we were immediately embraced by the forest canopy, which after some time opened up to what to the eye looked comparable to the savannah, but on water. In a word – Beauty! I'm a city girl, if I must label myself; having been brought up in the Bronx; attended school in Manhattan and now calling Washington, DC my home. However, as we moved along the black waterways (yes, the water is really dark, dark brown – almost black), it kept striking me as almost spiritual how blessed I felt that during my lifetime, I was witnessing and participating in these gorgeous environments and communities so different than my own upbringing. I'm not sure if I will ever be an outdoorsy person, but being in that area helped move me a bit more in that direction.

Greg is in love with his community too. His commitment to his PC work, experience and community is evident with every paddle or step we took as he expertly explained relationships between this person to that person, that thing to that issue, etc. He has found significance for his work in his community even with other strong personal commitments he left behind to fulfill his service in Guyana. He also proved to be a pretty good chef. He prepared one of his staple meals and it was really quite tasty.
Greg Stanley is far from done offering more of himself to his community. I look forward to seeing what the future holds for him.
Volunteer Antonia - Health - Region 3
Receiving an invitation from a Volunteer to attend an event in their community is always a gift for me. If I can make it (even with my otherwise chock-a-block schedule), I will always do my best to be there as it truly offers food for my soul. Volunteer Antonia Rangel-Caril's (GUY28) event offered me just this and more. 

I joined on the final day of a successful girls and boys day camp in Region 3. The kids, dressed to impress and beaming from ear to ear, seemed ready for whatever activities were on the agenda for the day. Antonia was joined by Region 9 powerhouse primary literacy teacher, Volunteer Gabrielle Swindle (GUY28). This Dynamic Duo really showcased the true meaning of collaboration and partnership as I witnessed them moving effortlessly through fun, yet meaningful activities with approximately 20+ young people. I found it almost poetic how they seamlessly used each others skills and talents to offer the kids a thoughtful, fun and empowering morning. I was also impressed by the support of the community with the offering of free space for this week-long youth-focused initiative. Lastly, I absolutely adore how other Volunteers always pitch up to support each other, no matter what. It was great to see Volunteers Dorie Schwartz (GUY30) and Briona Graham-Clayton (GUY28) ready and willing to lend a hand as needed. 

Thanks once again Antonia for your kind invitation. Memories from that morning will remain with me for some time to come.
Volunteer Kirsten - Environment Conservation - Region 4
It was my first time going down the Demerara River and onto one of its tributaries, the Kamuni Creek. I was on my way to visit Kirsten in her newly assigned indigenous village (primarily Arawak – thanks Wikipedia). Whenever I travel, especially along the waterways, I become further enamored in Guyana due to its relatively untouched beauty. Due to the river being low, it took us a bit longer than expected to reach her picturesque river-in community. I had been familiar with the village because it is known for is crafts and the women that sell them. Needless to say, I couldn't leave the village without a few knickknacks (a shopper 'til I die).

Kirsten met us at the peer with that amazing smile of hers, ready to share a small piece of her life during the limited time we had for the visit. She definitely kept us moving and shaking the entire time. We met her amazing and vibrant wildlife club and had the chance to play games with them as well as experience, learn and participate in the class she prepared for that day. Along with the kids, I learned more about birds and their bills/beaks then I ever thought I would. The energy of the students that participated in the club, their commitment to the class and their adoring faces when they looked up at Ms. Kirsten stole the show. This moment reminded me – this is what it's all about. This is why I do what I do. 

Much appreciation to Kirsten for helping remind me that I DO have the best job, hands down!
Volunteer Brianna - Education - Region 3
It was Diwali (Hindu festival of lights) – and my day off! However, worked called, which coincidentally offered me the opportunity to head over to Region 3 (Essequibo Islands-West Demerara) down Parika way). All of my experiences travelling this direction was with the intention of grabbing a boat to cross the Essequibo to get to Region 2 (Pomeroon-Supenaam). Well, this time, I took a left in Parika – who knew I could take a left! Travelling about 15-20 minutes further I found myself at Volunteer Brianna's home with her host family. Let me tell you, the welcome received was above and beyond a Diwali reception. I woke up that morning committed to my new lease on healthy eating, but as soon as that first round of piping hot Puri (roti with lentils inside) made its way to the table, I knew that today's Indo-Guyanese culinary experience was going to have to put my weight management goals on hold. For the first time, I witnessed puri, pholouri and other Diwali holiday delicacies being made from scratch. It was a feast for both the eyes and my tummy. Oh, and double score, as Volunteer Dorie showed up for a visit too.

In addition to being overly feed (but oh-so-well), it was also a beautiful luxury to spend such a significant amount of time with Brianna's host family. PC Guyana could never accomplish nearly as much as it has without the willingness of so many Guyanese families to open their homes and host our Volunteers. It's so much more than providing a roof over Volunteers' heads. It's the warmth, the cultural teachings, the layer of safety and security, etc. – all of which is priceless and I can never thank them all enough. 

Jokingly, I informed Auntie that I would be back to learn how to cook her curries, roti, sweet meats and more. She gave me her signature side-glance (nonverbally saying "yeah, right."); drawing a line in the sand. Watch out Auntie, I'll definitely be back when you least expect it as this was one of the best working days off that I have ever had. Thanks Brianna and Auntie for allowing us to spend the morning with you.