Youth Participatory Action Research in Guatemala
The work of a Peace Corps Volunteer varies based on their assigned project, the volunteer's prior experiences, and of course, the community one is placed in. It is perhaps the latter that affects our work the most.
The Youth in Development program in Guatemala is designed to build up the strengths of a community and holistically prepare "rural youth for future roles in the family and society by increasing their knowledge and capacity in life skill areas." Every volunteer interprets our mission differently, feeling drawn to certain topics or projects more than others. Some start career fairs, others look to sports and gardening as a vehicle to impart our curriculum, while the majority find their place in the classroom working alongside teachers and administrators. What it really comes down to is: what's going on in town; how can I support y'all; and also, where do you want me tomorrow?
Arriving on site nearly ten months ago, my first six months were spent observing, saying "yes" to just about anything, and meeting people. Lots of people, lots of names. One of the tools we receive during training is the "Participatory Analysis Community Action" handbook, a guide with activities that help volunteers get to know their work sites better. The different activities allow students to create a physical representation of their experience that they can reflect upon. Varying from seasonal calendars and daily schedules, to more complex asset and deficit mapping, activities are flexible and a great introductory tool. 
Before I knew it, teachers were leaving me alone in the classroom. 30 blank faces staring in expectation, shy giggles and whispers infectious, and here I am, asking teenagers to draw maps of the community so I can learn where the health center is. These first few months built my confidence up and relaxed my nervous grin as I continue to sweat through shirts. Teaching is a workout.
When faces are tired I say let's go outside for tai chi or a quick dynamic activity; when voices are loud and the classroom a ruckus, I'm going to clap a rhythm till the others catch on and find their seats. Somedays I'll just sit in the park and wait for the teenagers I know to pass by so I can ask them about their day. Every day is different but finding the groove between what you need to teach, what the kids want to learn, and what you know how to do—that's the workout.
Waiting in an empty classroom one day, I made the decision to start with, "would you be interested in meeting with the mayor? What would you talk about?"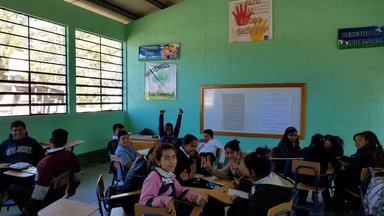 So, my academic background relates to studies in community and developmental psychology, education, and philosophy. In my last semester of graduate school, I was introduced to the Youth Participatory Action Research (YPAR) practice that combines all three areas of study. YPAR is an empowering and transformative methodology based on Freirean pedagogy that encourages young people to take charge of their own learning and impact communities the way they see fit. Rather than suffice being the subject of research, YPAR places youth in charge of spaces and provides the opportunity for young people to develop solutions to issues that affect them. When the class finally arrived, I saw 30 curious faces waiting for me to say more, so I followed up with YPAR.
Hands stopped going up, the class was loud, some were laughing, and others were waiting patiently for me to go on. When you tell a large room of teenagers that they have power, directing energy and enthusiasm becomes the challenge. I explained organization is key, knowing how to talk the talk and walk the walk a necessity. Power isn't just bestowed, it must be conspired for in a methodical manner.
YPAR engulfed my thoughts and work. I felt compelled to share with my fellow volunteers—this is what youth development is all about! Two months later, I joined forces with four other Youth in Development volunteers to develop full-fledged YPAR projects and we aim to submit a case study of our experience for peer-review in July of 2019. Our projects range from developing youth city councils and afterschool programs for children with special needs to youth groups focused on fostering self-expression and critical citizenship. We are collaborating with school directors, district superintendents, mayors, psychologists, cultural centers, and other institutions to create spaces where young people can grow as leaders in their communities.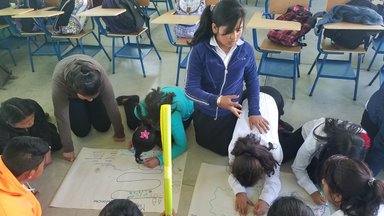 The thing is, as a research team, we are also youth. Under 25 and undirected by an adult authority, this is a project of our own volition. "This, then, is the great humanistic and historical task of the oppressed: to liberate themselves and their oppressors as well (Friere, 1972)." We are empowered youth.
Our identities play a large role both as development workers of Peace Corps and foreigners working in Guatemala. A limitation of academic research, especially relating to anthropology and sociology, is that it is conducted by outsiders. While the YPAR we are conducting as Peace Corps Volunteers complies with this trend, on the local level, the YPAR projects we are implementing in our worksites push back against this paradigm. If implemented correctly, it will be Guatemalan youth producing continual research and proposing solutions, on their own.
In Spanish, one of my favorite words to say is superar, meaning to overcome. There is a global stigma that denies youth power and visibility, this is fact. Antiquated "seen but not heard" frames of mind, taught not to talk back but to comply, youth must overcome. "The potential to create knowledge that does not simply reproduce the worldviews, values, and interests of dominant groups" is there, youth must overcome (Smith et al., 2010). Youth have always been researched upon, but hardly ever with. Now is the time to not only give them a voice but to give them the power of decision.
With YPAR, we are shifting away from the negative rhetoric that says youth that must be dealt with, creating a new story that says youth can impact a home, school, field of research and even a country. There is a long road ahead for us, but if we can superar, we will surely have contributed to the Youth in Development mission.
If you are curious about how this project plays out, you can follow our progress under the projects tab of my blog.
Freire, P. (1972). Pedagogy of the oppressed. [New York], Herder and Herder.

Smith, L., Bratini, L., Chambers, D., Jensen, R. V., & Romero, L. (2010). Between idealism and reality: Meeting the challenges of participatory action research. Action Research, 8(4), 407-425. doi:10.1177/1476750310366043