When I arrived in my community in Northern Swaziland, I wasn't sure how I would be occupying myself for the next two years. 
Before I came, I was always very interested in working in microfinance and with female entrepreneurs. Study after study has shown that the most powerful force in development is an empowered female population, one with access to education and the ability to provide for their family. I knew I wanted to work with women in the community (known as "bomake"). I had vague ideas about creating an income generating project, which would teach women a marketable skill.

After getting to my site, I found that the women already had marketable skills. Many of them knew how to sew, or already grew vegetables or raised chickens that they wanted to sell. What they were lacking were business skills. They had little to no knowledge of creating budgets, bookkeeping, or writing business plans. I decided to teach basic business classes to a group of women interested in starting a sewing cooperative. But Peace Corps had no basic business skills curriculum I could use.

I made creating a basic business skills curriculum my main project. I undertook extensive research on business courses in other developing countries. Once I created an 8-week curriculum, including homework and a final exam, I taught it to the first group of women. It went so well that demand in my community skyrocketed. I ultimately taught the course to over 60 women in my community while refining the curriculum. After I was comfortable with the finished project, I trained my fellow Peace Corps Volunteers on the course and oversaw the national roll-out of the program. They took the course back to their communities, and I was able to watch the program grow.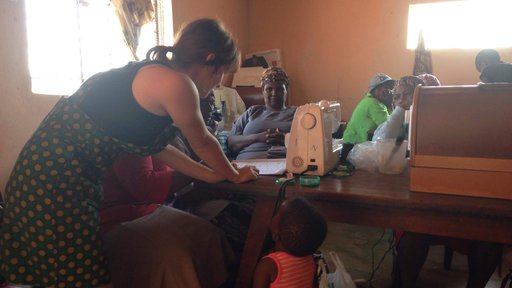 Today, over 200 women nationwide have graduated from the basic business skills course, and even more are taking it right now. All over Swaziland, women have been harnessing their potential and creating their own small businesses. In my community, graduates from my course have opened their own shops. To women in rural Swaziland, an income means independence and the ability to support themselves and their family. A thriving business provides more than just an income. It provides opportunity. It provides money for food, medicine, and children's education. It provides an alternate source of income and a small measure of independence from a husband. It provides life.