Using Solar Energy to Brighten Futures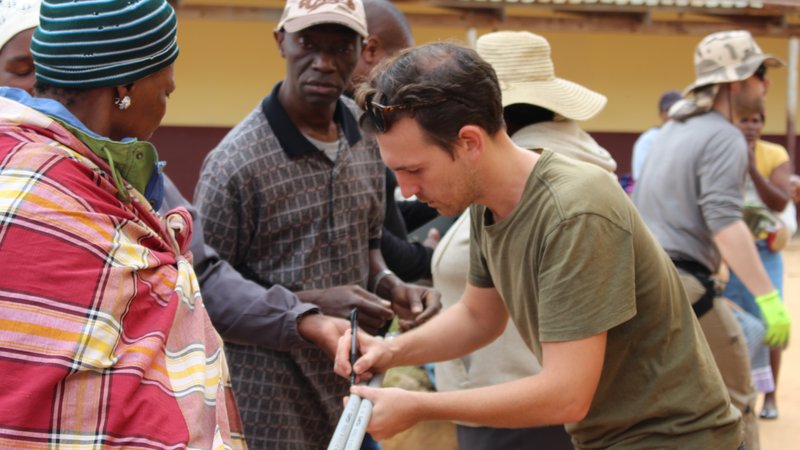 June 27, 2018
This project began when we first heard about an opportunity to receive solar panels through Books For Africa.  All Books For Africa recipients were informed we could apply for a set of solar panels for our schools.  Unfortunately, only one school would be selected so Mr. Dlamini, the primary school librarian, and I decided we wanted the panels for our library.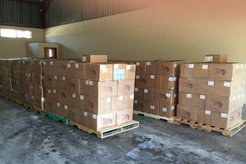 We discussed how best to use the panels so they would benefit students as well as teachers.  Mr. Dlamini and I saw the potential they had in assisting students with researching assignments and improving their English skills.  Our plan was as follows: in addition to providing light for the library, we would use the electricity for a stereo system so the students could listen to podcasts of different English speakers so they could hone their skills to hear and comprehend different speakers' accents.  Eventually, we finalized the details of our plan and submitted it to the Books For Africa committee.  We crossed our fingers and waited.
Several weeks later we received an email congratulating us on our successful submission.  Ecstatically, we danced.  Then reality set in.  Our work would be cut out for us.
Mr. Dlamini and I were informed we would be working in conjunction with a non-profit called Solar Kits For Change (SKFC).  Shortly thereafter we were introduced to the leadership and representatives of SKFC, Fran Crotty, Harry Olupitan, Glen Goldsby and Marcus Larson.  For over a year we coordinated and planned the implementation and sustainability of our solar project.
Just before SKFC arrived they informed us they would also be including two refurbished laptops with Microsoft Office to assist the teachers with their lessons and recording, and students in their studies.  Also, PCV Kirby Riley contributed Wikipedia Offline software for students to be able to research assignments.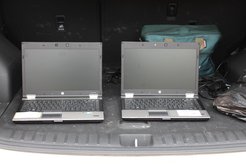 When SKFC finally arrived, we hit the ground running.  Over the course of four days, teachers, students and community members, under the supervision of Solar Kits For Change, screwed in pvc piping, ran wire, cut wood, installed fuse boxes and wired solar panels.  When all was said and done three sets of LED lights and two electrical outlets were installed.  Glen also lead a technical training for 30 students and 9 teachers, using mini panels as teaching aids, instructing them on how solar panels work and the benefits of renewable energy.  Glen graciously left the teaching aids for teachers to train future students.  Glen then informed the library committee that the system itself wouldn't have to be serviced for 30-40 years and the LED lights wouldn't have to be changed for at least 20 years.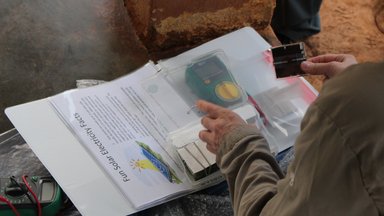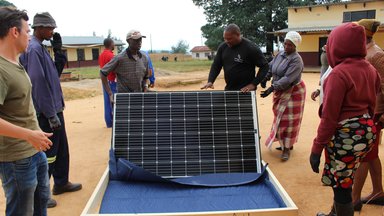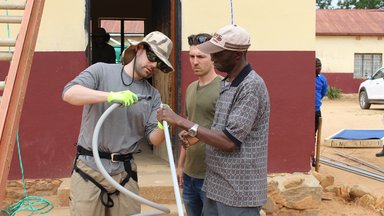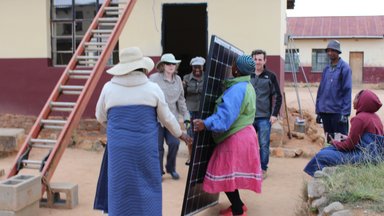 The most encouraging part of this project was seeing how the community responded to its potential, especially the bogogo or grandmothers.  The most hands-on group were the grandmothers.  The first ones in line to drill holes, hold ladders, hammer nails and offer constructive criticism were grandmothers.  As the week progressed we saw many different people from the community come to see what all the commotion was about, some even came back to help with the solar installation.  Each day there were at least 12 residents who contributed.  Their hard work and determination ensured the successful completion of this project.
Before SKFC left they expressed their interest in partnering with the Peace Corps to work on future projects in Swaziland.  SKFC also shared their thanks for the warmth and hospitality offered by the Swazi people.
The potential of solar projects in Swaziland is unlimited, due to ever-developing technological advances in the solar industry and the enthusiasm of communities.  Solar projects in Swaziland will guarantee a bright and enriching future for all.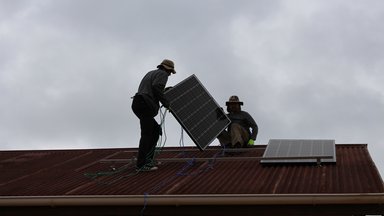 After completing our project, a make (mother) approached me and congratulated me on doing such a great job. I told her that it was a team effort and I could not take full credit for the project. She then told me " the thread follows the needle." I was very humbled by this given that make was the wife of one of our community's traditional leaders.