Intentional Relationship Building through Food
In a community on the edge of a mountain range in the tiny kingdom of Swaziland, I have had a home for the past two years. Fresh fruit is abundant here; I mark the seasons not by the calendar, but by the colorful edibles that paint the landscape.
Before joining the Peace Corps, I was working with local sustainable food systems to impact food deserts in West Virginia and loving every minute of it. When I moved here, I brought along my passions for food and helping the people who produce it. I was very fortunate to meet a Swazi woman in my community, Phephile, who shared my enthusiasm. Our first encounter was at a HIV support group meeting and after we bonded over our recent relocation to the area and mutual love for baking tasty treats, she told me "Girl, we will be friends" — she was right! Phephile and I got to know the ladies who make up a local HIV support group by attending weekly meetings and visiting the women on their homesteads. Many discussions regarding family life and the difficulties of finding local opportunities took place while sitting on a grass mat beneath a mango tree. Eventually, we utilized the classroom of the neighborhood care point (a free resource for preschool-aged children to have a meal and a school lesson) after schooling was finished for the day to facilitate lessons for women on the importance of good nutrition, emphasizing the direct benefits of healthy diets for those who are managing chronic conditions such as HIV and diabetes. These activities centered around food, which was useful for bridging cultural differences — people, regardless of geography or beliefs, must eat!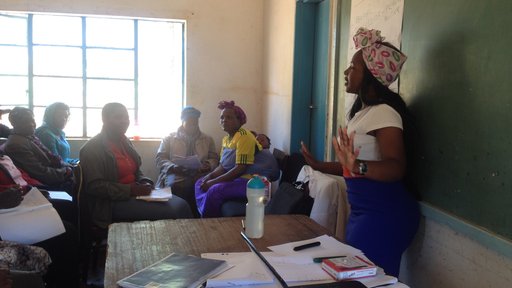 After several months of integrating and analyzing the community needs, the lack of economic outlets for local women was glaringly apparent. "We need more business!" friendly neighbors told me when I visited homesteads and inquired about what would most benefit the community. Phephile and I learned over time that the women who composed the support group were very motivated to take action and improve their lives, so we asked what business ventures intrigued them. At this point, several key elements fell into place: we learned that a local NGO (non-governmental organization) possessed a rarely used peanut grinding machine, my grant proposal was approved to provide inputs for the project, and a facility became vacant at just the right time. With this information, the group decided to make and sell peanut butter. We invited government officials to visit the community and educate the women on the logistics and best practices of group business ventures, which culminated in crafting business plans. After multiple sessions, lunches, and plenty of knowledge imparted, it was time to test our theories — could we make an attractive product, and viably sell it in the local area?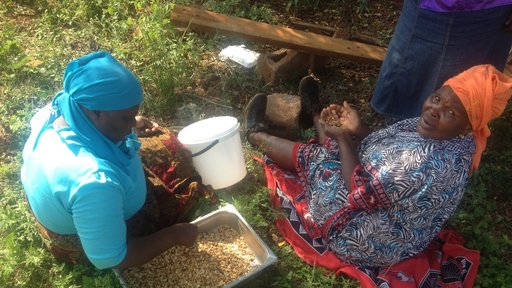 Of course we could! We found recipes, then took the early morning bus to the facility and cleaned the dilapidated machinery. Not long after a few trial and errors, there was molten, sticky gold oozing from the machine's spout. An assembly line unfolded to feed in the ingredients and package the tasty product into plastic containers. The results were great! We distributed the delicious, nutrient-dense food among the women to sell to the market they identified — the local community. Our product was on the shelves of the local shops, and well received. Money was flowing back into the hands of the support group, this was good! In addition to bringing in cash, this activity also cultivated more interest from other groups in food production.

What else could we make? Women came to Phephile and I often, asking about when the next workshops would be. When soy beans came into season, we decided to try soy milk and tofu. The ingredients needed were very simple, and we located a blender that we could borrow. After a frustrating battle with the blender, we eventually conceded. The blender would not turn on, for some reason that eludes me to this day. We all sat around the kitchen facility, brainstorming options. I spoke up, "Can we use the peanut butter machine for this?" It was worth a shot! And it worked! With some experimenting, we had a velvety smooth milky liquid pouring from the spout. The liquid and solids were separated, and we reveled in making (and inevitably consuming) tofu "meat"balls, mince, patties, and soya sautéed spinach.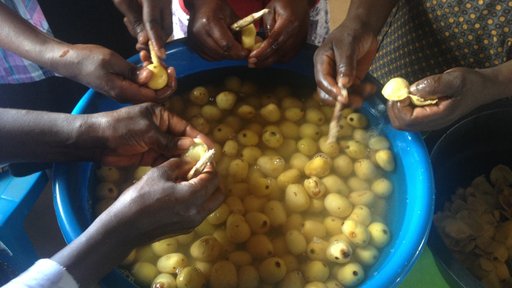 Additionally, we made guava jam, marula (a seasonal indigenous fruit) jam, canned peaches, and more is in the works. While we are not selling these products, they are directly benefiting the women who create them by diversifying diets and extending the life of perishable foods. The result of this endeavor is that Phephile and I facilitated more than just the preservation of local foods, we created a space for swapping recipes and stories, while fostering ideas and learning from one another as well.