I walked into a superb library. With the support of the school, Ms. Dlamini, Makhonza's High School librarian began transforming the library in 2012.
I walked into a superb library. With the support of the school, Ms. Dlamini, Makhonza\'s High School librarian began transforming the library in 2012. She used the dewy decimal system to organize books, requested tables and chairs for students and had a display stand for magazines. With a library like this, I was surprised to find that space underutilized. I realized the resources were available, but what needed improvement was the culture surrounding books and learning.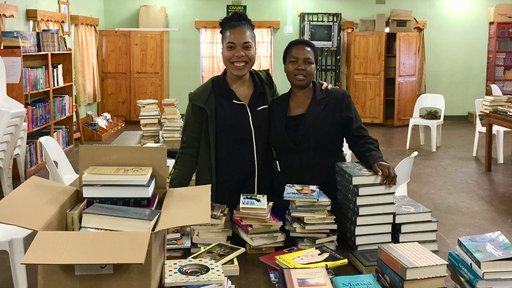 Changing mindsets is no easy task, but Ms. Dlamini and I worked extremely well together to incorporate our talents in revamping the usage of the library. As an innovator, I enjoy creating something useful out of limited resources. I was grateful to have a counterpart who was encouraging and open to new ideas. She too was a visionary, her rapport with students and experience as an educator allowed us to make ideas practical. However, devising activities for up to 60 students with roughly 35 minutes was challenging. We split students into groups, created spelling and vocabulary games, as well as in classroom competitions. Students were eager to come to class and participate, often asking to stay longer whenever the bell has rung.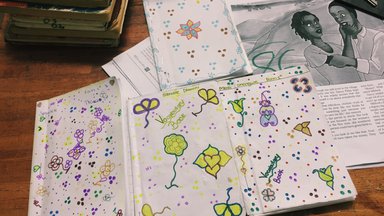 As I watched Ms. Dlamini cover hundreds of words with up to 300 students, I realized our students did not bring any writing material to the library. They used scrap paper during spelling games and often left those on the table. As a visual and reading/writing learner, I wondered how students were able to retain the information she provided. I wanted to incorporate visual, auditory, kinesthetic, and reading/writing techniques into our activities to ensure we covered the diverse learning styles of our students. It was also vital for me to make these activities enjoyable, in hopes they will take ownership and pride in their learning.
Ms. Dlamini and I created quarter-sized booklets out of scrap paper, stapling the spine of the booklets to ensure the placement of the pages. With printer-paper as the cover, students were allowed to personalize their vocabulary books. We found students coming to the library during lunch to finish their designs. Suddenly, unsupervised students were taking out their booklets jotting down unfamiliar words, finding their definition, and making sentences. As their vocabulary words increased, Ms. Dlamini checked their entries, leaving words of encouragement.
After applying for the Books for Africa Grant and receiving 1,000 books, I felt it was an excellent opportunity to reinstate Hooked on Books. With the excitement of new books and a donation from a fellow PCV Jamie, who donated five iPod shuffles, Hooked on Books was beginning to get traffic. Students now had a more comprehensive selection of books and a prize they valued. As names piled up, students began tracking each other's progress, and summaries were pouring in. Seeing the stars next to their name gave them motivation to continue as students regularly checked each other's progress.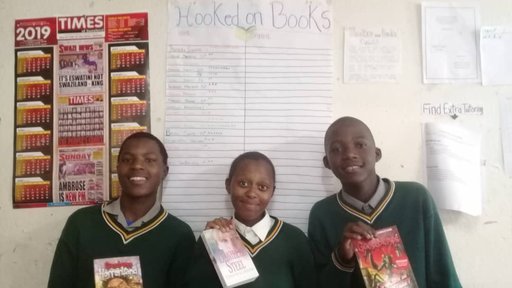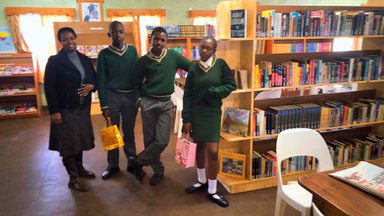 We were amazed to see the artistic ability of our students. We wanted the library to become a place where students felt encouraged, inspired, and challenged. Ms. Dlamini and I made an announcement-calling artist to design a piece for the library promoting literacy. For months, we saw five students sketching and coloring what has become the library's prized possession. Three of the artist, Vuyo, Banele, and Nndlamlenze stated they were glad to see the school values their talent as the project was challenging, but they accomplished their goal because of the support of Ms. Dlamini and me. Despite our success, I still saw a need to increase the utilization of space and books. During my first year in school, I proposed a book competition titled Hooked on Books, inspired by the teachers I had growing up who encouraged students to read by creating book competitions and adding stars next to our name upon completion of a novel. As a requirement, I asked students to write a summary and present it to their class, this intimated them, and for months, students feared to sign up.
Like most volunteers, I still felt there was more work to do. I then wanted to improve the usage of textbooks. I created a Library Resource Form in hopes of connecting existing resources to staff and students. The Library Resource Form categorizes textbooks by subject and lists the themes found inside the book. I hoped that this would provide an easy to read format for teachers when organizing lessons, assigning research material and assigning extra assistance. As the form hangs in the library, students are also encouraged to utilize it as books with exercise sheets are available to them and with permission accessibly for copying. Ms. Dlamini continued to expand our resources by collaborating with 3 local newspapers to receive daily copies of their papers. With the daily papers and a variety of magazines, we began to see the library full of students and teachers. Looking at the work we have done I see that we indeed created a space for students to feel welcomed and encouraged.
As I prepare to close out my service, I am excited to see the work Ms.Dlamini will continue to contribute towards the development of the library. With the support of Makhonza High School Principal, Mr. Nsibande, I am confident that these projects will blossom into something greater than what I can imagine.