According to a recent World Bank study, about 24% of girls in Eswatini between the ages of 15-19 have had children or are currently pregnant. It has also been reported that 56.6% of youth in the country are living in poverty.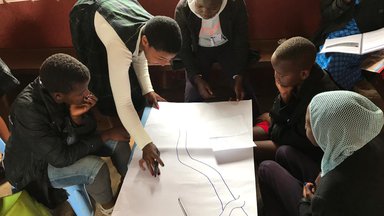 These statistics are directly exemplified in the names and faces I see every day within my community. During the integration period, I consistently heard that two of the biggest problems facing youth in my community were teenage pregnancy and lack of income.
With these issues in mind, my community counterpart and I attended a Peace Corps project design workshop where we brainstormed different ideas that could start tackling both teenage pregnancy and youth poverty. During our discussions, we noted there were already youth mobilized in a weekly savings group, so we decided to expand upon this existing structure. With this, our community Teen Club was born!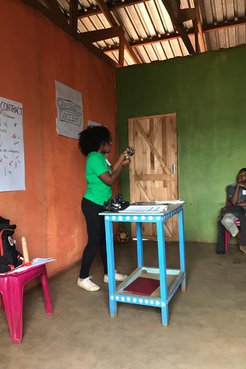 The club meets every Saturday afternoon, with approximately 20 to 30 youth ranging in age from 6 years to 24 years in attendance. The sessions start with those contributing to the savings group. They give their weekly savings to the club leaders, who then count and record the totals. Following the savings collection, my counterpart (a respected rural health motivator) and I teach a brief lesson.
Each week we alternate between using the "Swaziland Integrated Teen Club Curriculum" with its focus on sexual and reproductive health/HIV care and the "Youth Livelihoods: Financial Literacy" curriculum with its focus on money management. The health lessons are specifically geared towards skills and topics that are proven to reduce teenage pregnancy, such as condom usage and the delaying of sexual debut. The financial literacy lessons serve the dual purpose of addressing the youth poverty problem, while also discouraging transactional sexual relationships (which are a major driver of teenage pregnancy in Eswatini).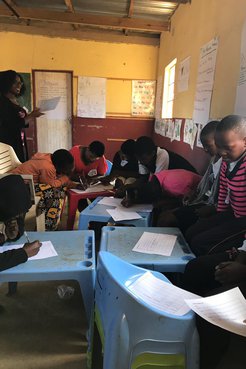 As the club moves into its second year, our goal is to start an income-generating project. The youth will be able to use the money they have been saving, in addition to their new financial literacy skills to begin a successful jewelry business. In the meantime, an essential piece that sets the Teen Club apart is how much fun we have in addition to learning. My counterpart and I are aware that getting young people to be excited about any sort of lesson on a Saturday can be a tall task, so we spend a lot of time finding ways to make sessions as engaging as possible. There are always small incentives like cookies and sweets for attendees to snack on, and we play at least one or two large-scale games that get everyone running about and competing.
Although, the highlight is always the end, where we put on music and have a full-fledged dance party! Most of the time we dance to current popular Swazi or South African music, but occasionally I'll teach a few popular American dances and watch as everyone gets to let loose and become carefree.