Caribbean Rice and Beans with Chicken
A classic rice and bean dish made with coconut milk and chicken from the Caribbean side of Costa Rica.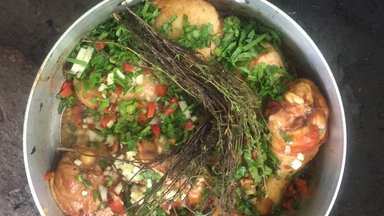 Ingredients
1 1/2 cups red beans 

4 cups white rice

20 sprigs thyme

1 head of garlic 

2 onions

1 red bell pepper

2-3 Liters coconut milk 

4 stalks celery and leaves

1 Chile Panameño 

1/4 cup sugar 

2 tablespoons vegetable oil (for cooking the chicken)

2 1/2 pounds chicken and thighs with skin on

3 Tbsp Cilantro 

1 teaspoon allspice

1 teaspoon nutmeg

1 tablespoon chipotle paste 

4 bay leaves

1 packet of dried chicken stock or bullion

1 tablespoon of garlic paste

Salt to taste
Directions
Beans
Put the beans in a pot with just enough water to cover them, turn the stove on low heat, and let them simmer. 
Add 7-10 sprigs of thyme, 1 diced onion, and one liter of coconut milk to the pot and let everything simmer for around 1 hour. 
After an hour, dice 2 cloves of garlic, 1/2 of the red bell pepper, celery, and one chile panameño, and add to the mixture.
Then add another 1/2 liter of coconut milk. 
Let simmer for 1-2 more hours until the beans are tender.
Chicken
Put skillet on low heat
Put sugar in the pan and let it melt until it turns golden brown. 
Add a small amount of oil to the pan (around 2 tablespoons) and add chicken. 
Cook and coat the chicken until the skin is covered with the golden brown sugar mixture. 
Dice the second onion, one more clove of garlic, 5 sprigs of cilantro, the second 1/2 of the red pepper, celery (with the leaves) and add to the mixture. 
Add 7 more sprigs of thyme and let sit for about 20 min on low heat.  
Add a Liter of coconut milk to the pan, add spices, pepper, the packet of chicken stock, a dollop of garlic paste, and a dollop of chipotle paste. 
Let sit for 10-15 more minutes until the coconut milk is simmering. 
Once the coconut milk is simmering, add another 1/2 Liter of coconut milk, 4 bay leaves, about 1/4 cup of chopped cilantro and salt.
Cook until chicken has cooked all the way through.
Put Chicken and Beans Together
Dump the bean mixture (juices, sprigs and all) into a deep skillet or pot and keep simmering over low heat. 
Add 4 cups of white rice to the mix. 
Cook until rice is fully cooked. 
To serve, scoop a generous amount of the rice and beans mixture into a bowl and top with chicken. 
Make sure to pour a hearty amount of the sauce from the chicken onto the rice. 
Typically, rice and beans is served with sweet plantain sautéed in butter. 

#maindish #glutenfree #staplefood
Recipe submitted by Maddy Eldrege - Peace Corps Volunteer, Costa Rica (2018)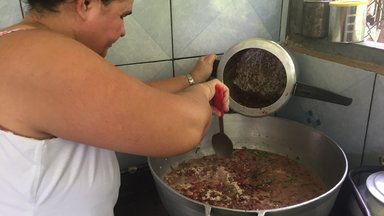 Help us understand our audience
If you are in the U.S., please enter your five-digit zip code to help us better understand who uses our resources for educators.